Another man has been arrested for participating in the January 6 Capitol riot.
In case you've been out of touch, on January 6 of this year, there was an insurrection at the US Capitol building in Washington DC.
The riot was held to protest former Republican President Donald Trump's loss after Democrat Joe Biden soundly won the presidency in 2020.
During the riot, hundreds of Trump supporters stormed the Capitol building, assaulted police officers, destroyed property and even urinated and defecated in the halls of the Capitol building.
The attack led to multiple deaths of both police officers and rioters.
Subsequently, over the year, several arrests have been made of individuals who participated in the destructive, deadly event.
Last week a Colorado man was added to the list of those arrested for participating in the insurrection.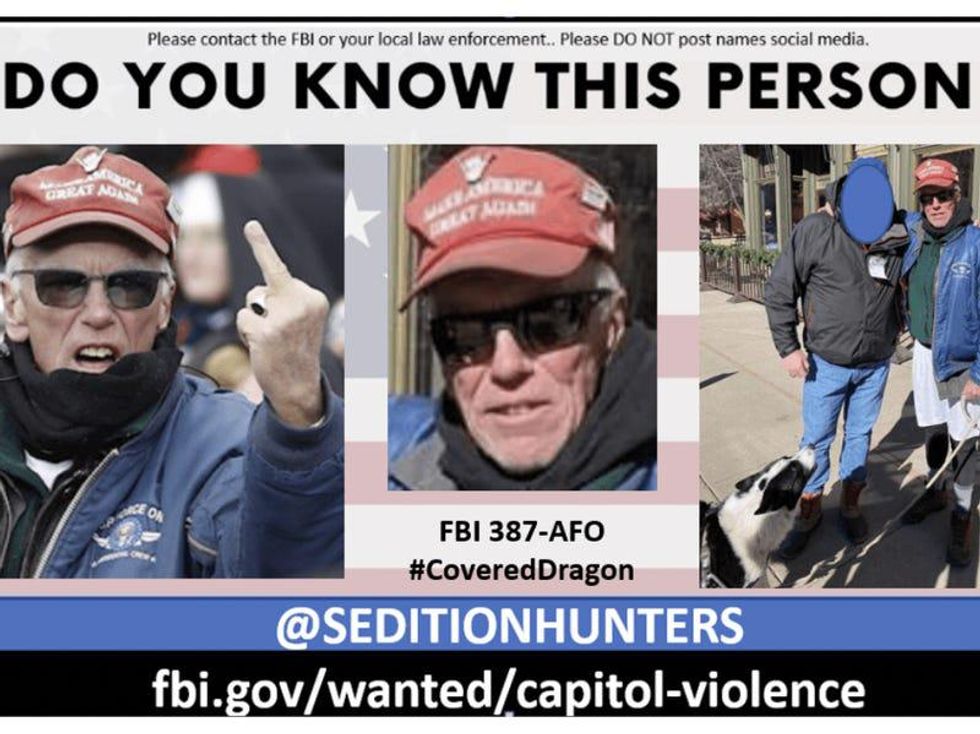 @seditionhunters/Facebook
Avery Carter MacCracken of Telluride, Colorado was arrested after being identified as a Capitol riot participant.
MacCraken, 68, attended the Capitol riot in Washington, DC where he allegedly assaulted two Metropolitan Police officers.
According to court documents, MacCracken assaulted the two officers with both "pushes, shoves, and a strike to the face" as well as "grabbing the officer."
After the insurrection, MacCracken returned home to Colorado to fade back into obscurity—or, at least, that's what he thought.
As fate would have it, MacCracken would be identified as a January 6 participant earlier this month when he was seen walking his dog in town while wearing the exact same outfit he had donned for the insurrection.
The outfit in question included a blue jacket, white shorts worn over black leggings, and a bright-red Make America Great Again (MAGA) baseball cap—a very common hat worn by MAGA minion Trump supporters.
San Miguel County Sheriff Bill Masters was able to identify MacCracken after a tipster showed him an FBI photo from the deadly riot.
Masters has reportedly had multiple run-ins with MacCracken and publicly stated he knows MacCracken "extremely well" and had spotted him wearing the same outfit around Telluride on "multiple occasions."
Masters also claimed MacCracken was "oftentimes homeless and lives out of his vehicle."
MacCracken has been arrested and charged with "engaging in physical violence in a restricted building or grounds, and assaulting, resisting, or impeding certain officers."
Twitter users are shaking their heads over MacCracken's actions.
MacCracken is currently awaiting a court hearing.