90s kids, do you feel old yet?
If not, Macaulay Culkin is here to offer you some extra help.
He's 40 years old. That's right--Kevin McCallister, the star of your favorite holiday movie of all time (Home Alone, of course) is 40 years old.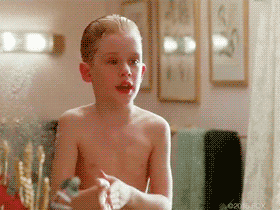 screaming macaulay culkin GIF by Home AloneGiphy
Yeah. Hear that creak? That's your hip.
Culkin decided that this age revelation which subsequently had many of us writing our wills and reserving our spots at nursing homes was his gift to us on his birthday.
How generous.
Boy, did that gift deliver.
Culkin is getting ready to start his mid-life crisis, and gave the internet a second gift: the gift of turning him into a meme.
That truly became the gift that kept on giving.
Culkin's gifts to us may not have been conventional, but boy will we be remembering them for years to come.
Culkin is slated to appear in the upcoming tenth season of Ryan Murphy's American Horror Story, which will premiere in 2021 as a result of stalled production due to the ongoing pandemic.
Happy birthday, Macaulay Culkin!