Louisiana police officer Charlie Rispoli suggested in a Facebook post that Freshman Representative Alexandria Ocasio-Cortez be shot in response to a fake news story.
According to NOLA, the Gretna police officer called Ocasio-Cortez a "vile idiot" and posted the Congresswoman:
"needs a round, and I don't mean the kind she used to serve."
---
The threat made a reference to AOC's former job working as a bartender in New York city.

Here's Rispoli's since deleted Facebook post: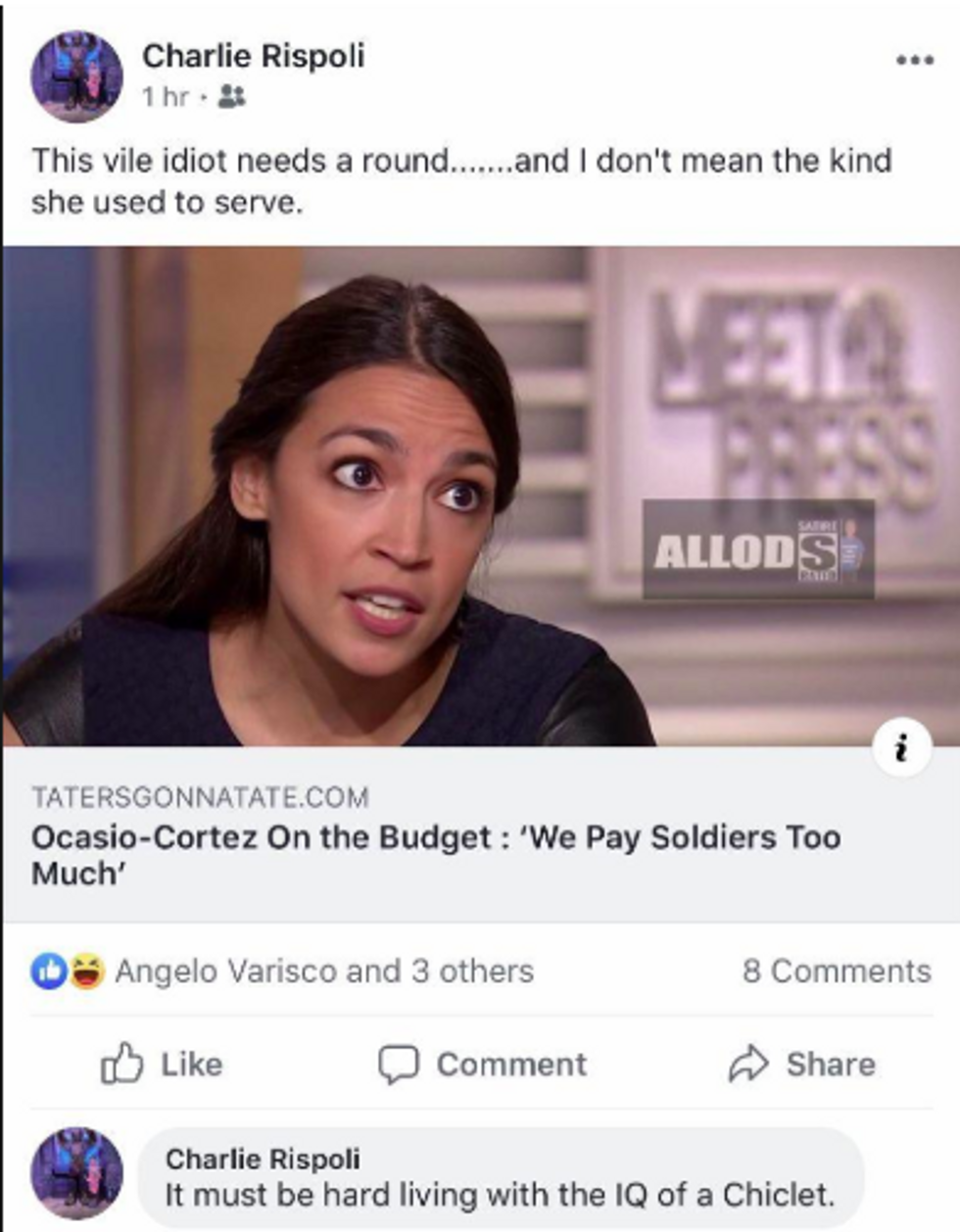 Facebook post and comment by RispoliCharlie Rispoli/Facebook
Rispoli made the comment after a satirical article fabricated this AOC quote:
"We pay soldiers too much."
Fact-checking publication Snopes debunked the story with the headline:
"Ocasio-Cortez on the Budget: 'We Pay Soldiers Too Much' FALSE"
Snopes confirmed AOC never uttered those words during congressional sessions or in any other forum.
Taters Gonna Tate posted the fake article on July 16 and is a site belonging to a network of other social media accounts operated by Christopher Blair, who is known for spreading misinformation under the guise of satire. However the image on the article includes a tag "Satire S Rated" that many who spread the story as factual online completely missed.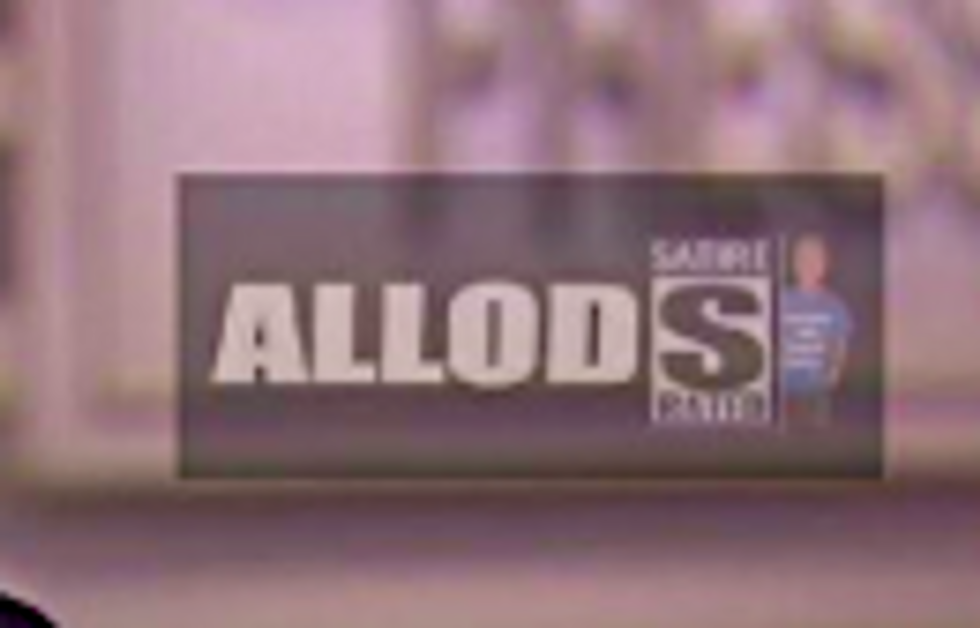 image tagTatersGonnaTate.com
Chief Arthur Lawson called Rispoli's post "disturbing" after discovering it on Friday.

"I will tell you this: This will not go unchecked. I'm not going to take this lightly and this will be dealt with on our end. It's not something we want someone that's affiliated with our department to make these types of statements. That's not going to happen."
However the Chief said he did not see the post as a credible threat by Rispoli on Representive Ocasio-Cortez's life.
People wondered how someone like Rispoli was able to join the police force.

Twitter called for Rispoli to be stripped of his badge.
Lawson continued stating that the comment violates the department's social media policy.
"Whether you agree or disagree with the message of these elected officials and how frustrated you may or may not get, this certainly is not the type of thing that a public servant should be posting."
Rispoli's incendiary comment came in the wake of President Donald Trump's racist tweet last week, telling AOC and three other Democratic lawmakers, including, Reps. Ilhan Omar of Minnesota, Ayanna Pressley of Massachusetts and Rashida Tlaib of Michigan to "go back" to "the totally broken and crime infested places from which they came."
It also follows on the heels of ProPublica's investigation into a private Facebook group of 9,500 current and former Border Patrol agents where racist, violent and misogynistic posts, including many about Ocasio-Cortez, were made.
Injustice Watch also released a database of violent, racist or misogynistic posts from the Facebook accounts of 3,500 current and former police officers from eight departments around the USA.
The Plain View Project, found that in Philadelphia one-third of the 1,073 Facebook accounts it could link to officers had troubling posts and comments.
Twitter pointed out the President's propensity for emboldening racism.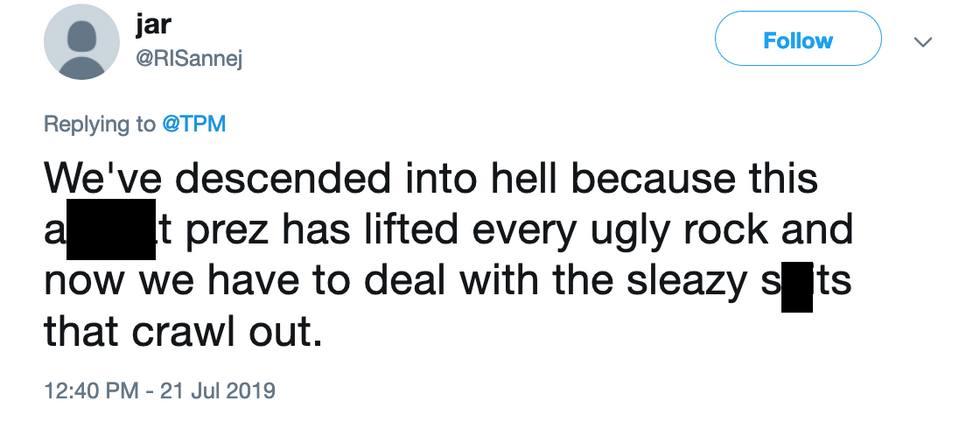 @RISannej/Twitter
NOLA reported that Rispoli's post was only visible to his Facebook friends and by default their friends, but was removed on Friday before his page was taken down on Saturday.

Rafael Goyeneche, president of the watchdog Metropolitan Crime Commission told NOLA that police "advocating violence or lawlessness, credibly or not" constitutes a breach of trust between law enforcement and citizens.

"The police are held to a higher standard of professionalism. Even if this is not actually advocating somebody shoot someone, it's totally inappropriate for a law enforcement officer to make this poor attempt at humor. All he did was discredit law enforcement in general and his department in particular."
Goyenche encouraged the department to use the incident as a driving example.

"This is one of your own; this isn't some textbook. If you don't use it as a teaching tool, I think you're setting yourself up for future embarrassment."
Chief Lawson stated:
"We do everything that we can through this department to train our officers to try to make them understand that when they do something like this, the impact is greater than the average citizen."
Lawson said if there were any disciplinary actions taken against Rispoli, details would not be made public. The matter was turned over to the department's internal affairs division.

The book Biased, available here, details the biases we all carry, how to recognize them and how to counteract their negative effects.
"Unconscious bias can be at work without our realizing it, and even when we genuinely wish to treat all people equally, ingrained stereotypes can infect our visual perception, attention, memory, and behavior. This has an impact on education, employment, housing, and criminal justice."