David Hogg—a survivor of the 2018 Marjory Stoneman Douglas High massacre in Parkland, Florida—said he plans to compete with the conservative CEO of MyPillow Mike Lindell—a conspiracy theorist and staunch ally of former President Donald Trump.
"This pillow fight just got very real," said Hogg, who has also become an outspoken gun reform activist.
The 20-year-old will be teaming up with 26-year-old progressive tech entrepreneur William LeGate as an alternative to the bedding company run by Lindell.

Lindell, 59, is known for spouting several baseless conspiracy theories.
Twitter permanently suspended his account after he repeatedly spread unsubstantiated claims of voter fraud and incendiary rhetoric.

On Tuesday, Hogg announced his collaboration with LeGate and highlighted "key parts of the company."

He was also optimistic his yet-to-be-named company could put MyPillow out of business.

"[LaGate] and I can and will run a better business and make a better product all with more happy staff than Mike the pillow guy while creating US based Union jobs and helping people."
"We also hope to hire formerly incarcerated people, vets and the workers from my pillow in the case we put them out of business."
You can see Hogg speaking about the business plan here:
LeGate also tweeted a video sharing his thoughts on his new endeavor, saying:

"I don't know about you guys, but I like pillow companies that don't fund insurrections against the U.S. government."
When he and his new business partner became the #1 trending search on Twitter, he proudly proclaimed they "didn't even have to overthrow democracy to do it!"
With the website about to launch "in a couple weeks," Hogg encouraged people to submit suggestions in naming his pillow venture.

Hogg also asked for labor union input.
The logistics of the start up might prove a challenge for the mail room at Harvard where Hogg is attending school.
People were more than enthusiastic and gave their endorsements for Hogg and LeGate's pillow collab.

Several people submitted their suggestions for the company name.
Of course right wing trolls came after Hogg, but after being a favored target for years he's become adept at rolling with the punches.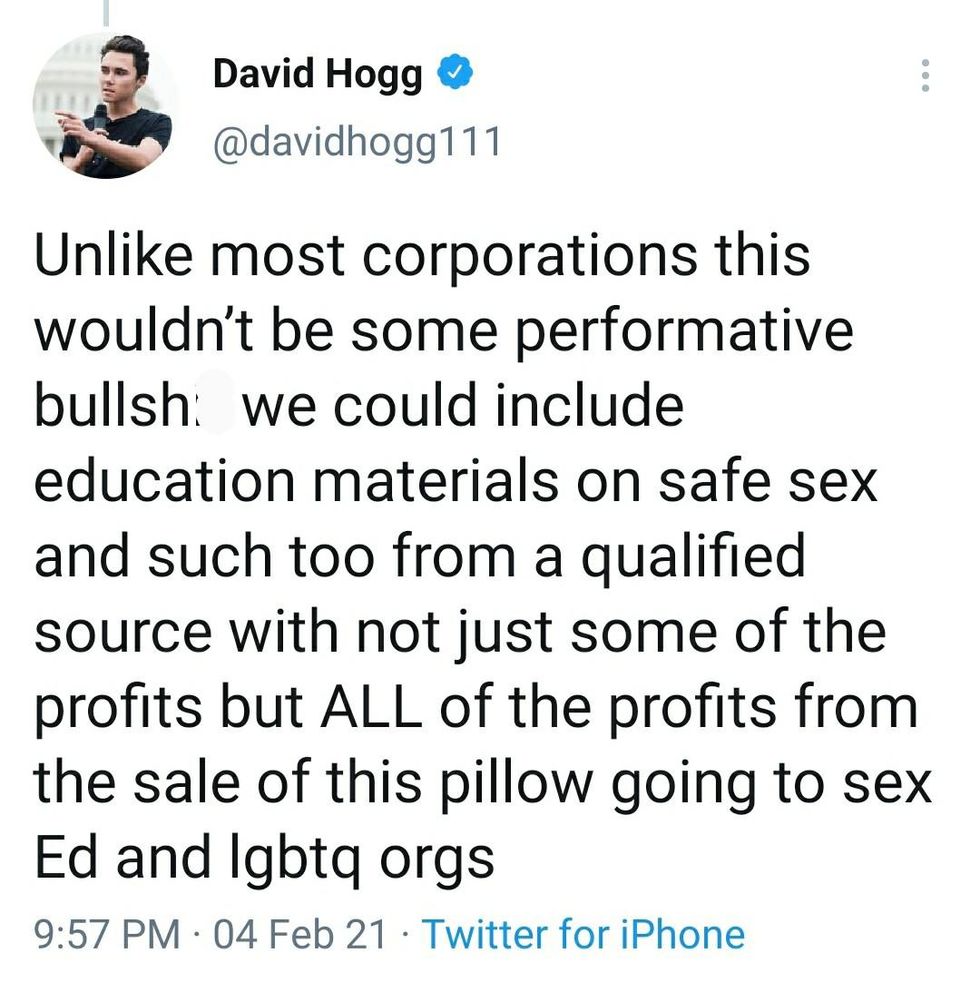 @davidhogg11/Twitter
Lindell did not appear nervous over the announcement of a potential rival in the bedding industry.

He told Axios:
"Good for them. … Nothing wrong with competition that does not infringe on someone's patent."