A strange series of events led to rapper Lil Wayne making an incredibly vulgar tweet at Dallas Mavericks owner Mark Cuban and then quickly deleting it.
It started with Wayne supporting his friend Chris Paul, the point guard for the Phoenix Suns basketball team. Because of this, Wayne became a hater of Luka Dončić from the Mavericks.
During Game 4 of the second round series, Wayne tweeted:
However, just a few days later, Luka led the Mavericks to a 120-93 win. And Mark Cuban couldn't be happier.
He quote-tweeted Wayne, using his own lyrics to poke fun at the rapper.
This apparently set off Wayne, who responded with a very gross tweet.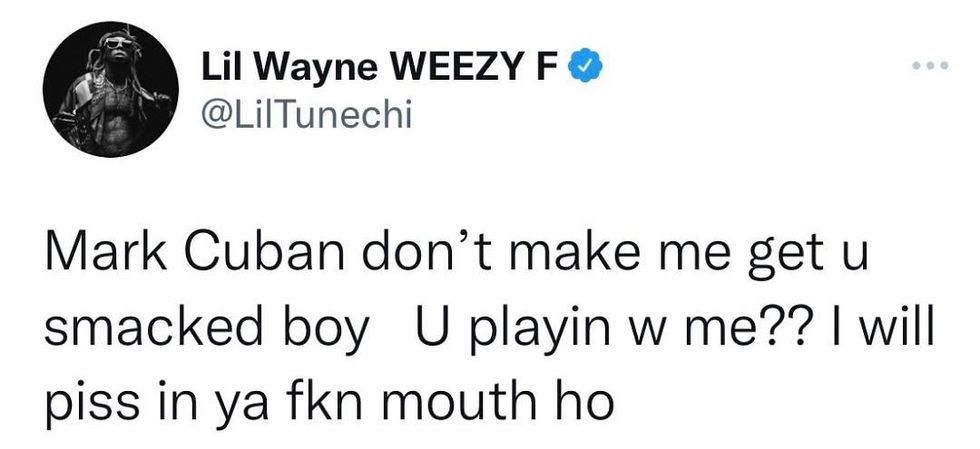 @LilTunechi / Twitter
The incredibly vulgar tweet had fans' eyes popping and so very confused.
Supposedly, Wayne and Cuban have been on each other's bad side for a while. Back in 2011, Wayne was living in Miami and going to a lot of basketball games for the Miami Heat.
After hanging out with Cuban and celebrating a win for the Mavericks, some players from Heat got upset and banned Wayne from their games for a time.
This is what supposedly started the rift, according to Skip Bayless.
But the internet wasn't exactly sympathetic to Wayne's side of the issue.

That said, we're sure Cuban probably doesn't care about the interaction. The billionaire's team just lost Game 1 at the Western Conference Finals against the Golden State Warriors, giving him something else to worry about.
Maybe Wayne will skip watching the remaining so he isn't tempted to tweet the start of another online fight.