Lana Del Ray just stirred up all kinds of negative attention—again—with a recent Instagram post.
Once again, people cited her entitlement, privilege and lack of awareness.
---
The pop singer who has been stuck home and unable to tour, had clearly been thinking things over in the long days at home. Del Rey's post came in the form of a page-long note.
It detailed a variety of her frustrations that cultural critics have thrown her way over the years. She felt she was the victim of a problematic double-standard and intended to set the record straight.
The open letter began:
"Now that Doja Cat, Ariana [Grande], Camila [Cabello], Cardi B, Kehlani and Nicki Minaj and Beyoncé have had number ones with songs about being sexy, wearing no clothes, f***ing, cheating etc—can I please go back to singing about being embodied, feeling beautiful by being in love even if the relationship is not perfect, or dancing for money—or whatever I want—without being crucified or saying that I'm glamourising abuse??????"
She went on:
"I'm fed up with female writers and alt singers saying that I glamorise abuse when in reality I'm just a glamorous person singing about the realities of what we are all now seeing are very prevalent abusive relationships all over the world."
"With all of the topics women are finally allowed to explore I just want to say over the last ten years I think it's pathetic that my minor lyrical exploration detailing my sometimes submissive or passive roles in my relationships has often made people say I've set women back hundreds of years."
The letter ended with a plea.
"Let this be clear, I'm not not a feminist—but there has to be a place in feminism for women who look and act like me—the kind of woman who says no but mean hear yes—the kind of women who are slated mercilessly for being their authentic, delicate selves, the kind of women who get their own stories and voices taken away from them by stronger women or by men who hate women."
After the letter was posted, many artists of color came out to explain why they had a problem with the rant.
Their criticism primarily drew attention to the fact that of that opening list of artists, only one was white. And so Del Rey, in implying that she has received harsher criticism than them, was completely ignoring the overwhelming race-based scrutiny those artists have always faced—a thing Del Rey has never had to deal with.
It's not Del Rey's first time proclaiming "poor me."
As always, a wave of memes came on the heels of all that tone-deaf criticism.
Del Rey did eventually respond to all the criticism.
She firmly defended her stance as a victim of an unfair system that never gives pretty White women any breaks.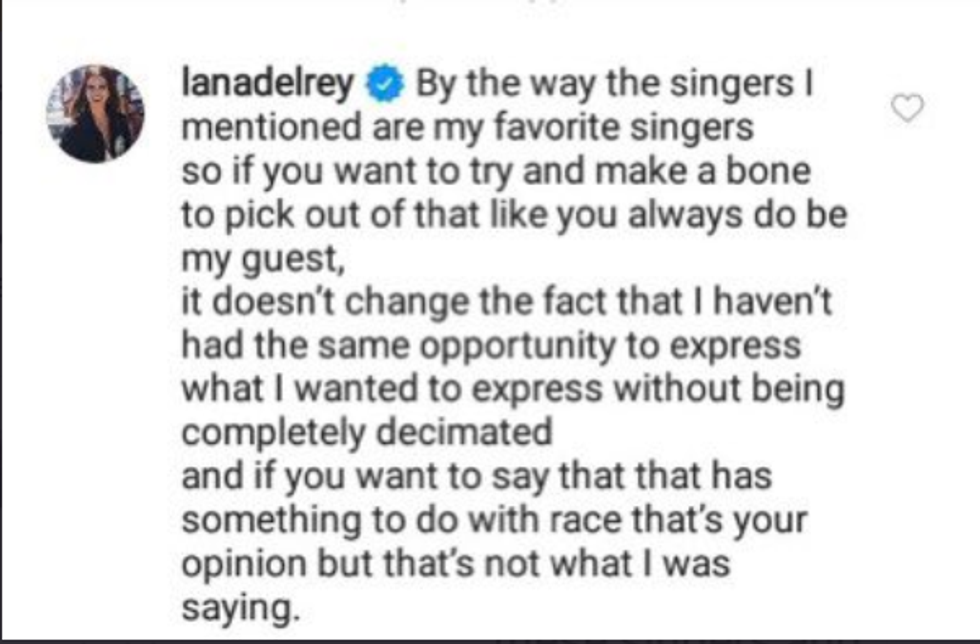 @lanadelrey/Instagram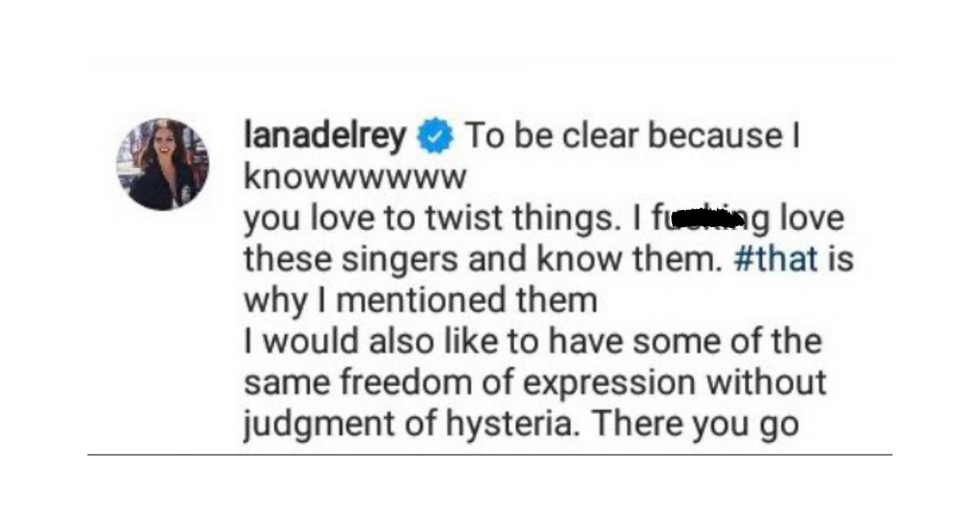 @lanadelrey/Instagram
Hot water again or not, this probably won't be the last we hear from Del Rey.
Despite her laments about all the opportunities not handed to her that she claims women of color received, she sure seems be getting plenty of chances.