Last week the music world lost an absolute legend when iconic crooner Tony Bennett passed away at the age of 96, believed to be related to his seven-year struggle with Alzheimer's disease, though no cause of death has yet been released.
Amid the remembrances for the singer, whose music career began in 1949, was his long-time collaborator Lady Gaga.
Gaga took to Instagram to post a heartfelt tribute to the man who was more than just a colleague but, as she put it, a "real, true friend."
Gaga and Bennett first collaborated in 2014 on an album of classic standards called Cheek to Cheek. They've also done several television specials together and released a second album in 2021 called Love for Sale.
Tony Bennett and Lady Gaga in 2021 | 60 Minutesyoutu.be
Their long working relationship became a deeply felt friendship along the way.
As Gaga wrote in her Instagram post:
"I will miss my friend forever. I will miss singing with him, recording with him, talking with him, being on stage together."
"With Tony, I got to live my life in a time warp. Tony & I had this magical power. We transported ourselves to another era, modernized the music together, & gave it all new life as a singing duo."
Tony Bennett recognize Lady Gaga - 60 MINUTESyoutu.be
She went on to say that their professional partnership quickly transformed into one that seems to have been almost paternal.

"[I]t wasnt an act. Our relationship was very real. Sure he taught me about music, about showbiz life, but he also showed me how to keep my spirits high and my head screwed on straight. 'Straight ahead,' he'd say."
Gaga went on to detail Bennett's service in World War II and his work with social justice causes, including alongside Dr. Martin Luther King Jr. in the 1960s.

On Instagram, people found Gaga's tribute deeply moving.

@michellevisage/Instagram
@strugglequeen/Instagram

@ariannephillips/Instagram

@ogabrielfreire/Instagram

@penelopyjean/Instagram
@sarahtannomakeup/Instagram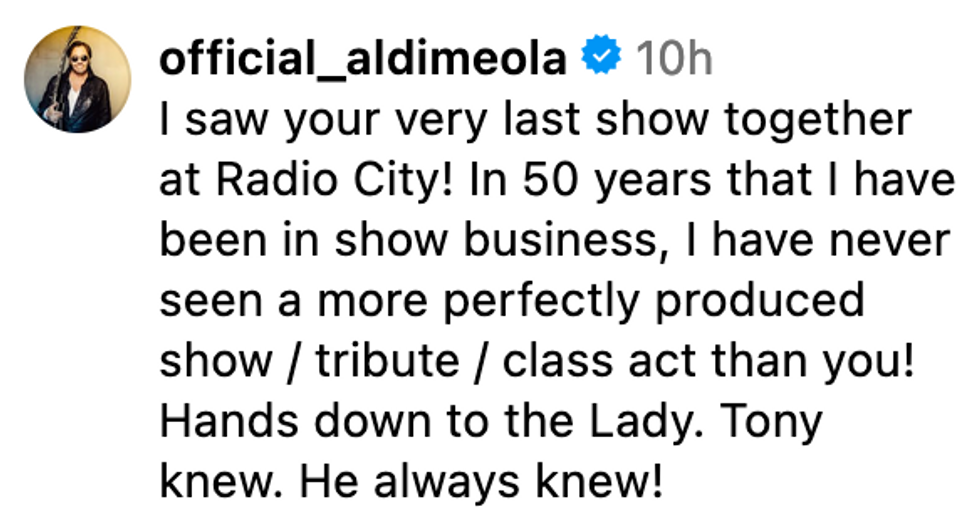 official_aldimeola/Instagram
@youngbabycoco/Instagram
@sanchoee/Instagram
Gaga concluded her post with some words of wisdom for all of us when it comes to the elderly people in our lives.

"Take care of your elders and I promise you will learn something special. Maybe even magical."

"And pay attention to silence—some of my musical partner and I's most meaningful exchanges were with no melody at all."
Good advice, indeed.