The Kardashian/Jenners are known for their ostentatiously themed parties to keep the social media engine buzzing all over everyone's newsfeeds.
---
They spare no expense in their galas, including Khloé Kardashian's pink-themed baby shower, and Kylie's daughter who celebrated her first birthday at Universal Studios' backlot that was transformed into "Stormi World."
But, Kylie's latest party is not winning any favors.
According to Buzzfeed News, the youngest to be featured on the Forbes 100 celebrities list planned a party for her best friend Stas' 22nd birthday. It is getting slammed for a controversial theme:
The Handmaid's Tale.
The 21-year-old revealed the theme on her Instagram page.
"You know The Handmaid's Tale is my favorite show ever...so for Stassi's birthday...welcome to Gilead."
Twitter instantly objected to her poor taste in theme.

Not that I had any before but @KylieJenner just lost all of my respect and business. The Handmaids Tale is not a jo… https://t.co/PUscwGvTBh

— Leah Michael (@Leah Michael) 1560091458.0
Kylie posted video clips from the evening's un-festive party, showing guests dressed in the iconic red handmaid's robes and greeting each other with the phrase, "Praise be," while sipping "Under His Eye Tequila" and "Praise Be Vodka" cocktails.

Her house was festooned with Gilead flags and the attending staff was dressed as Marthas – the class of women in the fictitious Republic of Gilead who are servants to the wealthy.
I'm literally sick to my stomach

— Leah Michael (@Leah Michael) 1560091474.0
The Handmaid's tale streaming on Hulu is based on Margaret Atwood's 1985 novel of the same name. The setting takes place in the not-so-distant future in a totalitarian state in which women are stripped of their rights and subjected to live in a patriarchal society.

Many bashed the dystopian cosplay for being a little too on the nose. Kylie was accused of being insensitive with her selection of a party theme representative of battles many women face today, including reproductive rights and sexual assault.
@KylieJenner imagine your child being ripped from your arms never to see her again and then you being enslaved to a… https://t.co/Uj8WuAKQPn

— Leah Michael (@Leah Michael) 1560091605.0
Twitter user @emythee captured Kylie's Instagram story video clips showing her party guests laughing their way through the house in their red robes and white bonnets.

With all of the serious reproductive rights fights that are going on, Kylie Jenner gave a 'Handmaid's Tale' themed… https://t.co/p0MkEmmWL2

— emy SDCC (@emy SDCC) 1560149805.0
@emythee Her privilege is keeping her from seeing the mirror that, the story is for many women all over America right now!

— Jacara Thompson (@Jacara Thompson) 1560181166.0
Comparisons were drawn to the recent laws on abortion in Alabama and Georgia.
@Moliminous @emythee And the new abortions ban are going to force women to carry, and even co-raise them with their… https://t.co/fQY5qiHSZF

— Jacara Thompson (@Jacara Thompson) 1560184749.0
@Moliminous @emythee Have you read the Abortion Ban in Alabama. Even tubal pregnancies will be replanted, and your… https://t.co/yOIWnu6QM0

— Jacara Thompson (@Jacara Thompson) 1560186194.0
People are stumped as to why someone would celebrate a birthday with this theme..
Kylie Jenner threw A Handmaids Tale themed party and i- https://t.co/A0hkRV7u8h

— Caitlyn Thomas 🍍 (@Caitlyn Thomas 🍍) 1560195437.0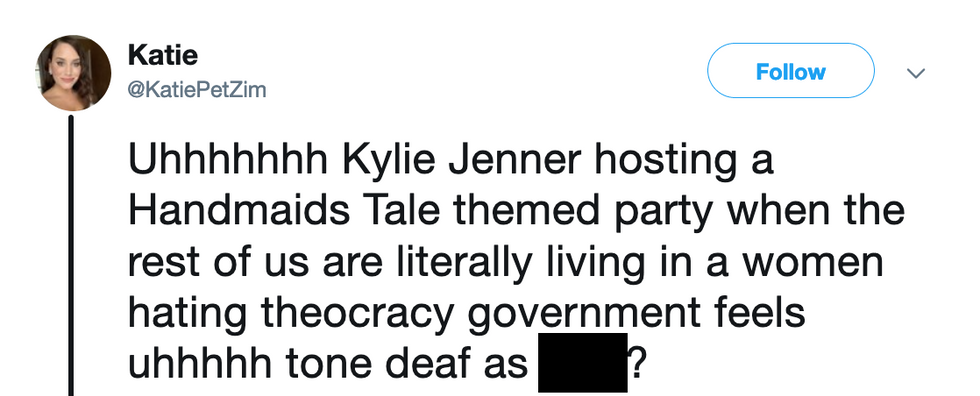 @KatiePetZim/Twitter
@emythee This is disgusting. I would feel like a complete failure as a mother, if my daughter's were fans of ANY of… https://t.co/tRTJ30xFOa

— ☯️ bluevioletbliss (@☯️ bluevioletbliss) 1560185270.0
A vocal minority expressed the backlash was severe and argued that adopting the TV show theme was harmless.
@Thebossthehoss Lord have mercy, it's a show. A very good show at that . And yes it deals with a lot of social issu… https://t.co/SsPBItAr1E

— Nadine G Overton (@Nadine G Overton) 1560188440.0
@emythee What about a GOT theme party, it has rape, incest, racism, xenophobia, genocide, war, etc. How privileged… https://t.co/DJ6zsp9lUO

— Mikhail Mastermind (@Mikhail Mastermind) 1560170068.0
Is ignorance to blame?
This user thinks it was not a deliberate choice.

I honestly believe Kylie Jenner did NOT understand The Handmaids Tale if she's throwing a themed party about it.

— Boss (@Boss) 1560040476.0
@Thebossthehoss Just goes to show you that having a ton of money does not equal intelligence or common sense, or decency 😒

— Sarah (@Sarah) 1560083598.0
@Thebossthehoss She clearly lives in clueless oblivion.

— Christine Fekete (@Christine Fekete) 1560136332.0
@Thebossthehoss That's the problem she probably didn't know and no one around her explained it or also didn't know.… https://t.co/Szb6AzYv8Y

— Kaliamin (@Kaliamin) 1560178083.0
The party is proof that money doesn't buy you class.

If you're not sure what The Handmaid's Tale is about, Margaret Atwood's book is available here.