Since Elon Musk bought Twitter, he has been making a lot of changes. The most recent is a plan to charge $8 (formerly $20) per month for verified users to keep their verification.
Most users who are verified are public figures of some kind: authors, journalists, politicians, actors, etc... Many of these people are part of what draws people to use Twitter—keeping up with news coming directly from their favorite celebrities.
The verification process and blue checkmark next to a verified user's name came about after Twitter was sued by Tony La Russa after someone impersonated him on the site.
Verification is meant to indicate the person you are interacting with on the platform really is who they say they are and make fraud and scams much more difficult to perpetuate.
The verification serves the public more than the verified individual or entity.
Musk is now asking those public figures whose identities have been verified by Twitter to pay to keep that verification.
Stephen King disagreed with Musk's decision to charge for verification since Musk made the announcement—most recently comparing Musk to Tom Sawyer when he convinced his friends to do his work for him and pay him for the privilege.
Celebrities on Twitter generate content and draw users to the platform which generates revenue for Musk.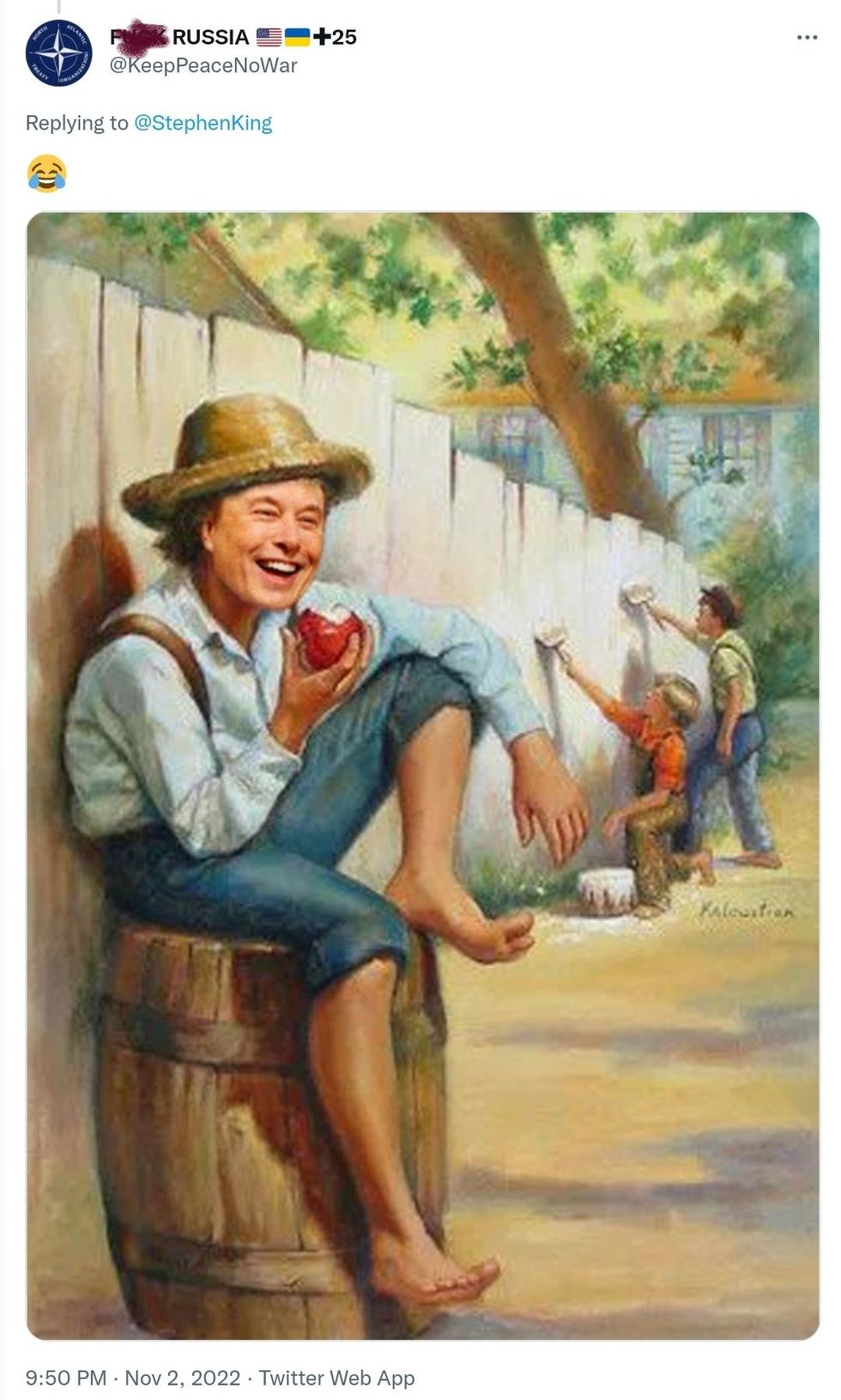 @KeepPeaceNoWar/Twitter
Some remarked on Musk's apparent lack of understanding of social media.

Some seemed bound and determined not to see why Musk's decision to charge for verification was a problem, though.
Musk intends for his changes to fund Twitter after his $44 billion acquisition of the company.
But if it drives away many of the people generating the content that brings people to the platform in the first place, there's a chance it could backfire spectacularly.