Maintaining a youthful appearance is important to the Kardashians.
Let's be honest, it's important to a lot of us. The beauty and fashion industries take in billions of dollars a year and most of that is aimed at attempts to turn back the clock.
People tuck, plump, fill, suck, smooth, blend, contour and cinch our way towards looking younger daily.
The Kardashians—in particular, Kim—just happen to have the means to pursue some more "intense" treatments and an audience to watch it all go down.
Kim had been in the news recently more for her law work (yay!) and her struggles with Kanye (not yay!) but there was a time that youth and beauty was pretty much it.
Remember the whole vampire facial thing?
We'd post a picture, but the procedure involves a lot of blood smeared over the persons face. It can be quite visually triggering and painful. It was so painful, in fact, that it's a treatment Kardashian has sworn off.
She claimed it was way too painful for her to do again; which means we know Kim Kardashian has some limits on how far she's willing to go to stay looking young.
We also now know that eating poop isn't one of them.
Kimmycakes recently told The New York Times she would try anything to look younger—up to, and including, eating poop daily.
Cue the readers like: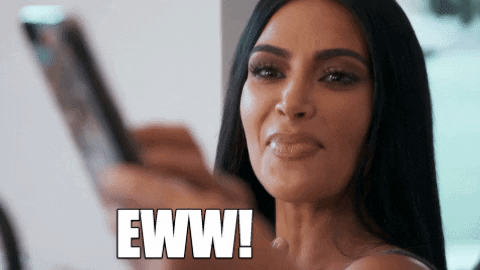 Giphy
According to Kardashian:

"I'll try anything."
"If you told me that I literally had to eat poop every single day and I would look younger, I might."
"I just might."
She made the comment while discussing her skincare line, SKKN by Kim.
The full range will cost users over $600 and is a nine step process. But if the creator is out here talking about having a daily poop snack as a means to stay youthful, and poop is free...
We're just saying this probably isn't doing much to convince people to spend a few grand a year on your skincare line.
Twitter has some concerns, too.
So ... yeah.
We're gonna suggest hydrating, using sun block and visiting a dermatologist instead.