On Tuesday, August 25, protesters gathered for a third night in Kenosha, Wisconsin to speak out against the shooting and subsequent paralysis of Jacob Blake.
Blake was shot seven times in the back in front of his children for reaching into the backseat to break up a fight between two of them.
On the 25th, Kyle Rittenhouse, a White 17-year-old, also attended the protest with a loaded AR-15 to act as a vigilante assistant to the police. Law enforcement agents welcomed him and thanked him for coming.
By the end of the night, Rittenhouse had shot and killed two people while injuring a third. After the shooting, police allowed him to peacefully leave the scene.
With the nation once again in shock at the needless violence committed by a teenager, many online are combing through his past to find any potential warning signs of Rittnhouse's future attack.

Rittenhouse's social media shows the young man was fixated on law-enforcement and posted often about "Blue Lives Matter," a pro-police reactionary movement to "Black Lives Matter."
The Grayslake Police Department also confirmed Rittenhouse was a member of their Public Safety Cadet Program. After internet backlash, the program was recently forced to remove an online photo of a boy named "Kyle" in police uniform. Whether or not that young man was Rittenhouse is unconfirmed.
Another particularly alarming detail was found quickly: Rittenhouse appears to have been an ardent Trump supporter. During the President's rally at Drake University, the shooter had a front row seat to hear Trump's address.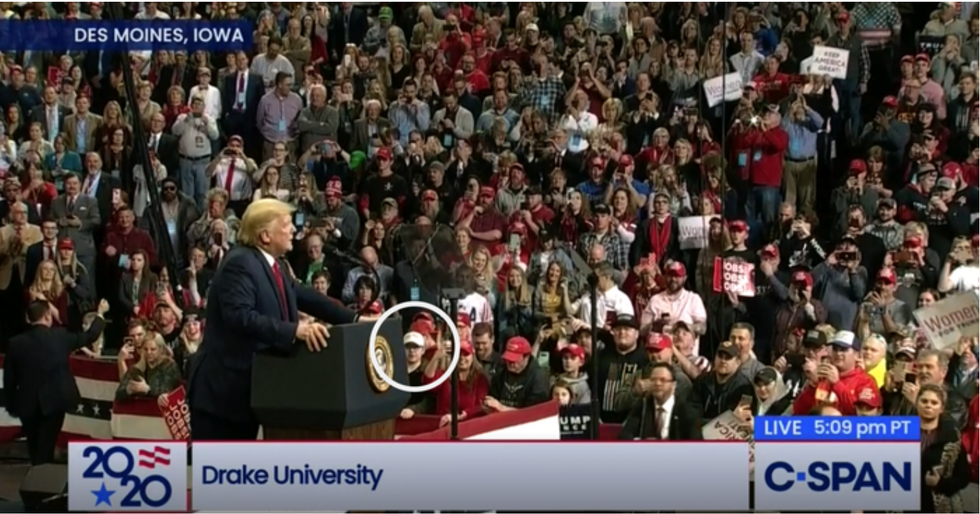 CSPAN
The President has been consistently criticized for his charged rhetoric which has several times openly encouraged violence among his supporters.
Through the vast majority of the President's supporters are non-violent, analysts believe Trump's dramatic (and often false) claims against the media, Democrats, and the "deep state" give unstable individuals a permission structure to act on their worst impulses.
Tim Murtaugh, a campaign spokesperson for President Trump, told Buzzfeed News:

"President Trump has repeatedly and consistently condemned all forms of violence and believes we must protect all Americans from chaos and lawlessness."
"This individual had nothing to do with our campaign and we fully support our fantastic law enforcement for their swift action in this case."
Though police allowed Rittenhouse to leave the scene, driving harmlessly past him as onlookers shouted that he had just "shot someone," the 17-year-old was considered a fugitive by the next morning. He was arrested in his hometown of Antioch, Illinois and will likely be extradited to Wisconsin to face charges of "first-degree intentional homicide."
There were countless steps leading up to the shooting during which Rittenhouse could have been prevented or discouraged from engaging in violence.
Calm, peaceful words from a role model like the President or encouragement to empathize at home may have made a difference. If law enforcement had chose to confiscate Rittenhouse's weapon (which he was too young to legally carry) rather than welcome him as a vigilante deputy, this incident would also have been avoided.
At times, it seems almost inevitable that our culture will push young men like Rittenhouse towards violence. Perhaps this is why the U.S. experiences mass shootings again and again and again with no end in sight.