Actress Diane Keaton, known for her peculiar personality and iconic fashion, made an Instagram post about "MALE BEAUTY!!!" where she mistook Reese Witherspoon and ex Ryan Phillippe's 18-year-old son for a young Leonardo DiCaprio.
The Instagram post showed black and white images of young men like "Leonardo DiCaprio," Robert Pattinson, and Zayn Malik, among others, who she finds to be attractive men.
Over the images, you can hear Keaton's voice:
"Talk about beauty: Leonardo DiCaprio."
"Give me a break."
"I knew him when he was a kid."
Turns out, it wasn't a photo of DiCaprio at all.
The image is actually of Witherspoon and Phillippe's 18-year-old son, Deacon Reese Phillippe.

Witherspoon responded in the comments to inform Keaton of her mistake.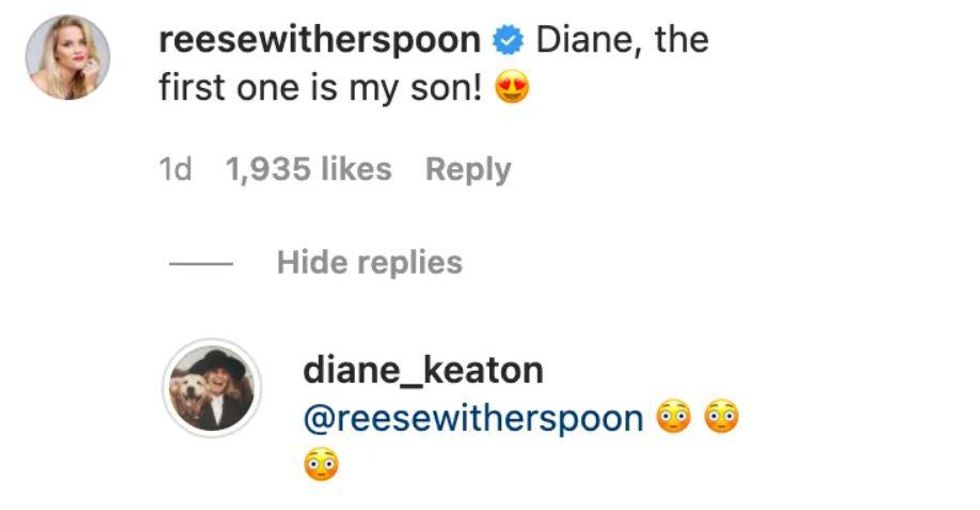 @reesewitherspoon/Instagram; @diane_keaton/Instagram
People were eating it up in the comments.

@haseleyedbeaty424/Instagram

@sandinmypants252/Instagram

@southerntnbelle/Instagram

@auspicioussuperstar/Instagram

@texan_cutie_1980/Instagram

@scripteez/Instagram
Witherspoon has not shared the screen with Keaton, but she was directed by her in Big Little Lies and sang her praises when Keaton won an AFI Lifetime Achievement Award in 2017.

Keaton did an interview on Jimmy Kimmel Live! where she spoke highly of Witherspoon.
"You know, I met Reese when she was 14 and I directed her in a TV movie."
"She was just a kid."
"There was no question [she'd be a movie star]."
"Great looking. Great talent."
Keaton previously posted a video of a toddler speaking on a phone and captioned it:
"THIS IS A YOUNG REESE WITHERSPOON IN THE MAKING!!!"
Witherspoon responded then too.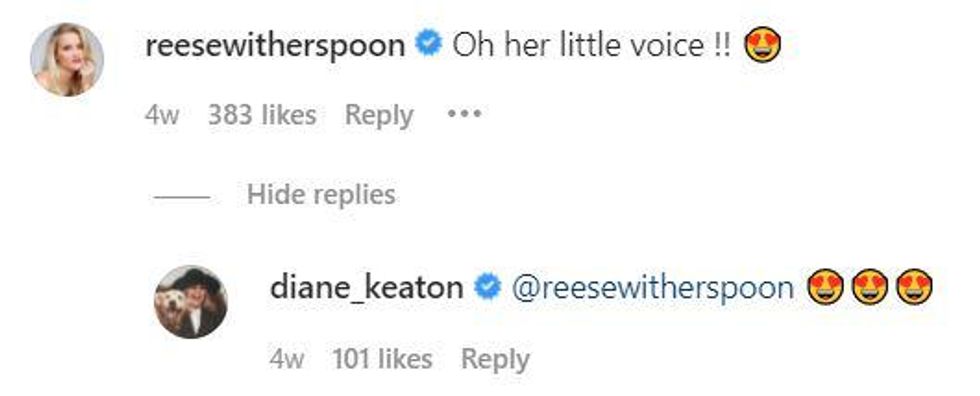 @reesewitherspoon/Instagram; @diane_keaton/Instagram
Witherspoon also wrote:

"Someone get this little lady an Oscar ASAP!!"
She seemed flattered at the comparison.
Just remember her son Deacon looks like Witherspoon and his dad, Ryan, not Leo.