In a stunning move, an arbitrator ordered Fox to pay $179 million to the lead actors of the television show Bones, as well as its executive producer and the author of the books upon which the series was based.
The ruling found that the studio defrauded the stars and the producers out of millions of dollars.
---
It's the written decision that's really making waves, however, after arbitrator Peter Lichtman said Fox executives exhibited "reprehensible conduct" in giving false testimony to cover up the fraud.
Fox has taken a "cavalier attitude toward its wrongdoing" and exhibits a "company-wide culture and an accepted climate that enveloped an aversion for the truth," he notes.
There are numerous points where Lictman excoriates Fox for misleading the show's stars (Emily Deschanel and David Boreanaz) and producers about "the terms of a release that offered below market rates to license Bones domestically, internationally and for streaming on Hulu because it was produced by a sister company, thereby wrongfully withholding profits" from its stars.
Here he points out that Fox "held the position of relative financial power and used it in the course of negotiations by threatening to cancel the Show and put them out of work."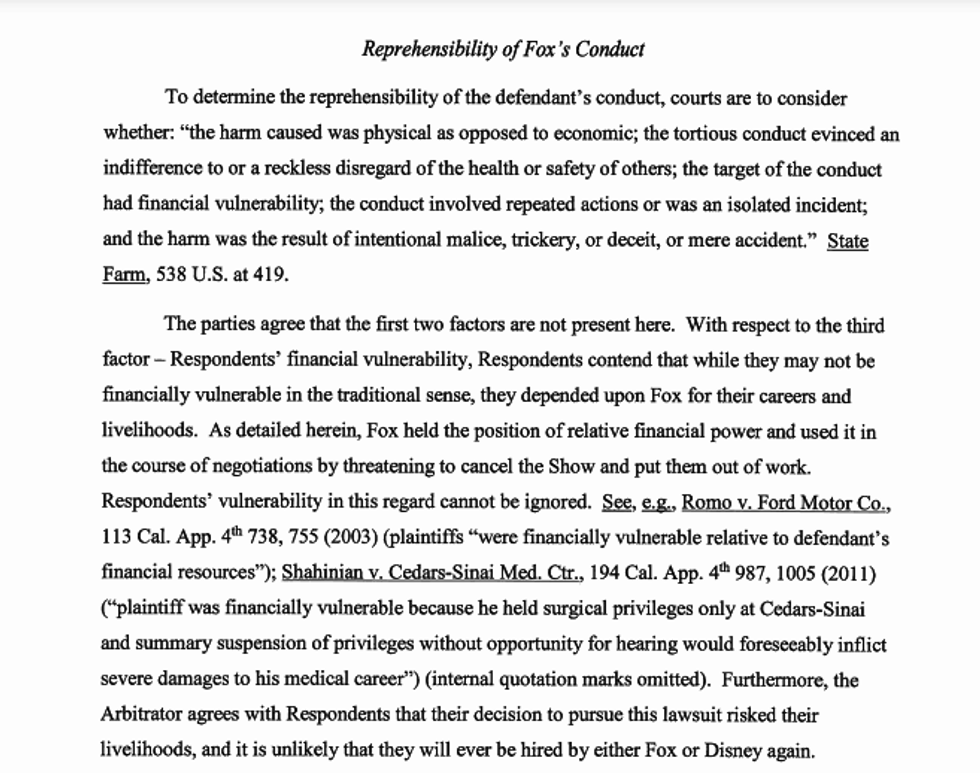 Bones Arbitration/DocumentCloud
Lichtman says his findings "support a finding of reprehensibility," namely that Fox "engaged in tortious conduct" and "intentionally interfered with Respondents' contracts in connection with the licensing of Bones to Hulu in self-dealing transactions over the last decade":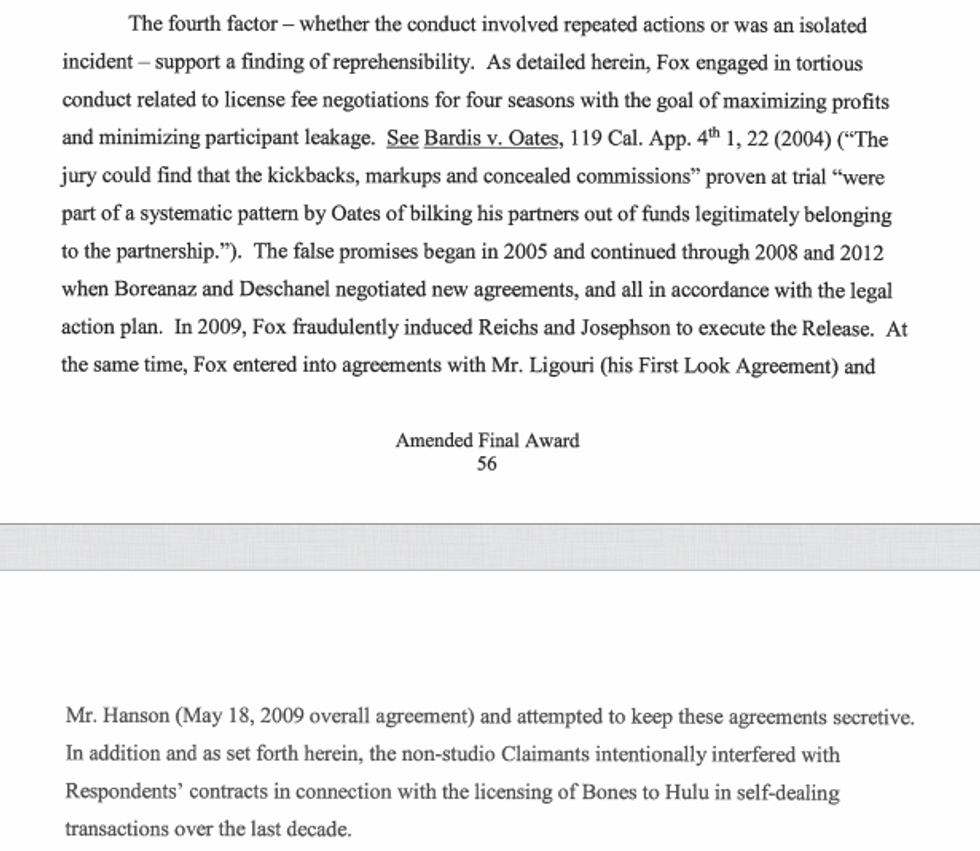 Bones Arbitration/DocumentCloud
Fox's "cavalier attitude toward its wrongdoing" is evident: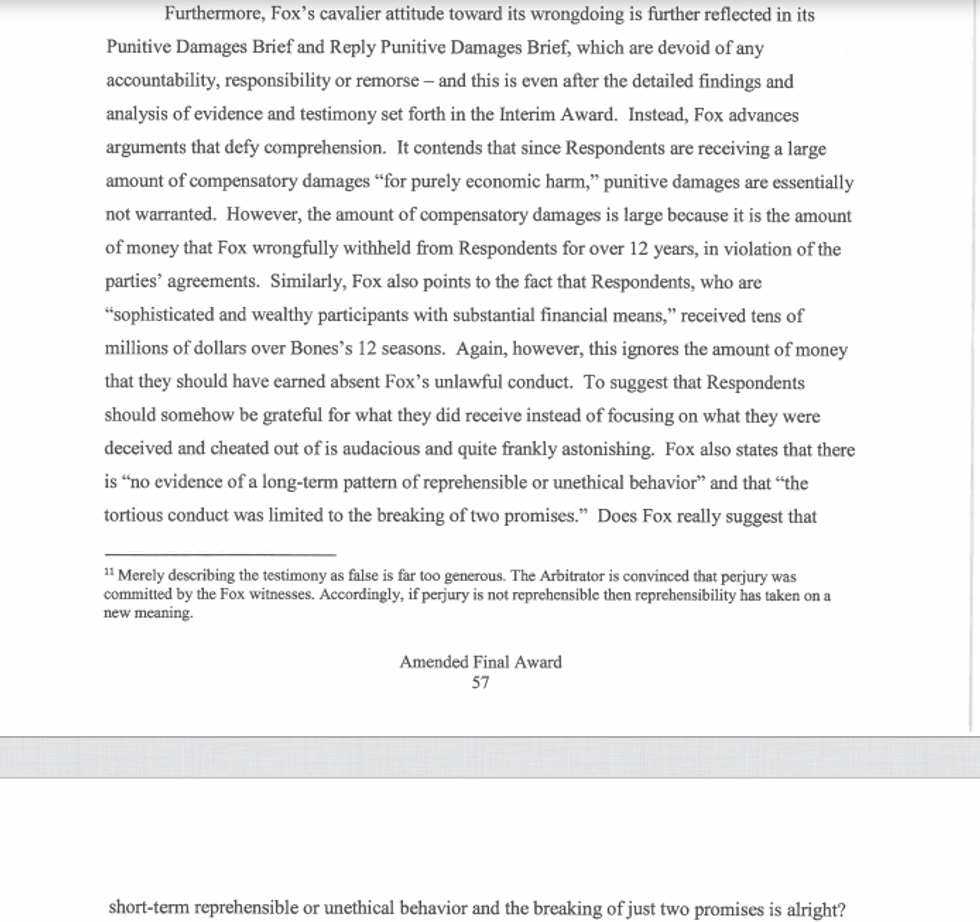 Bones Arbitration/DocumentCloud
The ruling was a long time coming and many praised the arbitrator's decision.
A staggering Hollywood lawsuit crushes Fox, makes well-known execs look terrible and changes how everyone does busi… https://t.co/TijVuOZhtH

— Bill Simmons (@Bill Simmons)1551284915.0
In all my time writing for @THR, I have never ever encountered a decision as jaw-dropping as this one. #mustread https://t.co/m0H4RzncQf

— Eriq Gardner (@Eriq Gardner)1551283632.0
!! Forever an underrated show that owns my heart. Not surprised at Fox. Slay 'em, Bones. https://t.co/zoMiGSZ2lr

— ali is on her death bed (@ali is on her death bed)1551315231.0
Good news for us Hollywood creatives. The studios' boiler rooms have taken a major hit. The starwhackers are cryin… https://t.co/io19WaaJkl

— Randy Quaid (@Randy Quaid)1551351153.0
Fox says it disagrees with the ruling and is launching an effort to overturn it.

"The ruling by this private arbitrator is categorically wrong on the merits and exceeded his arbitration powers. Fox will not allow this flagrant injustice, riddled with errors and gratuitous character attacks, to stand and will vigorously challenge the ruling in a court of law."

They announced their intent to try to void the punitive damages of $128.5 million of the total award.
21st Century Fox is seeking to void the punitive damages of $128.5 million, arguing the arbitrator exceeded his pow… https://t.co/qSRZY2vTrE

— LAT Entertainment (@LAT Entertainment)1551294747.0
The $179 million award is the second largest verdict in the history of the television industry.
In 2011, a jury issued a $319 million verdict over Who Wants to Be a Millionaire? profit sharing.