Ever wonder what it might look like for Jesus Christ to collaborate with a shoe company?
Wonder no more!
---
Meet the "Jesus Shoes."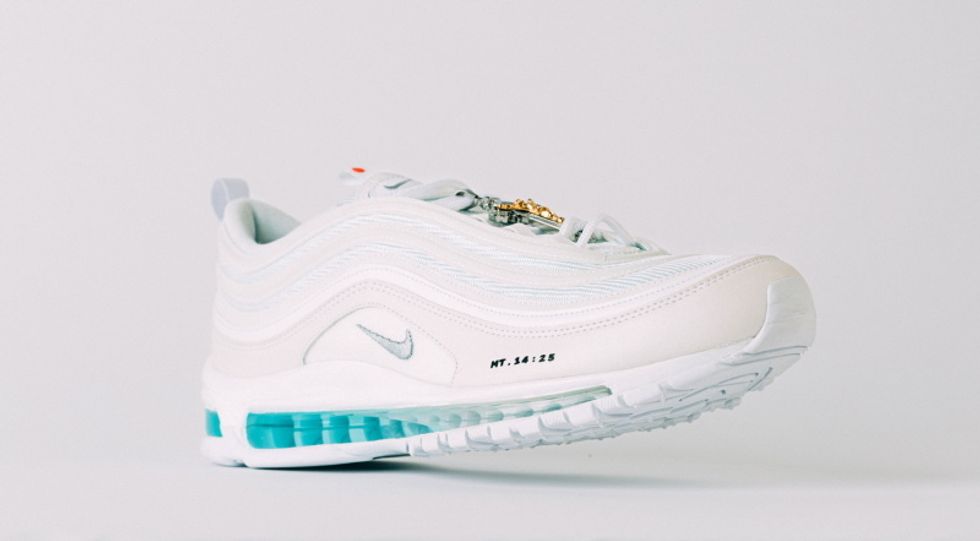 MSCHF
But prepare to pay a hefty price if you want a pair.
Sold out at the original price of $1,425—an explanation of that is later—people are asking and getting anywhere from $2,500 to $11,500 on the resale market.
Average price now is around $3,000.
The limited-edition sneaker was made by MSCHF, a Brooklyn-based company that creates new limited projects every month. The point of this project was to point out the absurdity of "collab culture."

Head of commerce for MSCHF, Daniel Greenberg, told CBS News the idea came from the Arizona Iced Tea and Adidas collaboration.
Greenberg is quoted saying:
"We set out to take that to the next level. We asked ourselves, 'What would a shoe collab with Jesus look like?'"
"Obviously, it should let you walk on water. 'Well, how can we do that?' You pump holy water into the pocket of a pair of Air Max 97's and with that, you get Jesus Shoes — the holiest collab ever."
Okay, but like, why?
Would you pay $3,000 for Jesus Shoes? Hell naaaw. https://t.co/22zUHgM97C

— BarBara BeaM (@BarBara BeaM) 1570727284.0
@ladbible This is a joke right?

— Dr. Raccoon 🇨🇦🇬🇧 マシュー (@Dr. Raccoon 🇨🇦🇬🇧 マシュー) 1570693764.0
Sacrilege happening in our world. https://t.co/2WulujeKrd

— Sardonic Sede (@Sardonic Sede) 1570772553.0
@VICE The fact that Jesus would've HATED this is ironic.

— Jessie Smooyay (@Jessie Smooyay) 1570726144.0
The shoes were custom designed from a regular pair of Nike Air Max 97 sneakers. They contain 60cc of Holy Water sourced from the River Jordan in Israel and blessed by a priest.
However, MSCHF didn't stop there. The shoes also have a mini crucifix made of steel, a spot of red on the shoe tongue to symbolize the stigmata—the nail wounds on Jesus' hands and feet—and the acronym INRI, which stands for a Latin phrase that roughly translates to "Jesus the Nazarene, King of the Jews".
The shoes are also emblazoned with "MT 14:25" short for Matthew 14:25. This is the passage in the bible that speaks of Jesus walking on water.
It's obvious that MSCHF went all out for this project.
Because of that, there are people out there who genuinely want these shoes.
i'm boutta walk on water 🤭 https://t.co/tdojH1g3oF

— este 🌶 (@este 🌶) 1570754499.0
@Cosmopolitan Idk. I'm kinda loving them. 💕 https://t.co/eyCR7ENNH7

— Aisha Baskette (@Aisha Baskette) 1570657993.0
I wanna punch the guy who thought of these in the throat but still buy a pair 😂🤷🏻‍♂️ https://t.co/4QrE1kThzO

— Memo 🦇 (@Memo 🦇) 1570770154.0
It's a crazy idea, executed well.

The alterations to the nearly pure white sneakers fit in very smoothly, and you wouldn't guess this was an aftermarket alteration, aside from the bonkers nature of the idea.
As explained earlier, if you want your own Jesus Shoes, expect to pony up some serious money. The shoes sold out within minutes, and at the time of writing, are going for an average of $3,000 on resale sites.
Though some sizes are asking for as much as $11,500, MSCHF themselves sold the shoes for $1,425, another reference to that passage from the book of Matthew. In case you're wondering, a pair of Nike Air Max 97s can be had for $200 on Nike's own website.
If you were wondering why someone would do this, you have your answer:
Money.
@CBSNews Any way to make a dollar

— Douglas Mazurco (@Douglas Mazurco) 1570737638.0
Stop making religion a trade https://t.co/igh4lPPHCP

— Angel (@Angel) 1570785095.0
@Jacopo_della_Q What did Moses part again, the Red Sea or fools and their money?

— Jags-O-Lantern (@Jags-O-Lantern) 1570740965.0
Late stage crapitalism https://t.co/E4r5IwuWTc

— Rubicon crossed.🌹🏴🌂🎗 (@Rubicon crossed.🌹🏴🌂🎗) 1570726058.0
This is a lot of money to troll the very nature of ridiculous collab projects. How would people push it further?

But the fact the shoe sold out at such a high price point, and being sold for even more on resale sites, doesn't exactly say people are getting the message that this was satire.
Christianity already has to deal with those who can't seem to understand their Messiah's very clear message, so maybe an expensive Jesus Shoe isn't the best idea.
At least it's good for some jokes.
@Jacopo_della_Q Kanye right now https://t.co/q5B1r9t8ZM

— long time no seal (@long time no seal) 1570741680.0
@Jacopo_della_Q That's funny, "Jesus" was my first reaction to this.

— Michael Hayes (@Michael Hayes) 1570740881.0
The Righteous Gemstones season 2: cancelled https://t.co/LCbMNrjSw7

— rob pilkington 🔜 LACC 🎃 (@rob pilkington 🔜 LACC 🎃) 1570741094.0
******
Have you listened to the first season of George Takei's podcast, 'Oh Myyy Pod!'?
In season one we explored the racially charged videos that have taken the internet by storm.
We're hard at work on season two so be sure to subscribe here so you don't miss it when it goes live.
Here's one of our favorite episodes from season one. Enjoy!