Fans of MTV's Jersey Shore are going crazy over the upcoming reunion with their favorite rowdy housemates. Snooki, JWoww, The Situation, and the rest of the merry crew are about to serve up some hedonistic frivolity in the Jersey Shore Family Vacation series, airing April 5th on MTV.
---
Five years after Jersey Shore aired its last episode, we'll get to see what everyone was up to since. Well, almost everyone. While most of the bunch will return for another chapter of booze-infused drama, we won't be seeing Sammi Sweetheart.
Snooki mentioned during her "It's Happening with Snooki and Joey" podcast that Sammi wanted to remain content and away from revisiting any drama.
Sammi is just in such a happy place that I feel like she doesn't want to jump back into that drama.
@AmandaRaeGainer @MTV ARE YOU READY? #JSFamilyVacation

— Jersey Shore (@Jersey Shore) 1521162553.0
Meanwhile, Ronnie Ortiz-Magro is expecting a baby with girlfriend Jen Harley. "We're older, but I don't think many of us are wiser," he said in the trailer.
Some of the clan have entered another chapter of their lives by becoming parents. But new responsibilities don't mean they've forgotten how to party. Spoiler alert: there will be a lot of fist-pumping.
Jersey Shore trailer comes out today and the show is airing (as usual) on Thursdays. Just like old times. https://t.co/71hCn0wx5e

— Norman D. Golden ll (@Norman D. Golden ll) 1521128349.0
From what the trailer shows, everyone looks like they're up to their usual mischief without the kids around.
"I love my children, but I never let loose," Jenny 'JWOWW' Farley admitted. "Motherhood has made me crazy."
Snooki is cozying up to some serious pie.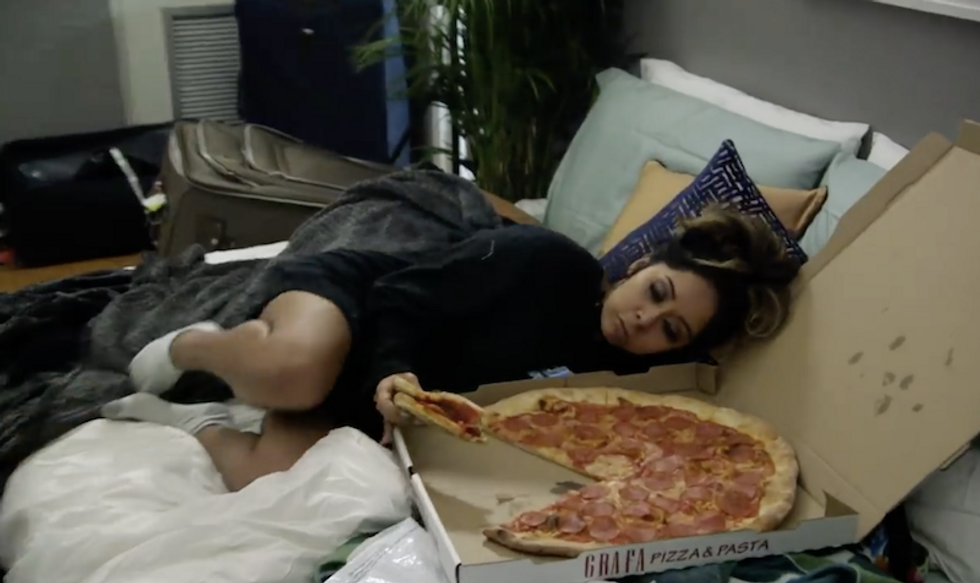 Don't choke on the cheese.(MTV/YouTube)
"As we age, we just get more delinquency," Nicole 'Snooki' Polizzi said. She is currently a married mother with two kids, Lorenzo, 5, and Giovanna, 3.
"We are just loving each other and having a blast," Deena beamed during a coveted confessional moment. What is the latest addition to the Jersey Shore family up to these days? The 31-year-old has kept a low profile since wrapping up the show. She is currently a dog trainer at the The Green Leaf Pet Resort in Millstone, N.J.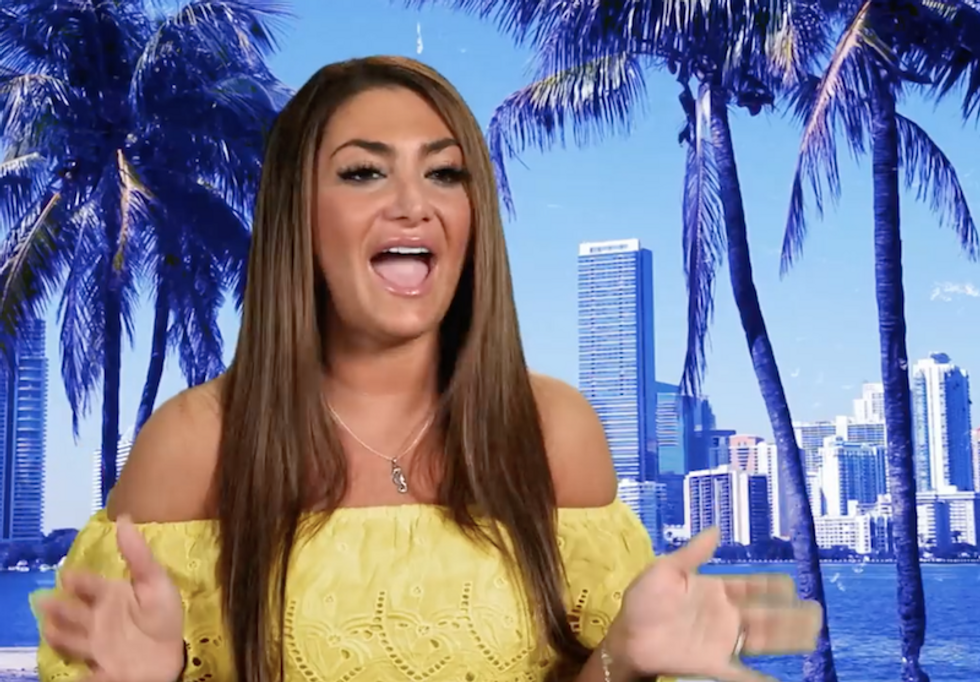 The most fun ever.(MTV/YouTube)
Snooki spills some insight into Mike 'The Situation' Sorrentino's dilemma after he pleaded guilty for tax evasion in a New Jersey federal court. "Dude, prison's no joke. It's scary. He's literally not going to survive." Sorrentino, 35, faces 15 years in prison and $250,000 in fines, but not before a few more rounds of high jinks on Family Vacation.

Fans are getting nostalgic and can't wait to reunite with the gang.

#JerseyShore trailer was just released. I hate to admit I smiled the whole 90-seconds of it and actually had to ref… https://t.co/F0fc7xniWJ

— Amanda Rae Gainer (@Amanda Rae Gainer) 1521162439.0
My 15 year old self is screaminggggggggg 🙌 I'm so excited for #JSFamilyVacation https://t.co/LRHAQXL8H1

— kelsey 🌼 (@kelsey 🌼) 1521162920.0
Just saw the trailer for the New Jersey shore season and I felt super sentimental because the cast is getting old a… https://t.co/zy5SMbAi9j

— Marge (@Marge) 1521170100.0
People grew up with these guys. Now, some of the younger fans are old enough to knock back a few with them.

I can't believe I was 17 when #JerseyShore Came out and now I am 25 with a full time job and an adult life to maint… https://t.co/I6No7IO7CQ

— Victor Polanco (@Victor Polanco) 1521173492.0
If you think I'm watching this new Jersey Shore they keep promoting now that I'm 6 years more matured then you'd be… https://t.co/5856kVOfvC

— A spot of pink in a sea of blue (@A spot of pink in a sea of blue) 1521158046.0
I don't think people understand how excited I am for this 😂🙌 I'm old enough to take shots with them now lmfaooo… https://t.co/HIetQw2y0H

— Yolanda (@Yolanda) 1521165041.0
I just think I'm an adult & all mature until #JerseyShore is on and I end up in my living room doing the Jersey tur… https://t.co/YyRXmi8xld

— Marrin Cater🌸 (@Marrin Cater🌸) 1521168367.0
It's hard to believe we were introduced to the raucous denizens of Jersey Shore ten years ago. The show ran for six seasons from 2009 through 2012 and viewership reached its peak at 8.8 million for the season four premiere.
Now in 2018, it's VACAY TIME!
H/T - Twitter, YouTube, Moneyish, CNN, Cosmopolitan