Jersey City Mayor Steven Fulop has called for the resignation of Jersey City Board of Education member Joan Terrell-Paige after she appeared to defend last week's Jersey Market shooting in the Greenville district of Jersey City, New Jersey.

One of the two gun-toting assailants had a history of posting anti-Semitic content on social media, indicating the incident that killed six people – including both shooters, a police officer and two members of the city's Hasidic community – was a deliberate attack.
---
Paige's diatribe appearing to justify the shooting carried out by the couple David Anderson and Francine Graham – both of whom were connected to the Black Hebrew Israelites which is not related to mainstream Judaism and known to be anti-Semitic – was screenshot and posted on Twitter by conservative media outlet, Reagan Battalion.
Paige wrote:
"Where was all this faith and hope when Black homeowners were threatened, intimidated, and harassed by I WANT TO BUY YOUR HOUSE brutes of the Jewish community?"
Joan Terrell is an elected member of the Jersey City Board of Education, she says that the murders of the Jews in J… https://t.co/qrfoI0XNpZ

— Reagan Battalion (@Reagan Battalion) 1576591951.0
"They brazenly came on the property of Ward F Black homeowners and waved bags of money,"
"Resistance was met with more threats of WE WILL BRING DRUG DEALERS AND PROSTITUTES TO LIVE NEXT DOOR TO YOU. YOU WILL SELL TO US THEN. Where was this faith and hope?"
"Who helped Black people living in rental properties owned by the Jewish people but were given 30-day eviction notices so that more Jewish people could move in?"
"The $M MAKE IT YOURS ads that mysteriously appeared in New York City encouraging Jewish people to come to Jersey City did not fight hate."
Paige also blamed the arriving Hasidic community for eliminating the "Friends of Lifers" and "Second Chance" programs that provide aid to citizens who have formerly been incarcerated or have criminal records.

"Many of the community gardens tended to by black people were eliminated. One still exists and has been harassed almost daily."
She continued:
"If we are going to tell a narrative it should begin with TRUTH not more cover up of the truth."
"Dialogue is important but the truth is critical."
"This is just a small portion of the pains of the Black community now being ignored in this rush to faith and hope."
"Drugs and guns are planted in the Black community. Mr. Anderson and Ms. Graham went directly to the kosher supermarket. I believe they knew they would come out in body bags."
"What is the message they were sending? Are we brave enough to explore the answer to their message?"
She concluded with:
"My people deserve respect and to live in peace in this city. (I am speaking as a private citizen not as an elected member of the Jersey City Board of Education - these beliefs are mine and mine alone.)"

Below is the screenshot of Paige's now-deleted Facebook comment, in full.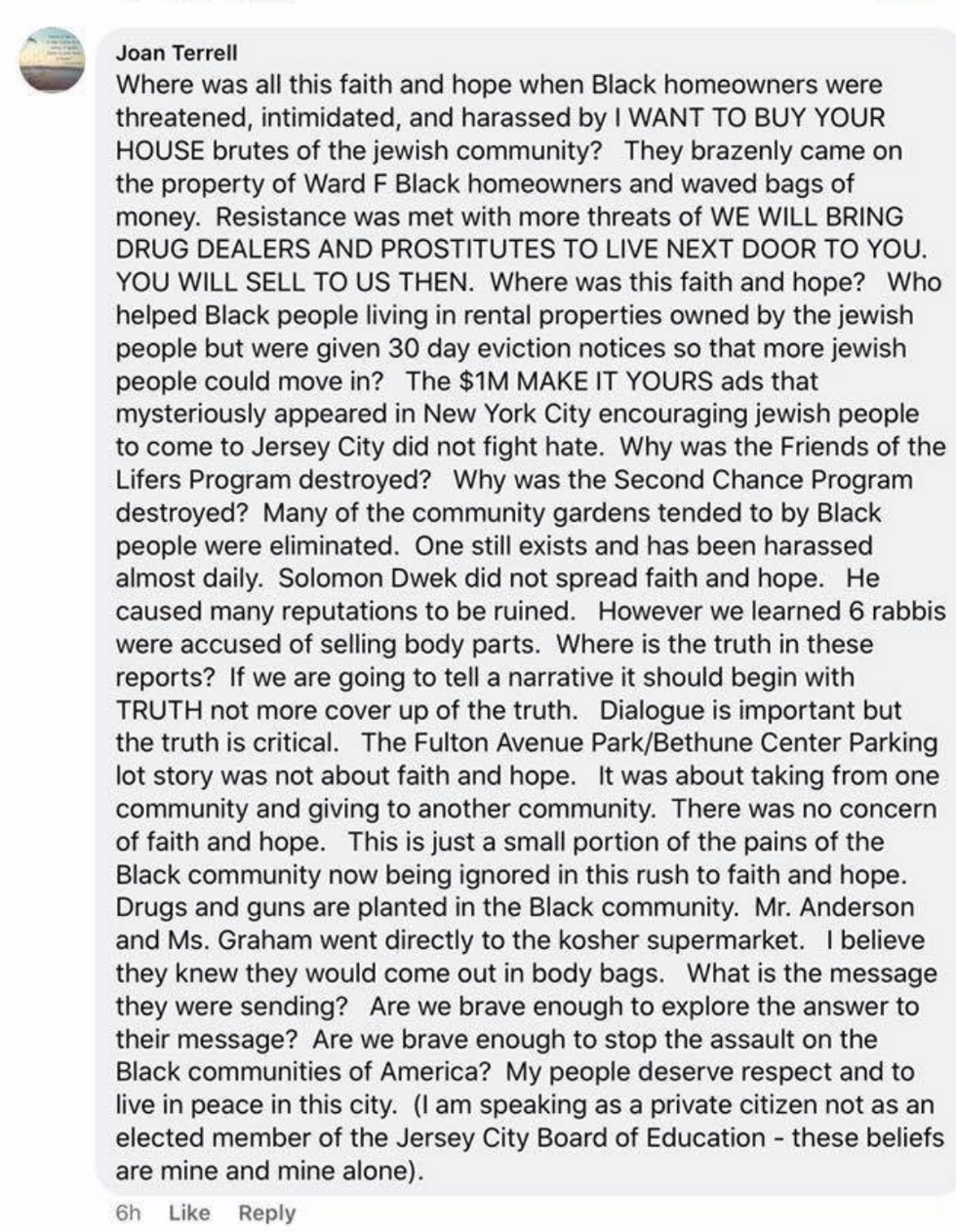 @Reagan Battalion/Twitter
The Jersey City Mayor – who saw the shooting as a hate crime and an attack on the Jewish community – denounced Paige for her tirade that was deemed inappropriate as an education official.
"My opinion is she should resign."
"That type of language has no place in our schools and no place amongst elected officials."
"Imagine she said this about any other community. [W]hat would the reaction be? The same standard should apply here."
I also said I'm not going to mix words. My opinion is she should resign. That type of language has no place in our… https://t.co/sXjxb23Agv

— Steven Fulop (@Steven Fulop) 1576611654.0
The community stood by the mayor – who meant to say he was "not going to mince words" – and called for Paige to suffer greater consequences.
@StevenFulop *Mince* words. And you're absolutely right.

— sp (@sp) 1576616214.0
@StevenFulop Thank you for your moral clarity on this issue.

— The Meturgeman (@The Meturgeman) 1576611712.0
@StevenFulop 💪Moral Clarity and a pair of BALLS. We need more of this. Thank you!

— Ein Yid (@Ein Yid) 1576612108.0
@StevenFulop Mr. Fulop agreed fully. We are living in very strange times. Our elected officials must be aware that… https://t.co/6ivxdjUaZ5

— Ernie Paniccioli (@Ernie Paniccioli) 1576612042.0
@StevenFulop Thank you for your clear message on this.

— Chananya Berman (@Chananya Berman) 1576615304.0
@StevenFulop Thank you Steven for taking a clear, strong and principled stance on this.

— Lawrence (@Lawrence) 1576650612.0
@StevenFulop Agreed, nothing short of resignation is acceptable. As a Jewish teacher in the district I filed an aff… https://t.co/3cXuzRgCb7

— Adam (@Adam) 1576616355.0
@StevenFulop We totally agree! A person who would spout such antisemitic language has no place on the BOE, much les… https://t.co/tfxrnk0qal

— (((R. David Levy))) (@(((R. David Levy)))) 1576642667.0
@StevenFulop Thank you for calling out this horrendous justification for the slaughter of innocent people! Well done!

— Danielle Escayg (@Danielle Escayg) 1576677803.0
@StevenFulop Dear Mr. Fulop, I am in a state of shock. Is this an educator speaking? I can understand they do not w… https://t.co/X47CEwO3fQ

— DogPerson (@DogPerson) 1576638469.0
@StevenFulop Someone that ignorant needs to receive an education , not assist in the education of others

— J (@J) 1576677200.0
Gov. Phil Murphy and the Jersey City teachers' union also joined Fulop in asking Paige to resign.

Paige, an elected official whose term ends at the end of 2020, expressed no remorse and told Politico that she had no regrets in posting her incendiary comments.
According to local news site NJ.com, a disheartenned school board president Sudhan Thomas wrote in a statement:

"Trustee Paige's comments do not reflect the JCBOE outlook or value system."
"The JCBOE is home to 30,000 students and 6,000 employees from various ethnicities, religions, cultures and sexual orientation. There is no room for any kind of hate or bigotry in Jersey City."
New Jersey Attorney General Gurbir Grewal said that Tuesday's violent attack is being investigated as an act of domestic terrorism.