California Republican gubernatorial candidate Caitlyn Jenner shared a transphobic, misogynistic meme—borrowed from Donald Trump, Jr.—mocking Asst. Secretary of Health Dr. Rachel Levine.

Jenner—a transgender woman—shared the transphobic, misogynistic meme on her Instagram story. The meme mocked the appearance of Dr. Levine who is also a trans woman.
Judging a woman's validity, especially a transgender woman, on her level of physical attractiveness is a common form of transphobia and misogyny. While that bigotry is expected from Trump Jr., people were disheartened Jenner decided to endorse and promote it.
Dr. Levine—as the assistant Secretary Of Health in President Joe Biden's administration—is the highest ranking openly trans person in the history of federal government. Her accomplishments as a doctor and public health official were reduced to whether she's "pretty."
Trump Jr.'s original post made fun of her appearance by comparing an extremely unflattering photo of Levine speaking, labeled as a "liberal girl," to a professional photoshoot image of Jenner, labeled as a "conservative girl."
Trump Jr. captioned the meme:

@donaldjtrumpjr/Instagram
While Trump fans like Tomi Lahren cosigned on his transphobic, misogynistic Instagram post, many others hurled homophobic slurs at Jr. and transphobia at both Jenner and Dr. Levine.

Many conservatives used the post to misgender both women and question Jr.'s masculinity for calling them women at all.
Then Jenner reposted it as an Instagram story.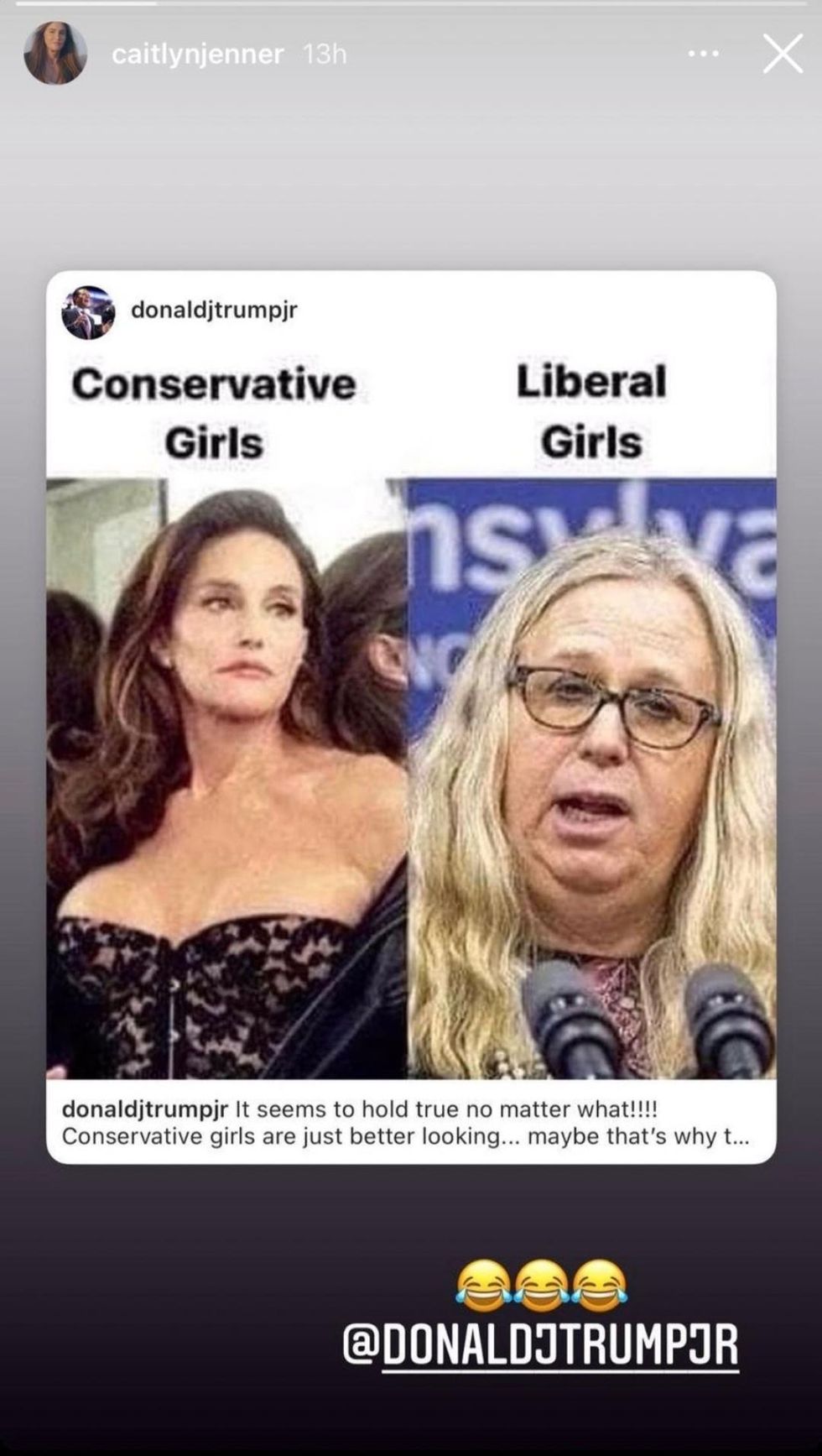 @caitlynjenner/Instagram
This lead to a different kind of backlash.

Fellow trans woman Alexandra Billings—an actress, singer, teacher and activist—posted a lengthy response.

She wrote:
"Dear [Caitlyn Jenner]"
"Reposting [Donald Trump Jr.'s] pic says volumes about both your self hatred and your blatant transphobia."
"I know this rage. I lived with it for years and it is still a cacophony of voices that haunt me."
"But I am not running for a public office and I am not a self proclaimed 'role model'."
You can see Billings' response here:
Billings added:
"...your search for admiration and public approval is just as transparent as your egocentric, pseudo-Republican, rich, White, privileged lifestyle you flaunt, pretending to be some sort of everyday citizen caring about everyday events."
"With your private airplane hanger full of lies and your million dollar shoes, you have as much in common with us, as we do with you. It isn't your Transness people are bothered by, it's your behavior as a human, Caitlyn..."
"You're dangerous and not only do you not know it, even if you knew it, you wouldn't believe it. Because no one really exists in your world, but you."
Billings included an appeal to Jenner's humanity.
"If there's a small piece of you that remembers what human frailty feels like, I appeal to that."
"Think of others. Think of the Trans youth who believe you to be some sort of super human."
"Your example is warped."
Many others also had harsh rebukes for Jenner.
Many tagged Jenner in their responses.
Many pointed out Jenner had millions of dollars at her disposal to aid with her transition. Many transgender people struggle with housing and employment discrimination, making the cosmetic surgeries used by Jenner as out of their reach as a stroll on the moon.
Being out of touch has been a constant complaint about Jenner.
Jenner will be running against several other GOP candidates in an attempt to beat Democratic Governor Gavin Newsom in the upcoming recall election in California.
But her behavior made her unfit for office in the eyes of many California voters. A recent poll had Jenner at just 6%.