Rap legend Ice Cube has never been known to hold his tongue, and recent incident on Twitter was no exception.
Ice Cube had some choice words for a person on Twitter, John C. Varner III, who accused Ice Cube of being a Republican who tells Black people to vote for the GOP instead of the Democratic Party.
Ice Cube was having none of it, and firmly clapped back at Varner for the claim, as seen below.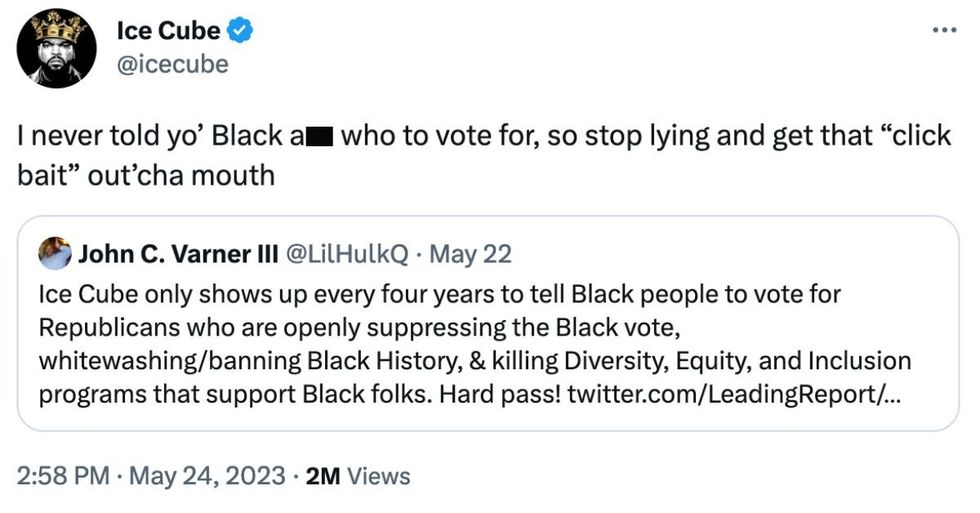 @icecube/Twitter
In his tweet, Varner claimed:
"Ice Cube only shows up every four years to tell Black people to vote for Republicans who are openly suppressing the Black vote, whitewashing/banning Black History, & killing Diversity, Equity, and Inclusion programs that support Black folks. Hard pass!"
Varner's tweet was in response to one from breaking news Twitter account Leading Report, which tweeted without any sourcing, citation, or even a link to story that Ice Cube had publicly urged Black voters to abandon the Democratic Party.
Ice Cube heatedly rebutted Varner's comment, tweeting in response:
"I never told yo' Black a*s who to vote for, so stop lying and get that "click bait" out'cha mouth"
Ice Cube has frequently been criticized for meeting with former Republican President Donald Trump in 2020, which many interpreted as a show of support for his reelection campaign.
Ice Cube recently discussed this and other issues during an appearance on the "Full Send Podcast" earlier this month, and both Varner's and especially Leading Report's takes on what Ice Cube said are a mischaracterization of his comments.
In them, he criticized Democratic inaction on Black issues despite decades of Black support at the polls.
Speaking to the podcast's hosts earlier this month, Ice Cube said:

"I never supported Trump or Biden. I never asked to speak to the Republicans or the Democrats."
"I created a document called the 'Contract with Black America,' which addressed various issues we believed were the cause of the unrest after George Floyd's killing. I released the document, and both Republicans and Democrats wanted to talk to me. I spoke with both parties about the Contract."
Ice Cube went on to explain that while Republicans showed interest in some of the ideas put forth in his contract, Democrats put him off, telling him they "would discuss it...after the election."
Ice Cube went on to discuss the Black community as a bloc's feelings about the Republican Party, and to criticize the Democratic Party for its decades of lip service to the Black community that has rarely resulted in meaningful change.
"There seems to be a stigma in the African American community regarding Republicans and similar parties. I don't know what's going on in the African American community when it comes to that."
"Black people have overwhelmingly supported Democrats for 50 to 60 years, and yet nothing has changed. So something needs to change."
Tellingly, Ice Cube said at the end of 2022 that he still had not heard from Biden or Democratic leadership about the proposals in his "Contract With Black America."
On Twitter, many were firmly on Ice Cube's side, and shared his frustrations with the Democratic Party's approach to Black voters.

But others felt he was twisting his own words to evade accusations like Varner's.
Even after Ice Cube's callout, however, Varner was undeterred. He quickly responded to Ice Cube's clapback and doubled down on his accusation.
Ice Cube has so far refrained from discussing the issue further.