Martin Hyde, a Sarasota, Florida Republican running for Congress, has taken down a "Let's go Brandon" Christmas lights display on his balcony after his homeowners' association warned he'd be charged a daily fine if it wasn't removed.
The HOA sent Hyde a "friendly reminder" that signs aren't permitted and threatened him with a $150 daily fine. Hyde initially disputed that the display was a sign at all, saying he bought the letters, which came with lights embedded in them individually, on Amazon and then arranged them to spell out the phrase.
Hyde responded to threat by promoting a "LGB community party" on Facebook, saying he would unveil an even bigger display.
And unveil it he did, but it was no better.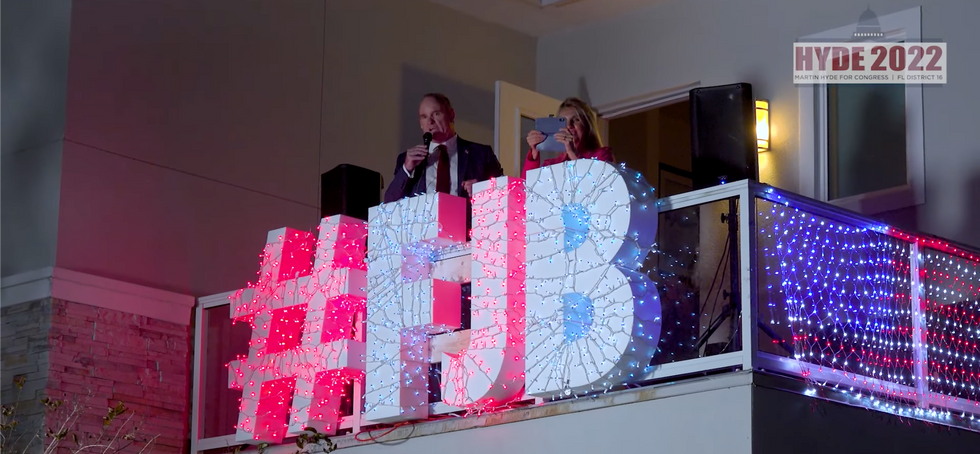 Sarasota Citizen Martin Hyde/Facebook
Hyde has tried to generate more traction for his campaign after former President Donald Trump endorsed his rival, Vern Buchanan, who currently serves as the United States Representative for Florida's 16th congressional district.
Many have criticized Hyde for being childish and petty amid the controversy over the sign.
The "Let's go Brandon!" chant has been used by conservatives to denigrate President Joe Biden. It began in October after an anti-Biden rap song began making the rounds, eventually rising to the top of the iTunes hip-hop chart.

The song, entitled "Let's Go Brandon," is performed by rapper Loza Alexander and went viral on TikTok.
It was inspired by the "Let's go Brandon!" meme that has taken social media by storm since NBC's Kelli Stavast interviewed NASCAR driver Brandon Brown after he came in first place at Alabama's Talladega Superspeedway in early October.
The interview went viral because the crowd could be heard chanting "F*** Joe Biden" in the background, which Stavast misheard as "Let's go Brandon!"
The moment, and the use of the chant since, is widely viewed as an example of the heightened political polarization in American politics as the Biden administration continues to work on bridging the gaps in a stalled legislature in an effort to codify its social and economic agenda.
Despite the controversy surrounding the "Let's go Brandon!" meme, it's safe to say that President Biden appears to have a sense of humor about it, as when he met with a man named Brandon to drum up support for his administration's "Build Back Better" intiative.
Although neither the President nor his social media and PR team confirmed that Biden was slyly putting divisive rhetoric to sleep, he received praise from social media users for subverting the joke.