It's been over twenty years since the iconic summer pick-up baseball movie The Sandlot touched our young hearts and brought us a fantasy summer full of friends, fun, and oversized dogs. But maybe it actually escaped some people, like a young man who happened to run into Patrick Renna and Tom Guiry on the street.
---
The young man was wearing a "You're Killing Me, Smalls!" shirt which featured a picture of Renna's character from the film: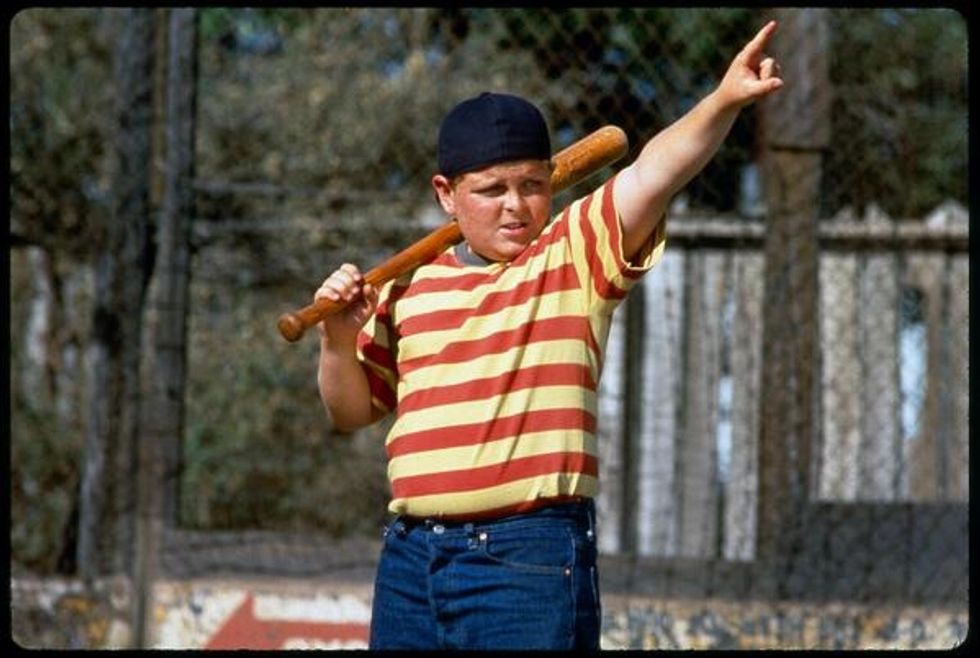 20th Century Fox
But when he was stopped on the street by the actors, it seemed like he had no idea who he was actually talking to.
And a generation gasped. HOW can you not get the reference?!
@PatrickRenna How do you not know who Scottt Smalls and the great Hambino are? Like what!

— Dubs (@Dubs)1532577234.0
Or maybe he just didn't recognize Renna, even though he was wearing Renna on his shirt. 25 years probably has made a small difference.
@PatrickRenna My response: https://t.co/CxsGavlm3L

— Brittany. (@Brittany.)1532578319.0
Most of us agree this kid is an L7 Weenie:
@PatrickRenna https://t.co/eF3P6YyjtD

— Sabrina Maroncelli (@Sabrina Maroncelli)1532574213.0
@PatrickRenna @therebeccasun Should've told him you were, "The sultan of swat! The colossus of clout!" BABE RUTH!… https://t.co/xez16FbBfx

— Nicole 🖖🏾 (@Nicole 🖖🏾)1532575270.0
@PatrickRenna Did you tell him you were the Great Hambino!?!?

— Snarking Geoffefe (@Snarking Geoffefe)1532563144.0
Seriously. How can you not recognize a legend like the Great Hambino himself?
Maybe this kid needs spectacles:
@PatrickRenna I have that shirt as well as this picture hanging up at work. People keep asking if it's a pic of me… https://t.co/WtH9GLz3oD

— Tyler Molina (@Tyler Molina)1532572122.0
@PatrickRenna @SandlotBambino https://t.co/YilCQPo0OX

— So It Goes🏔🤷🏼‍♀️ (@So It Goes🏔🤷🏼‍♀️)1532576154.0
@PatrickRenna https://t.co/kBbt35Zul8

— Michael 'Squints' Palledorous (@Michael 'Squints' Palledorous)1532612629.0
But we ALL feel a certain phrase has NEVER been more appropriate than for this moment:
@Carter_Boyle @PatrickRenna @samgododge He hasn't changed even a little bit https://t.co/5o8SE3Y1BP

— 𝕲𝖗𝖆𝖙𝖊𝖋𝖚𝖑 (@𝕲𝖗𝖆𝖙𝖊𝖋𝖚𝖑)1532665180.0
@PatrickRenna I believe @VancityJax had the same issue in NYC with a guy wearing a Conway Ducks jersey. The youth o… https://t.co/1C3pCVTBsy

— MN Vikings Tailgating (@MN Vikings Tailgating)1532641988.0
You're killin' me, smalls. You're killin' us all.
The cast of The Sandlot reunited back in April for this iconic photo:
25 years in the making with this photo. #sandlot25th photo cred @GadiNBC @DMESandlot https://t.co/AjX9hymR3n

— Patrick Renna (@Patrick Renna)1522952982.0
And for an interview with the Hollywood Reporter:
"Bake him like a toasted cheeser!" Ham, Squints, Smalls & more reunite and share their favorite lines in honor of t… https://t.co/2qGMFrdPZu

— Hollywood Reporter (@Hollywood Reporter)1523033242.0
So even though this one youth forgot the summer of 1962, The Sandlot will live on in all of our hearts for many years to come.
H/T: CBS, Hollywood Reporter