Eddie Deezen, known for his role as Eugene in the Grease movies, seems to be stuck in the 1950s. Deezen is being called out for harassing a waitress at a restaurant in Cumberland, Maryland.
Now, he's been banned from several restaurants in the area.
The waitress, Kara Lashbaugh, tweeted screenshots of Deezen's Facebook posts ranting about her false eyelashes:
"Eddie Deezen is a f*cking CREEP who comes into my work at least once a week, calls and asks other servers for my schedule, and if he comes in and I'm not wearing makeup HE LEAVES."
"And this grown a** old man has the balls to post this on Facebook about me I'm losing my mind."
Deezen posts to Facebook very regularly, sometimes multiple times within the hour, and every post is in all caps. It's mostly jokes or memes and a few articles here and there.
The post about Lashbaugh describes her as a "knockout girl," "beautiful," and "sexy," with her false eyelashes. He has been going to that restaurant on Wednesday's for months to have her as a waitress.
After taking time off for a family emergency, she returned to work but had stopped wearing the false lashes regularly. When Deezen commented on it, she wore them the following week.
He made the assumption Lashbaugh knew he would tip her $20.00 for wearing the lashes, as if she was specifically doing it for him.
You can see Deezen's Facebook posts below.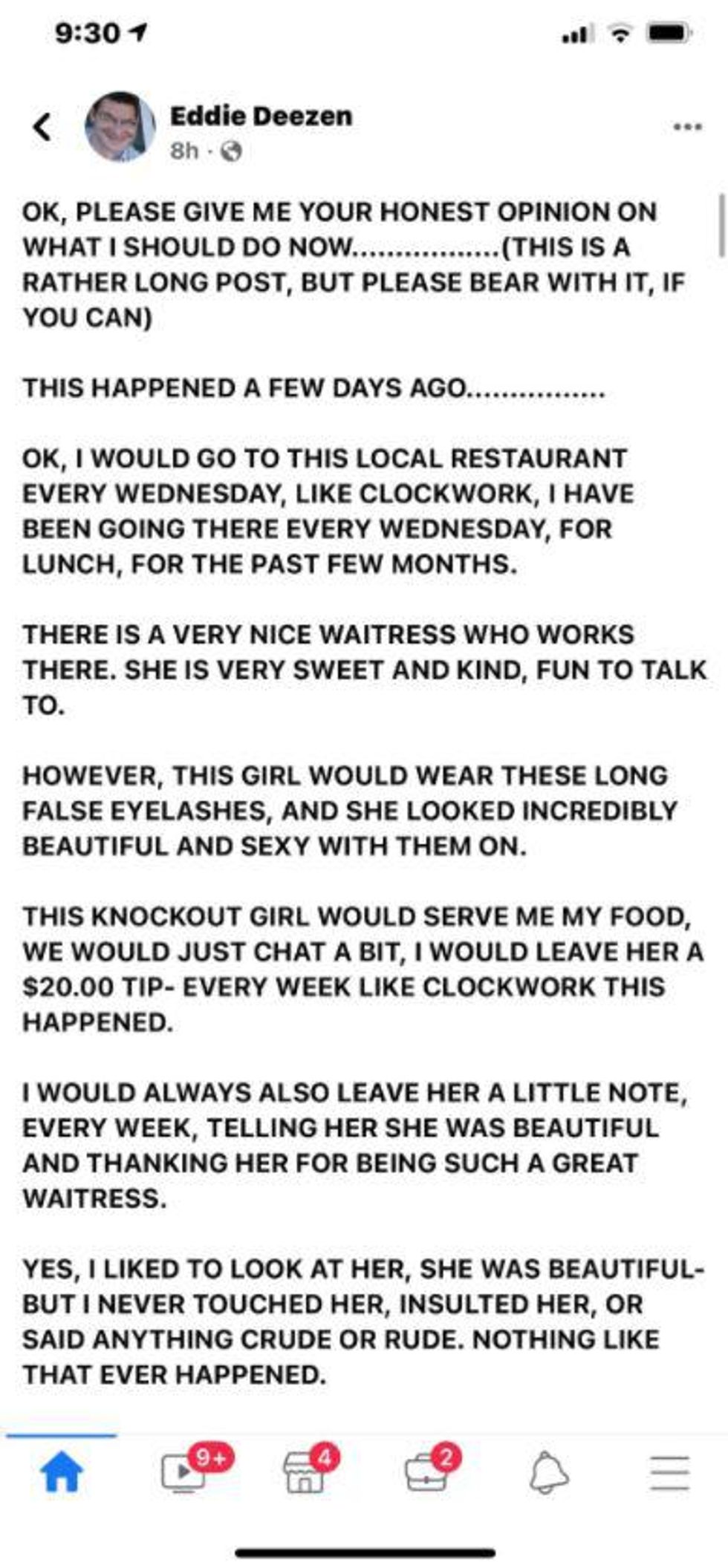 @KaraLashbaugh/Twitter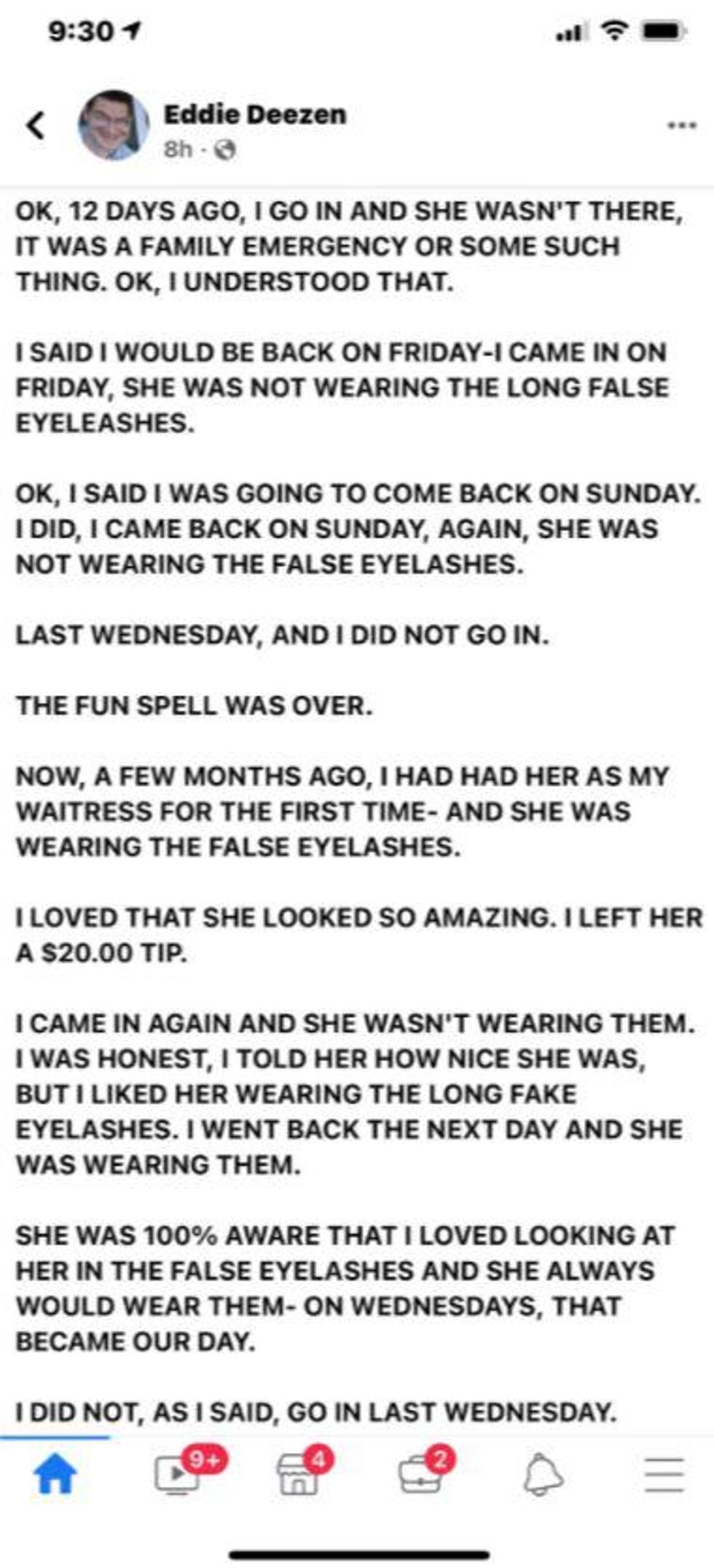 @KaraLashbaugh/Twitter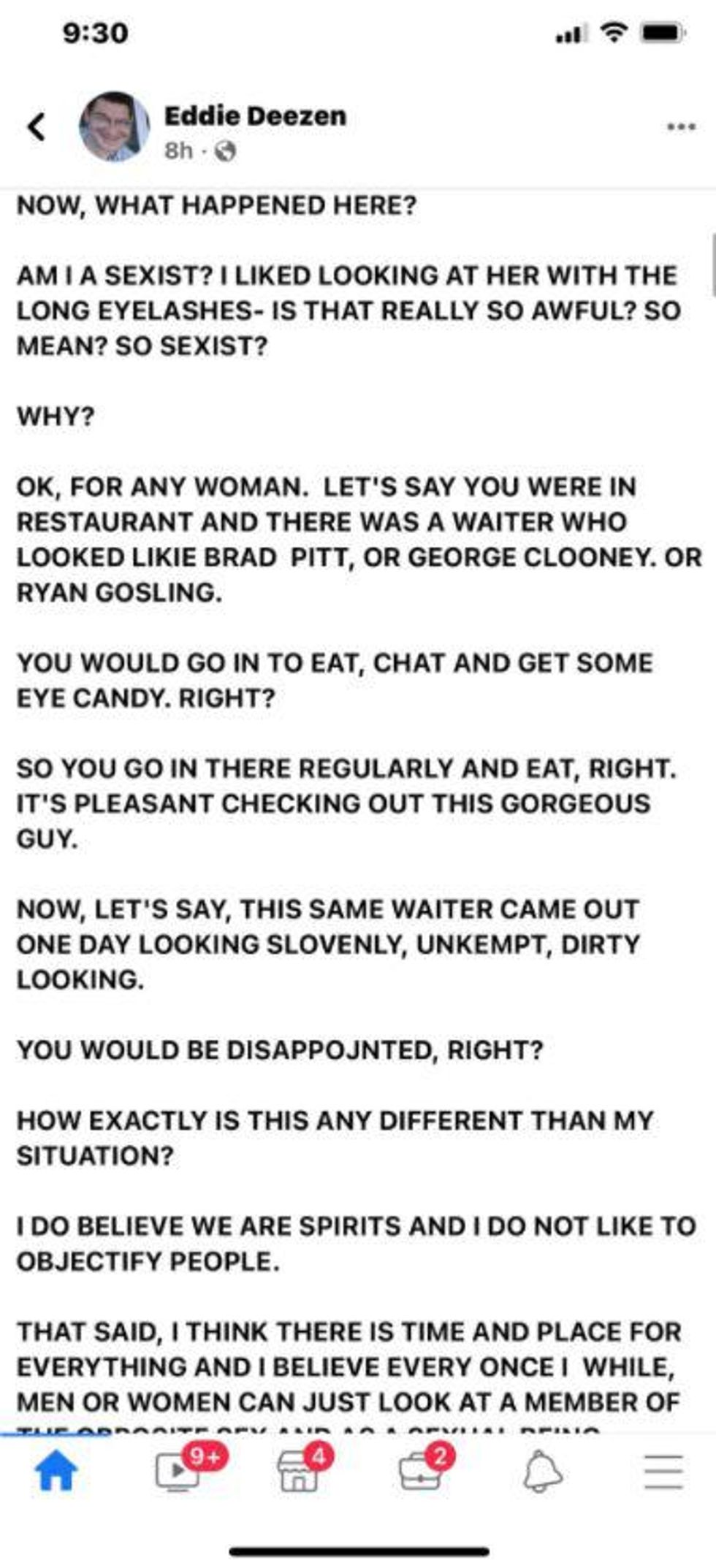 @KaraLashbaugh/Twitter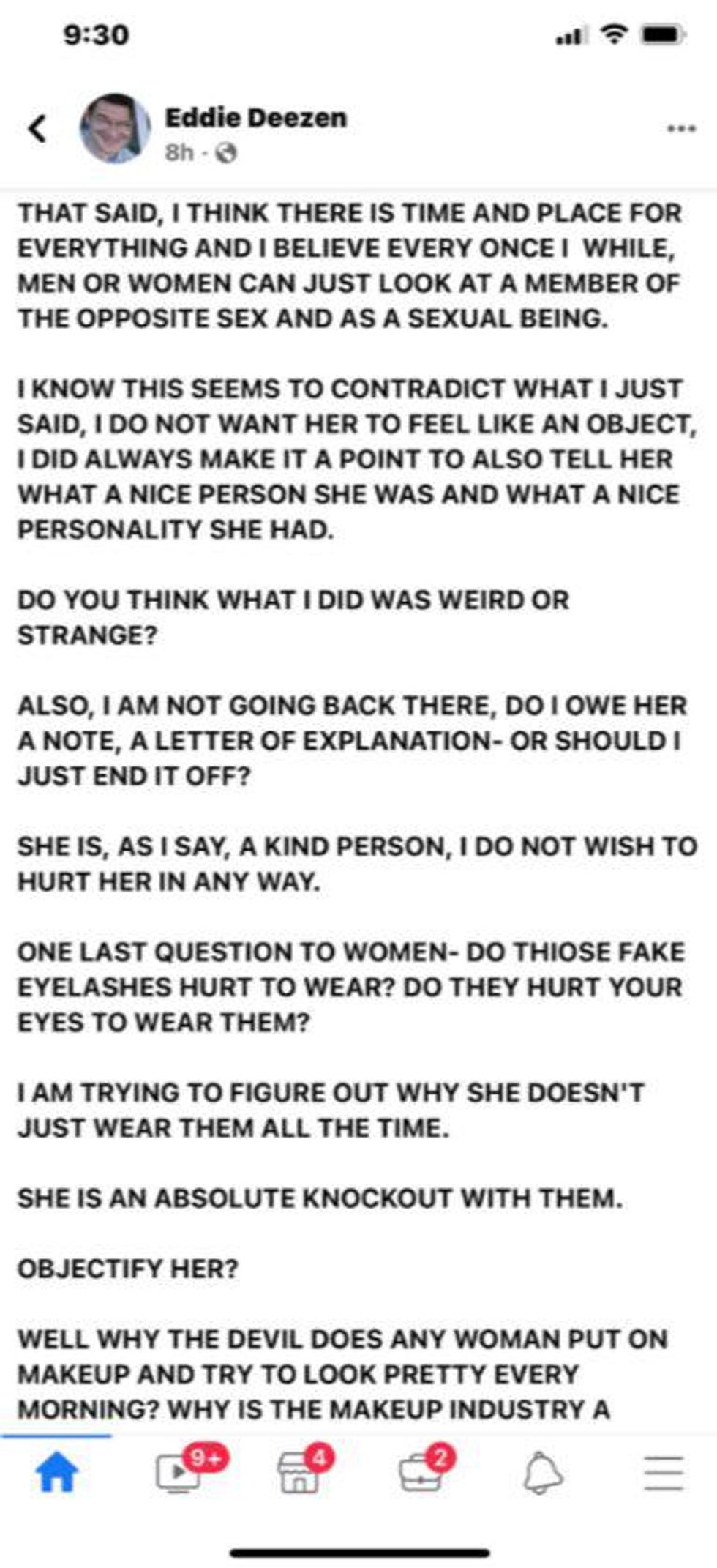 @KaraLashbaugh/Twitter
Another twitter user replied to Lashbaugh's tweet with more screenshots from another recent post involving sexual harassment of a 20 year old woman.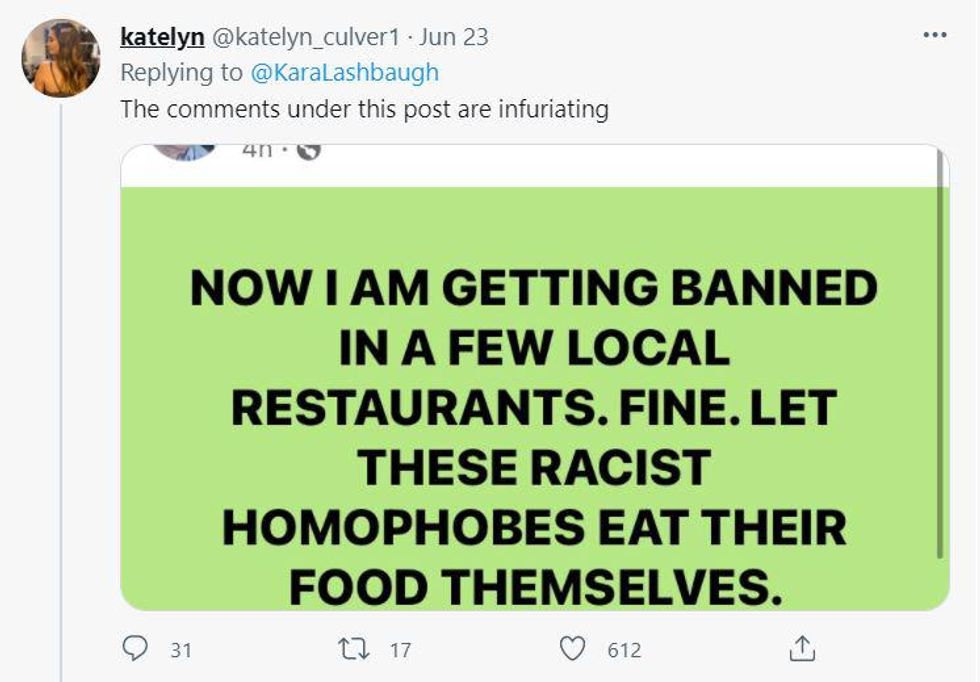 @katelyn_culver1/Twitter
Many people are rallying behind Lashbaugh and disturbed by Deezen's behavior.

@athomasson11/Twitter

@CrimeandtellMae/Twitter

@littlec923/Twitter

@littlec923/Twitter

@RevilFox/Twitter

@chlorophileB/Twitter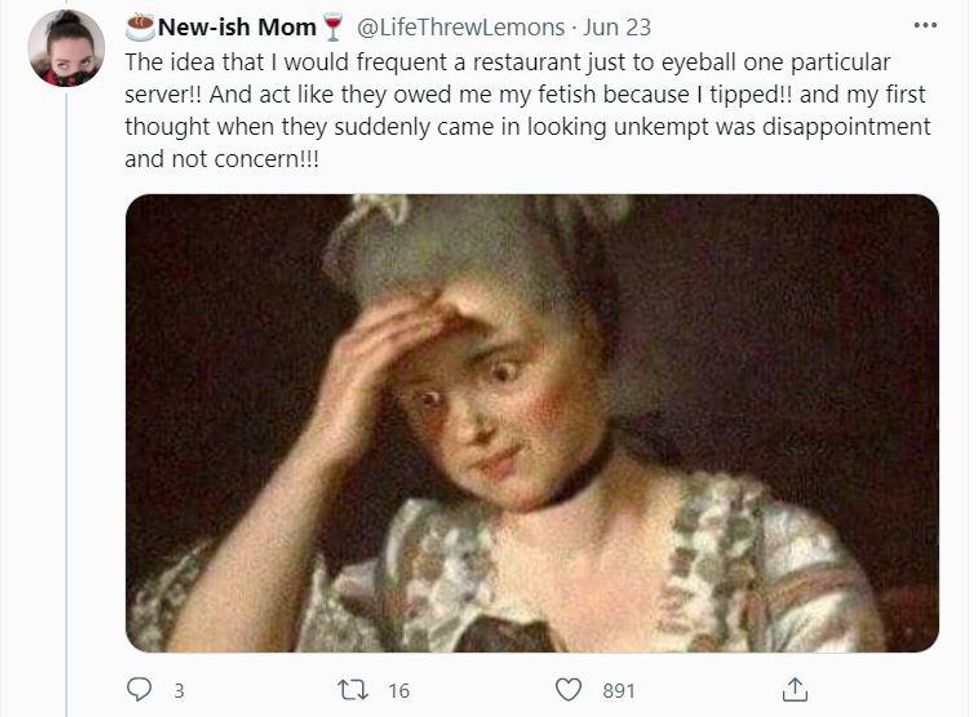 @LifeThrewLemons/Twitter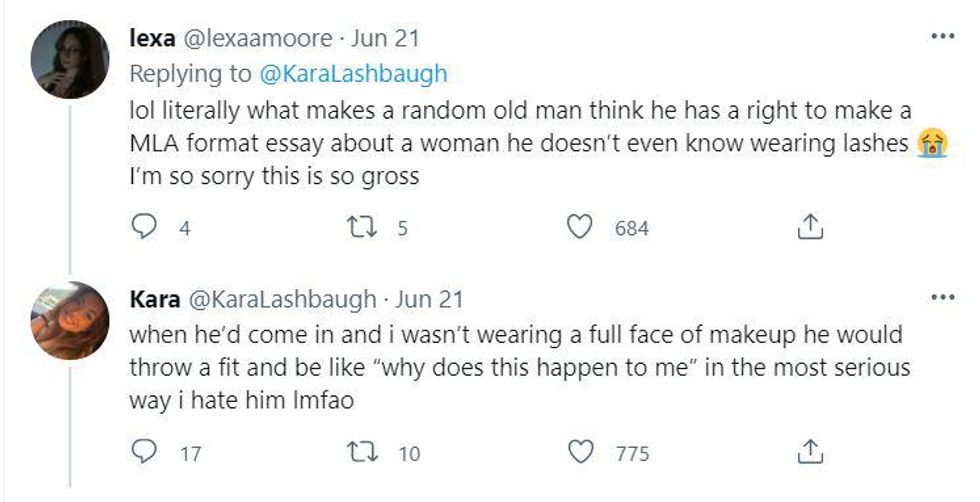 @lezaamoore/Twitter; @KaraLashbaugh/Twitter
Rachel Crawford, the daughter of the restaurant's owner, wrote:
"I have read, reviewed and took a couple of hours to think on this."
"I am here to inform you that your business is no longer welcome at the Crabby Pig. Our servers are not there to fulfill your sexual fetishes. Our jobs are to solely serve food and make sure we give great service."
Deezen has written another follow up Facebook post where he complains people are sending him threats and bullying him through private messages.
Deezen wrote:
"Okay, I am sure all of you have heard about my recent encounter with a sweet, innocent waitress who I supposedly traumatized."
"Well, it turns out the girl is not so sweet or innocent."
"She is an attention wh*re."
"She is a small-time, small town lonely girl who is desperately craving attention."
He continued:
"I have been called a 'child molester' 'a psycho nut job' and much worse by her cronies."
Deezen claims her and her "cronies" are starting rumors about him using the n-word and calling him a pedophile.
He also wrote he went to the restaurant again to apologize to her, explain his actions were wrong and he regrets them, but was turned away and told she wasn't there.
Even after saying he wanted to apologize, he still is saying Lashbaugh is in the wrong and only wants her "15 minutes of fame."
Deezen also said he would be getting a lawyer and restraining order put on Lashbaugh. It's been reported he feels unsafe to leave his home for fear that he's in danger.
TMZreported Lashbaugh will be contacting a lawyer but has not filed a police report yet.