Republican Representative Paul Gosar of Arizona—long a darling of the far-right and frequent guest of White nationalist gatherings—was heavily criticized for lying about details of the mass shooting at Robb Elementary School in Uvalde, Texas.
He falsely claimed a "transsexual leftist illegal alien" was responsible for murders of 19 children and two teachers. The conservative conspiracy theory was also pushed online by right-wing hack Candace Owens.
In a since-deleted tweet, Gosar misidentified the shooter as "Salvatore Ramos" and made the absurd claim Ramos was "a transsexual leftist alien."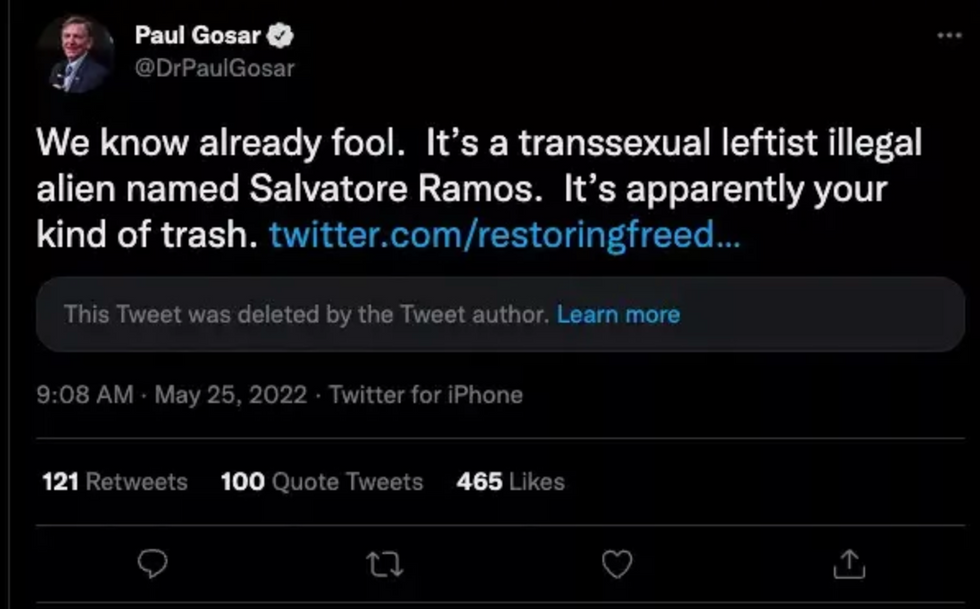 @DrPaulGosar/Twitter
The photo Gosar linked to in his post is from a transgender artist's Reddit account.
The artist was quickly attacked after the photograph circulated in right-wing circles and had to clarify not only was it not them but they did not even live in Texas, where the mass shooting took place.
Gosar's claim earned him significant ridicule.
He was accused of using the death of children as an opportunity to score points with bigots.

19 children and two adults died during the shooting, which took place at Robb Elementary School in Uvalde, Texas early yesterday morning. The mass shooting was the second deadliest school shooting after the Sandy Hook Elementary School shooting in 2012.

Authorities identified the shooter as an 18-year-old male who was a resident of Uvalde and a student at Uvalde High School. He purchased two semi-automatic rifles through a local gun store last week, just days after his birthday.
The shooting took place just a week after a mass shooting that occurred at a Buffalo, New York supermarket. 10 people died during that attack and three others were injured. Most of the victims were Black.
The shooter subscribed to the "Great Replacement" conspiracy theory often touted by Fox News personality Tucker Carlson, which states White European populations and their descendants are being demographically and culturally replaced with non-European peoples.
Gosar has long been one of the more controversial members of Congress.
He made headlines last month after he denied he planned to attend a far-right conference with ties to White nationalist groups on April 20, the birthday of German Nazi Party leader and Holocaust perpetrator Adolf Hitler.
According to a report first published in Arizona Mirror, Gosar's campaign claimed he would not be attending the event hosted by The American Populist Union, a group closely aligned with the Groypers, sometimes called the Groyper Army, a group of White nationalist and far-right activists, provocateurs and internet trolls who've inserted extremist views into mainstream conservatism.
Gosar's campaign claimed they did not know how he was listed as a guest of honor. However, Gosar's social media told a different story, given that he promoted his scheduled appearance on Instagram.