Rudy Giuliani was mocked online after he somehow wore two watches to a disciplinary hearing to determine whether he's qualified to practice law in Washington, D.C.
Giuliani—who over the last few years has attracted notoriety and scorn for litigating former Republican President Donald Trump's efforts to overturn the results of the 2020 presidential election—admitted he'd only just noticed his bizarre fashion faux pas during the hearing.
In the video below, you can hear Giuliani tell his lawyer he just realized he accidentally wore two watches to court shortly before recess.

Though the video is blurry, you can see both of Giuliani's watches visible on his wrist.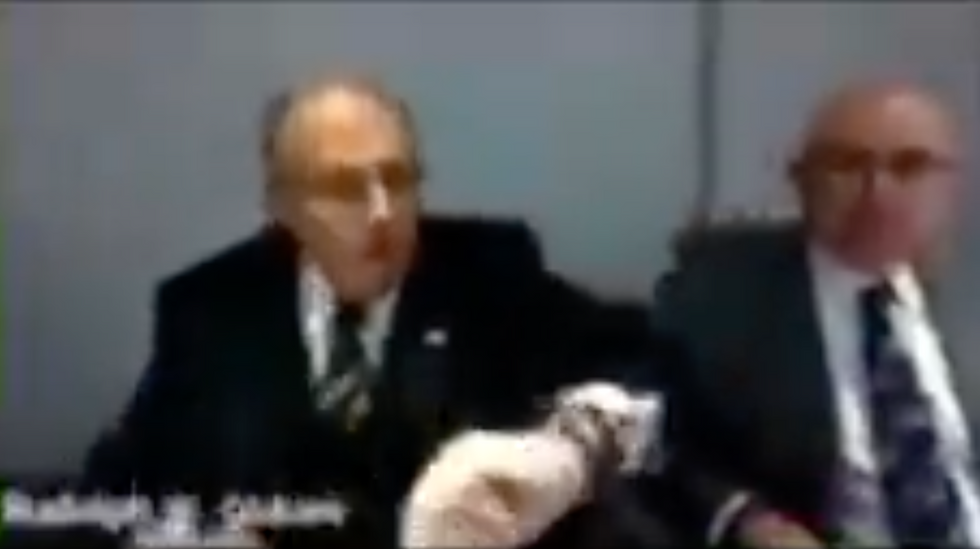 @RonFilipkowski/Twitter
Giuliani's fashion faux pas was only his latest blunder.
This is the same man who continues to inspire "Four Seasons Total Landscaping" jokes more than two years since he mistakenly held a press conference there instead of at the Four Seasons Hotel at the Comcast Technology Center in Philadelphia, Pennsylvania.
Is the fact he wore two watches really all that much of a surprise?
Twitter users noticed those watches perhaps even quicker than Giuliani himself did—and mocked him profusely.

Giuliani generated unsavory headlines through 2020 and 2021 for filing lawsuits on behalf of former President Trump in an effort to overturn the election results and for sharing debunked conspiracy theories about voting irregularities.
His efforts have not been without consequences, as evidenced by his presence at the court hearing.
In July 2021, Giuliani claimed he is the victim of "political persecution" after his law license was suspended in Washington, D.C. The suspension was triggered automatically by Giuliani's suspension the previous month from practicing law in the state of New York.
A New York appellate court officially suspended Giuliani's law license, writing in a 33-page decision that he made "demonstrably false and misleading" statements about the 2020 election while working as Trump's personal attorney.