New York Republican Representative George Santos has been accused of scamming a disabled veteran out of more than $3,000 he needed to help his service dog get surgery.
According to a report published in Patch, United States Navy veteran Richard Osthoff was living in a tent in an abandoned chicken coop in New Jersey in 2016 when he learned his service dog Sapphire had a stomach tumor that required surgery to the tune of $3,000.

Osthoff couldn't afford the surgery but a veterinary technician told him he could solicit the help of Anthony Devolder, who ran Friends of Pets United, a pet charity.
While neither Osthoff or the vet technician knew it at the time, the latter was referring to Santos.
"Anthony Devolder" is one of the aliases Santos—whose full name is George Anthony Devolder Santos—used.
Several names used by Santos were uncovered since The New York Times published the results of an extensive investigation calling into question many key elements of the New York Republican's biography.

There is no record of the charity ever being registered and Osthoff learned about Santos' con the hard way when Santos helped him start a GoFundMe campaign to raise money for the dog in May 2016.
However, once the fundraiser met its $3,000 goal, Santos refused to use the money to pay for the surgery at the New Jersey veterinarian Osthoff regularly went to and instructed him to go to a different practice in Queens, New York.
Osthoff recalled the Queens practice was "a tiny little hole-in-the-wall place, but looked legitimate." But when he went there, he was told the vet "couldn't operate on the tumor."
Confused, he attempted to contact Santos, who stopped regularly answering calls and texts. When he did manage to speak with Santos, Santos accused him of not doing things "my way" and refused to pay for the surgery.
When Osthoff demanded Santos relinquish the funds in a November 2016 text message, adding Sapphire "is going to die because of god knows what" and he was "sick of being jerked around," Santos replied:
"Remember it is our credibility that got GoFundme them seves [sic] to contribute. We are audited like every 501c3 [sic] and we are with the highest standards of integrity."
"We do not drive people around nor do we give them rides. We transport ANIMALS in NEED not needy owners!"
"Sapphire is not a candidate for this surgery. The funds are moved to the next animal in need and we will make sure we use of resources [sic] to keep her comfortable!"
You can see their text exchange below.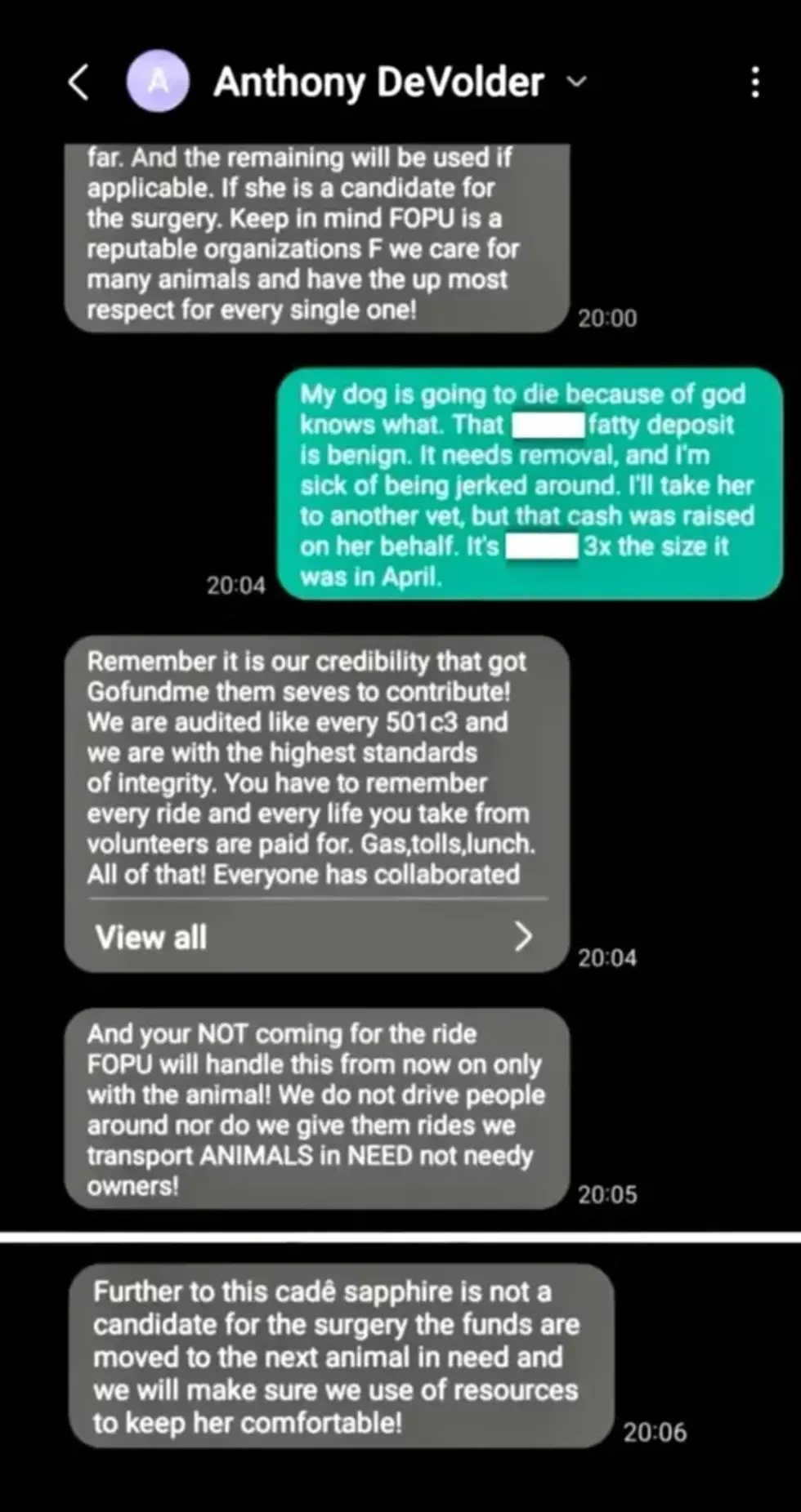 Richard Osthoff
Sapphire died the following January and Osthoff said he was forced to "panhandle" to pay for her euthanasia and cremation.
Shortly before she died, Osthoff posted about his experience with "Anthony Devolder" on Facebook, saying he'd been "scammed" by "Devolder... and Friends of Pets United."
At the time, he said that because of "a series of bad veterinary contacts" in addition to "subterfuge regarding payment," Sapphire had not received veterinary care, causing her tumor to grow in size.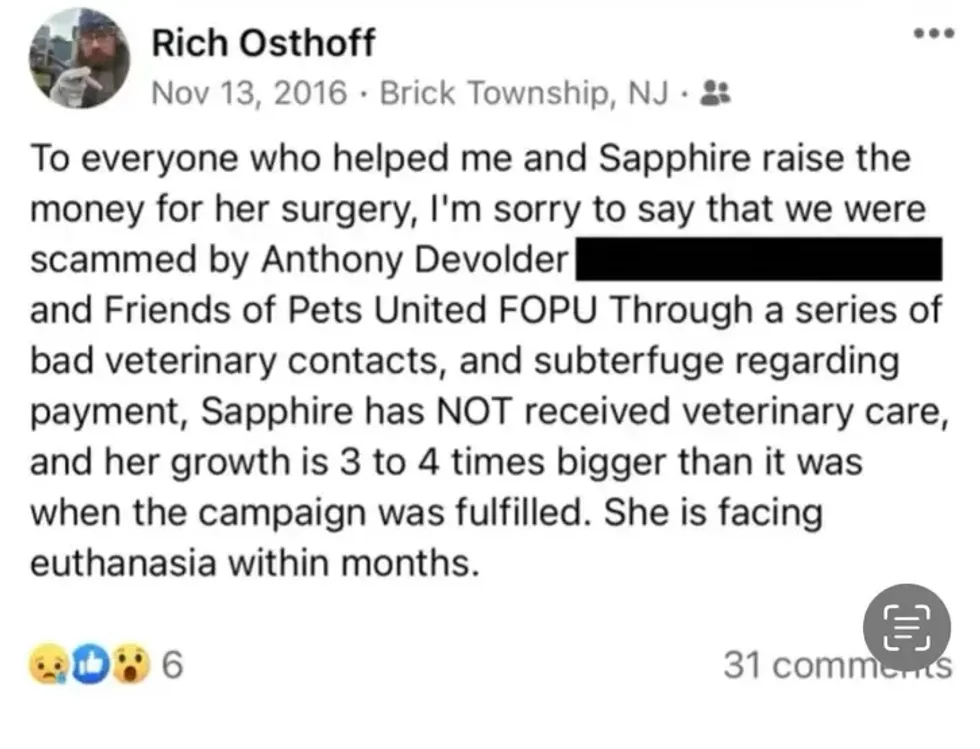 Rich Osthoff/Facebook
A GoFundMe spokesperson said in a statement that they had received a report of an issue with the fundraiser in late 2016 but that the organizer "failed to respond" when the company requested proof of the delivery of funds.
The revelation that Santos had scammed a disabled veteran and allowed the dog to die infuriated social media users.
Calls for Santos to step down intensified after The New York Times published an article detailing how Santos gave Long Island, New York Republican officials a bogus résumé when he first expressed interest in running for a seat in the House of Representatives.

Santos lied about everything from his education to his work history. Had Nassau County Republicans "dug into any of the claims," The Times noted, "they would probably have found that much of Mr. Santos' account was baldly fabricated."
Subsequent New York Times investigations unearthed possible campaign finance violations related to suspicious expenditures listed on his campaign disclosures. Republicans largely denounced him and Santos told New York GOP officials he does not plan to run for reelection in 2024.
However, there is no indication that Santos will leave Congress of his own volition and Republicans have for now chosen to proceed with business as usual by recommending him to sit on the House Small Business Committee and House Science, Space and Technology Committee even though he has no experience that qualifies him to sit on either.