After the death of influencer Gabby Petito was ruled a homicide, members of the radical far-right group QAnon now claim Petito and fiancé Brian Laundrie are "crisis actors."
Petito and Laundrie were on a van life trip throughout the United States. The 22-year-old Petito was rigorously documenting it all on Instagram.
But Petito was declared a missing person on September 11, days after Laundrie mysteriously returned to their home state of Florida with Petito's van but without Petito.
This past Sunday, Petito's body was found in Wyoming. Her cause of death has been ruled a homicide, with Laundrie, who has been missing since September 14, named a person of interest in her death.
The coverage of Petito's case has caused considerable controversy, with several declaring it another case of "Missing White Woman Syndrome", when missing White women get international news coverage and countless missing people of color get no coverage at all.
But the far-right, conspiracy theorist group QAnon believe the amount of coverage Petito's case is receiving is a poorly veiled government cover up.
Members of QAnon have made utterly baseless claims Petito and Laundrie are "crisis actors" employed to distract from the failures of President Joe Biden's leadership, and calling her death a "false flag."

Members shared several theories, each more outrageous than the last, as to what Petito's case was meant to distract us from in various chats on the message board website Telegram.
One user claimed her death was staged to distract from the audit of election votes in Maricopa, Arizona.
"Somethings not right about this whole situation... this is clearly Black Ops to cover for Biden failures."
"Was he ever real? Is SHE? Another false flag right before the audits."
One user claimed Petito's case was meant to distract from the numerous "failures" of the FBI, though failing to mention any specific instances.
"The FBI is clearly coordinating with [mainstream media] to put on over the top theatrics in what is a run of the mill investigation in hopes that the public will forget about all the FBI's scandals and be fooled in thinking that they actually fight crime."
Another user in a message board on the website 8Kun, one of the main hubs of QAnon conspiracy theories, ludicrously claimed that Petito and Laundrie carried false identities, and their names were thinly veiled codenames.
"Think it's interesting her name is Gabby Petito and his name is Brian Laundrie."
"Gabby Petito = small talk Brian Laundrie = dirty laundry. Always suspicious of missing persons making huge news."
Another Telegram user had a similar, equally ludicrous, theory.
"Brian Laundrie? Brain = Brain. Laundrie = Laundry = Wash. BRAINWASH is what his name means. Definitely an operation."
One Telegram user linked Petito and Laundrie to Ashli Babbitt, the QAnon supporter killed in the riot at the Capitol Building on January 6, which many QAnon supporters also labeled a "false flag" operation.
"Ashley [sic] Babbitt, Gabby Petito, Brian Sicknick. Made up names for made up character actors."
Several QAnon members took to Twitter to share the outrageous theories.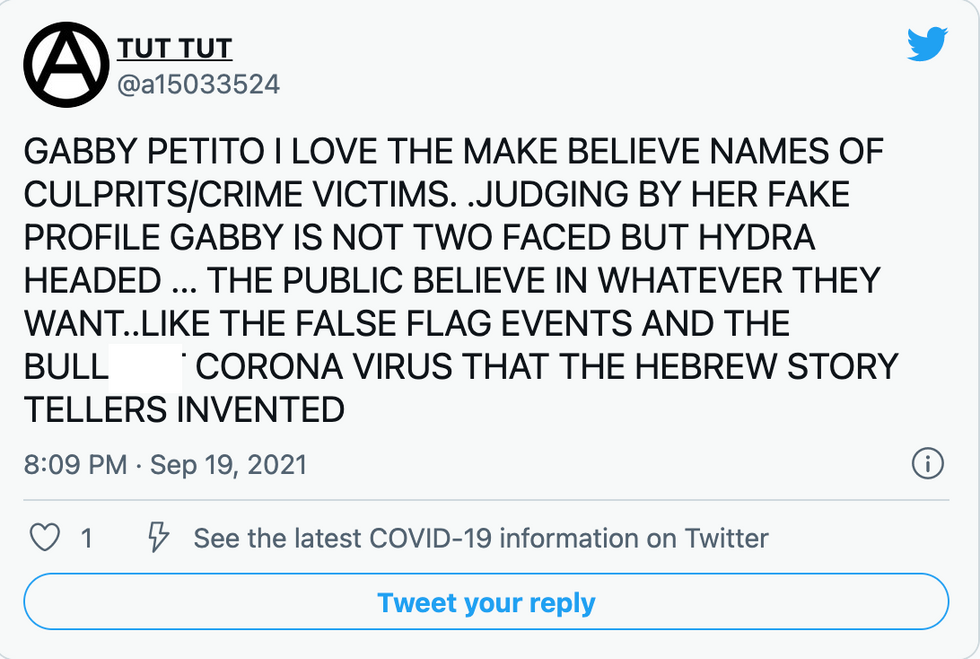 @a15033524/Twitter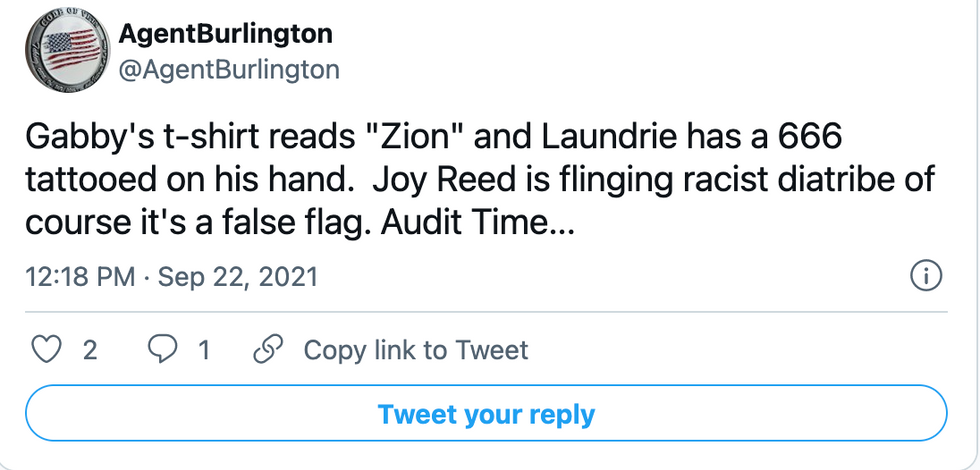 @AgentBurlington/Twitter
Thankfully, there were a few voices of reason to expose the utter nonsense various QAnoners were espousing.

@merlyn413/Twitter
A search for Laundrie remains ongoing with police in North Port, Florida extensively searching the large Carlton Reserve situated close by his parent's home in hopes of finding him.