There is a fetish for everything and as long as it's safe and consensual there' sno shame in anyone's game. But sometimes kinks have risks and you'll want to be sitting down for this one.
Actually, scratch that.
A woman filmed herself for "stuck fetish" content and accomplished the kink by using a metal folding chair. But when the erotic artist was done with the stunt, she was unable to free herself.
She had to enlist help from the fire department.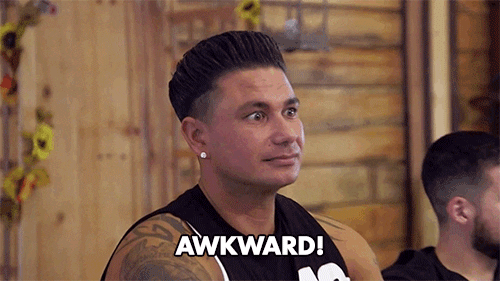 Giphy
Sydney Jo, who lives in Ann Arbor, Michigan, posted two TikTok videos—the first which showed her in a panic after realizing she was not going to get out of the chair. She struggled for 30 minutes trying to come up with a solution.

She pleaded for advice from other users on TikTok live and said:
"I'm literally stuck in it and I can't get out and I'm panicking because I don't know what to do."
WARNJNG: NSFW language
Jo put her phone camera down and stepped back with arms outstretched to show viewers the chair being stuck on her tail bone and pelvis.
Some suggested she try unscrewing the bolts from the chair.
Others were not much help at all.

@sydneysomethin/TikTok

@sydneysomethin/TikTok
In a sequel video, she filmed the fire department using the jaws of life to cut off the self-imprisoning body shackle after bolt cutters initially failed to do the job.

She captioned the second TikTok video with:
"EVERYONE SAID TO UNSCREW IT BUT THIS WAS A JAWS OF LIFE SITUATION"
@sydneysomethin

Reply to @teachertracy78 EVERYONE SAID TO UNSCREW IT BUT THIS WAS A JAWS OF LIFE SITUATION
People were relieved to see she survived her stunt unscathed, however some thought she had ulterior, ingenious motives.

@sydneysomethin/TikTok

@sydneysomethin/TikTok
Another wondered if the stunt came at a cost.

@sydneysomethin/TikTok
Others suggested the clip looked like a perfect setup for an adult film.

@sydneysomethin/TikTok

@sydneysomethin/TikTok
Jo told Buzzfeed News about managing to get unstuck in the past.

"I've done dozens of videos, and I've had times before where I've panicked and thought that I couldn't get out of something, but I've always pushed myself through it, no matter how bad it hurts."
"I've had to unscrew things before but I've never actually been entirely stuck like that, it was honestly really scary."
The 27-year-old told Buzzfeed she had been creating fetish content for nine years.
She said fans would pay roughly $1.99 per minute for videos of creators like herself getting into compromising situations and then getting free.
She elaborated on the authenticity of what paying customers expect to see.
"Typically they want to see you get stuck in something and actually struggle to get out, like not fake it at all. They want to see you get unstuck at the end though — they don't want to see you permanently stuck."
When the Ann Arbor Fire Department eventually showed up, she kept the reason for her situation confidential.
"I just said it was for a school project, because I happen to live on a college campus. So they believed it."
"I definitely didn't feel like explaining the stuck fetish to them. I was already in panic mode."