Video footage showed a St. Johns County sheriff's deputy forcefully taking down a 90 lb teenager. The girl was slammed face first onto the cement pavement inside a parking structure in Ponte Vedra, Florida.
The 17 year-old girl was filming a friend's arrest on her smartphone and refused to stop, according to First Coast News.
You can see footage here:
WARNING: violence
Fortunately, she did not sustain any serious injuries.

The video began with St. Johns County deputies arresting 19-year-old Austin Padget—who was being handcuffed against the police vehicle.
Moments later in the viral footage, a slender, blonde teenager entered the frame holding out her cellphone in an attempt to film the interaction.
A deputy who noticed the teen told her:
"Stay away from that car, back up."
However, the girl asked an unintelligible question and proceeded to inch closer before being warned once more to "back up."
The high school girl was grabbed by the arm. She struggled and managed to break away.
Consequently, the tense interaction escalated when the deputy grabbed the teen by her upper arms and threw her to the ground.
Whoever filmed the incident could be heard repeatedly screaming, "What the f'k! What the f'k is wrong with you?!" at the deputy who held the girl down.
The footage taken from a TikTok video was shared on Twitter by user Marjorie Gaylor Queen, on Sunday.

The original poster of the TikTok superimposed text over the footage, which read:
"She's 4'9 and weighs less than 90lbs... they didn't call for help until after we were screaming at them to do so."
The original poster demanded the firing of the deputy who threw the teen down.
"I continued to ask for all of their badge numbers yet no one would give it to me."
"They were laughing in our faces as we're screaming at them to help us. We didn't even get to the party... we were leaving."
The young teen was arrested along with Padget. She was charged with the battery of a law enforcement officer.
Reactions were split on social media, with some expressing their outrage over the deputies' response to the teen girl.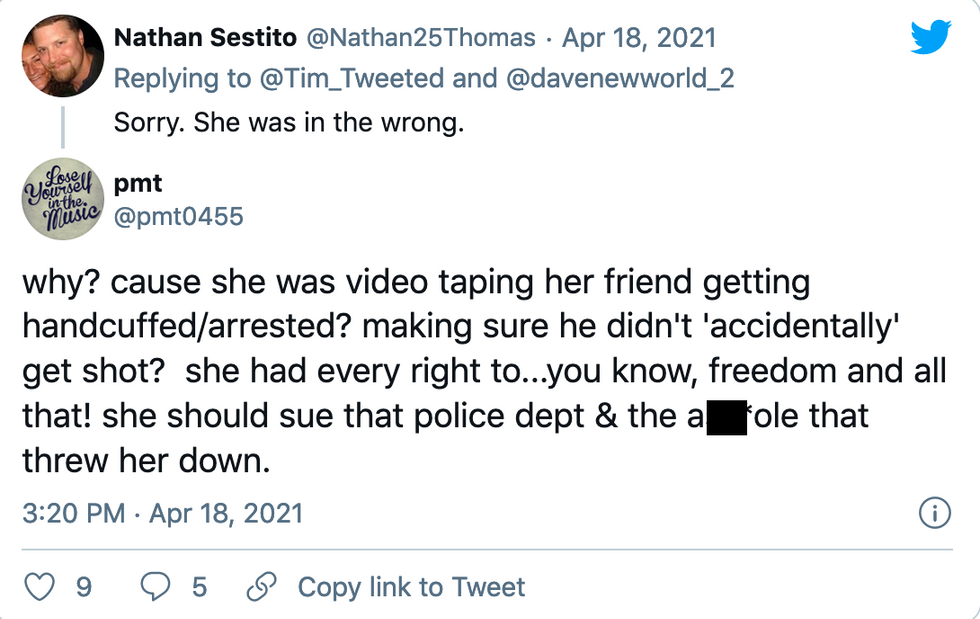 @Nathan25Thomas/Twitter
Others defended the deputies' actions.
First Coast News Crime Analyst Mark Baughman, a retired police officer, believed the deputies were justified in their actions during the controversial arrest.
But many argued the girl was not a substantial physical threat.

According to the Daily Dot, the deputy who slammed the girl down in the video will not be facing any disciplinary actions.
The St. Johns County Sheriff's Office determined his phyiscal response "was approved and deemed within policy."