What do evangelical Christians see in a president accused continuously of possessing a misaligned moral compass and lacking in core values? Apparently, a lot.
---
In fact, evangelical leaders have much reverence for the commander-in-chief, who spoke at the Values Voter Summit on Friday to thunderous applause.
According to NPR, Trump is the first sitting president to speak at the summit, which is held annually by the Family Research Council, which the Southern Poverty Law Center designated a hate group, and which is known for their anti-LGBT views.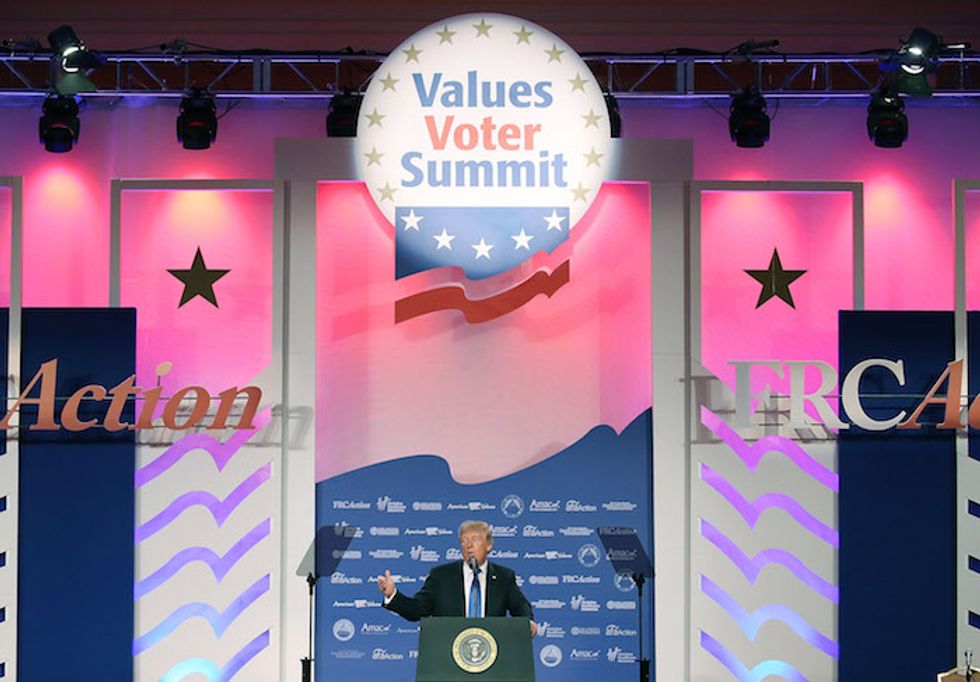 WASHINGTON, DC - OCTOBER 13: U.S. President Donald Trump speaks during the annual Family Research Council's Values Voter Summit at the Omni Shorham Hotel on October 13, 2017 in Washington, DC. Trump is the first sitting president to address Values Voter Summit. (Photo by Mark Wilson/Getty Images) 
Trump sees evangelicals among his strongest constituents, and he appreciates their loyalty. Founder and chairman of the Faith and Freedom Coalition Ralph Reed said, "Trump has been focused like a laser beam on the evangelical vote since the day he entered the presidential race in June 2015, and that has never changed."
So how does a controversial figure who represents greed, bigotry, and bragged about assaulting women win the affections of devout Christians?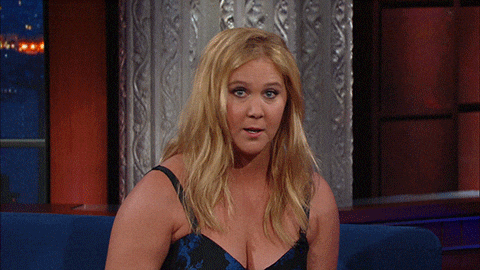 Source: giphy
Politico reporter Josh Dawsey said religious leaders feel Trump is an ally in a cultural war "that has been heading in the other direction."
"They believe they have a commander in chief that is effectively using the bully pulpit to advance a Judeo-Christian framework that has been minimized, scrutinized and ostracized for the last few decades," said David Brody, a correspondent for the Christian Broadcasting Network.
Key moments from Trump's rousing speech at the summit included this praise: "We know that it's the family and the church—not government officials—who know best how to create strong and loving communities," he said. "We don't worship government, we worship God."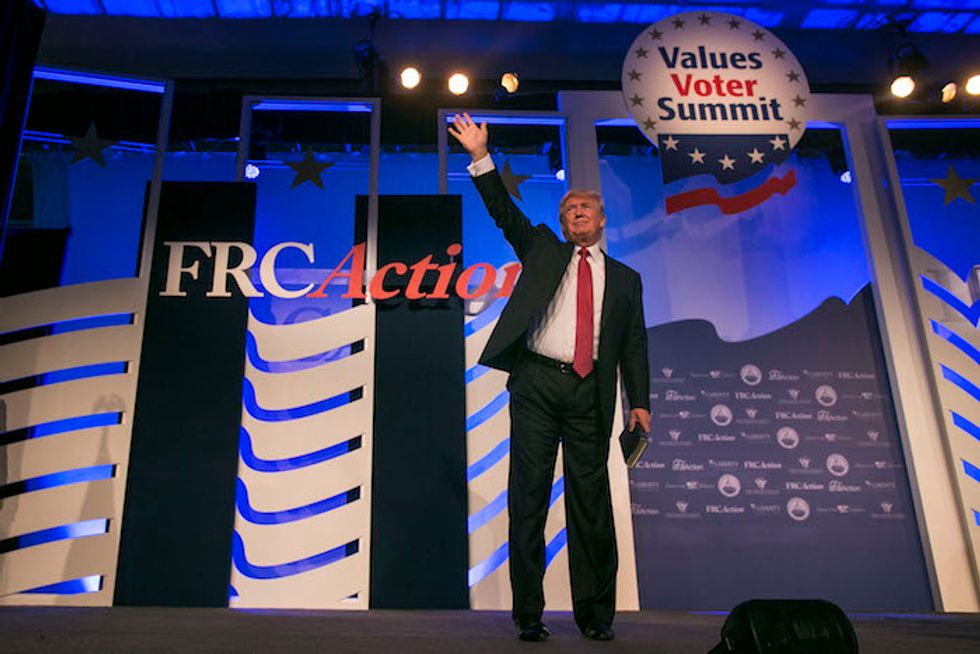 UNITED STATES - September 25: Republican presidential candidate Donald Trump aves to the crowd while holding his bible after speaking at the Values Voters Summit at the Omni Shoreham hotel in Washington D.C., Friday, September 25, 2015. (Photo By Al Drago/CQ Roll Call) 
Trump also vowed to "bring back" an isolated holiday that he contends has long been "politically incorrect" to mention: "They don't use the word 'Christmas' because it's not politically correct. You go to department stores and they'll say 'Happy New Year,' or they'll say other things, and it'll be red, they'll have it painted. But they don't say—well, guess what? We're saying 'Merry Christmas' again."
Trump to Values Voter Summit: "We are stopping cold the attacks on Judeo-Christian values…We're saying 'merry Chris… https://t.co/n4WoSz42au

— BuzzFeed News (@BuzzFeed News) 1507905806.0
&ref_url=https%3A%2F%2Fwww.avclub.com%2Fajax%2Finset%2Fiframe%3Fid%3Dtwitter-918849667848396800%26autosize%3D1
According to The Atlantic, Christian Trump voters may not have been entirely evangelical themselves. One blogger wrote, "Many cultural Christians who never go to church identify as 'evangelical' or 'born-again,'" while a writer for The Nation said that evangelists are more interested in who gets nominated to the Supreme Court. "If you can rally voters around abortion, few other issues matter." Hence, the standing ovation Trump received when he mentioned appointing Neil Gorsuch to the Supreme Court.
The Trump administration remains in good graces with the evangelical community. The White House consults with Christian leaders on matters of foreign policies, and Trump's religious ally Johnnie Moore appreciates the relationship. "They talk to us constantly," he said.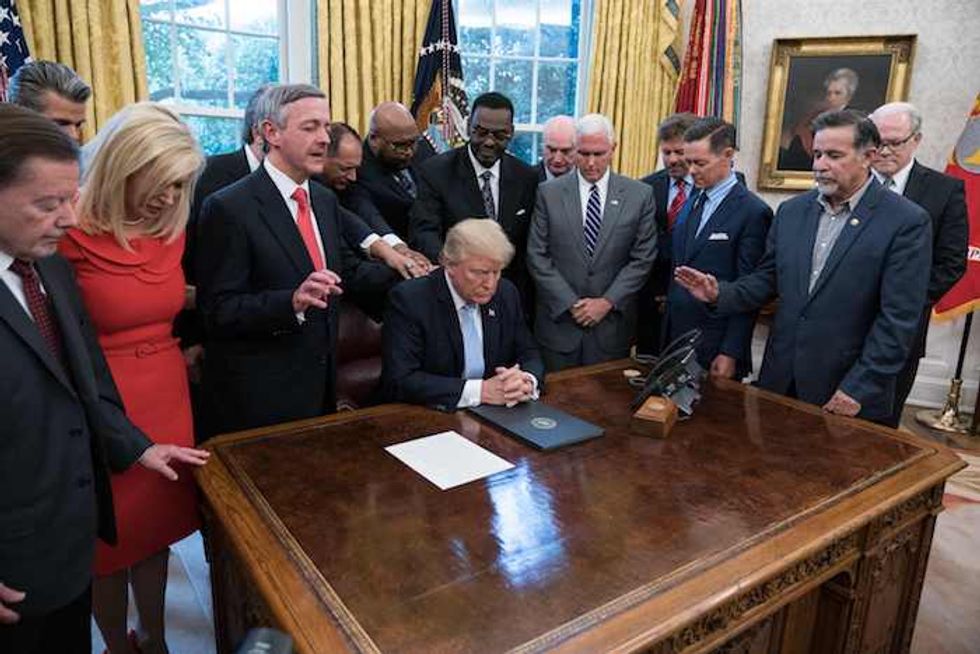 US President Donald Trump and faith leaders pray in the Oval Office at the White House after Trump signed a proclamation calling for a national day of prayer on September 3 for those affected by Hurricane Harvey in Washington, DC, on September 1, 2017. / AFP PHOTO / NICHOLAS KAMM (Photo credit should read NICHOLAS KAMM/AFP/Getty Images) 
Just don't quiz the president on the Bible. Trump is not well versed on the subject, despite the family Bible he keeps by his side. Earlier this year, he casually cited "Two Corinthians 3:17" instead of "Second Corinthians," during a speech at Liberty University.
Fortunately for Trump, the evangelicals are prone to forgiveness.
Please SHARE this with your friends and family.
H/T - politico, avclub, npr, theatlantic