It seems Elon Musk isn't quite finished getting rid of Twitter employees.
Since acquiring the company for $44 billion last month, Musk laid off more than half of Twitter's employees, claiming the workforce was too large and focused too much on content moderation, platform safety, product development and marketing.
Musk also fired dozens of employees who criticized their new boss.
But he's not done yet.
On Sunday, Musk posted an apology for Twitter running "super slow" in many countries, blaming the app for the shortcomings.
In his Tweet, Musk said:
"Btw, I'd like to apologize for Twitter being super slow in many countries."
"App is doing >1000 poorly batched RPCs just to render a home timeline!"
One of Twitter's engineers—Eric Frohnhoefer—quotetweeted Musk's tweet.
He claimed:
"I have spent [about] 6 yrs working on Twitter for Android and can say this is wrong."
Musk then responded to the employee asking:
"Then please correct me. What is the right number?"
Followed by:
"Twitter is super slow on Android. What have you done to fix that?"
Frohnhoefer replied, agreeing there are issues with the app, but coding—as Musk implied—was not the problem.
You can read Frohnhoefer's detailed response below.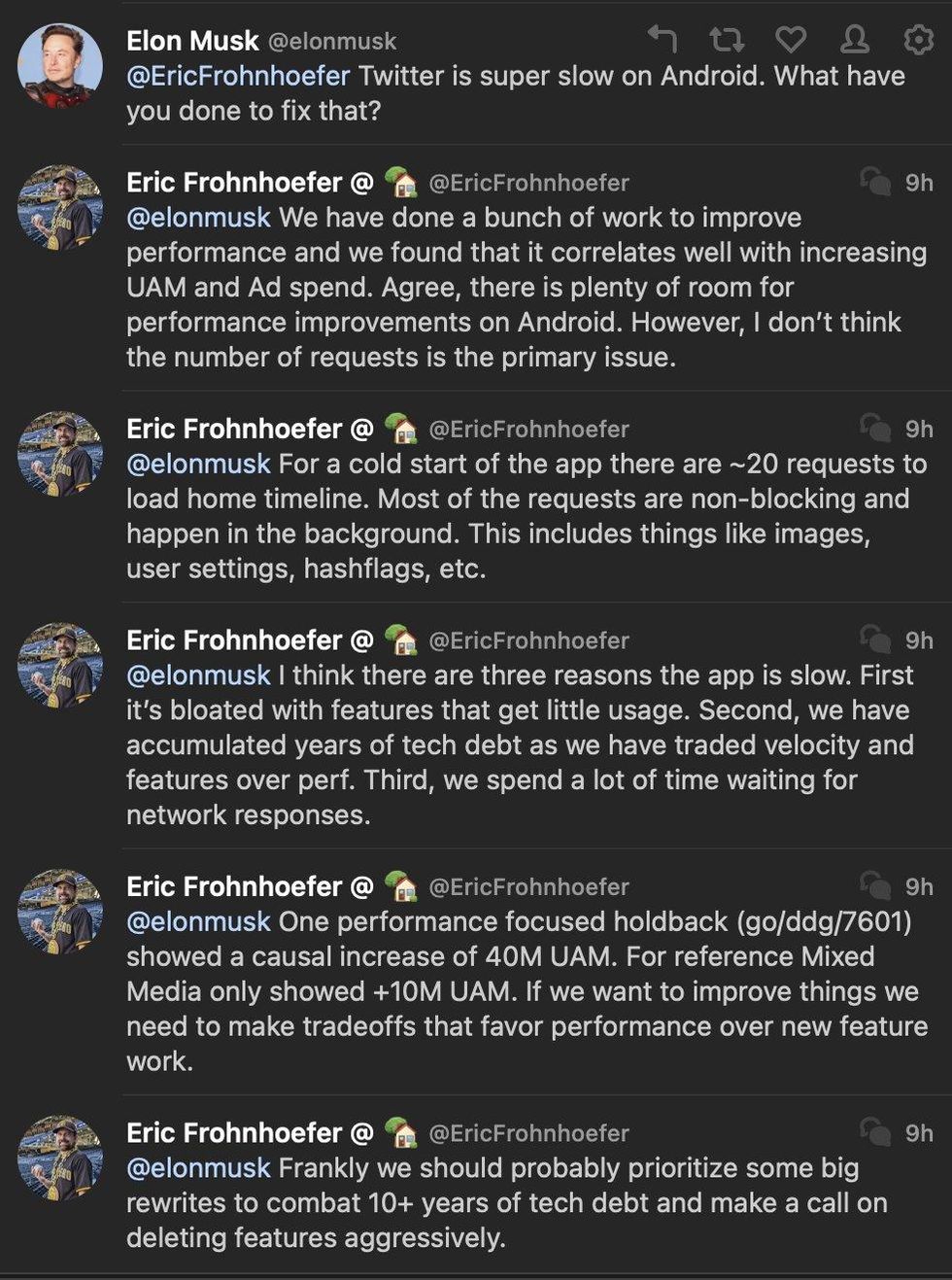 @EricFrohnhoefer/Twitter
After being criticized for publicly correcting Musk, Frohnhoefer replied Musk should ask his questions in a non-public manner if he doesn't want public replies.
So in true Elon Musk fashion, he fired Frohnhoefer.
On Monday, Frohnhoefer tweeted an image of his locked computer screen, with the words, "This Mac is locked. The system PIN is required to use this Mac," indicating Frohnhoefer is no longer an employee of the company.
His tweet was captioned:
"Guess it is official now."
While some said Fronhoefer shouldn't have called out his boss on a public platform, others defended him saying Musk was publicly throwing his employees under the bus from the beginning.
Sadly, it seems that Frohnhoefer isn't alone.
He tweeted yesterday more employees were fired for standing up to Musk.
"Just woke up to the news that more Tweeps were summarily fired last night."
"At this rate no one will be left to run Twitter."
According to those who were fired, they received an email reading:
"We regret to inform you that your employment is terminated immediately."
"Your recent behavior has violated company policy."
We wonder how long it will be before Musk runs out of employees to terminate.