*SPOILERS for Game of Thrones episode 3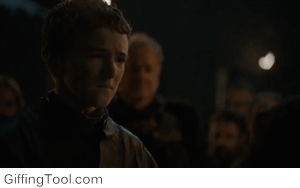 GIPHY
Drake was awarded the Male Artist Of The Year award at the Billboard Music Awards last night, but his shoutout to Arya Stark has fans worried.

We advise you to stop reading immediately unless you happen to like SPOILERS for the most recent episode of Game of Thrones.
---
During his acceptance speech, Drake thanked Arya Stark (who's played by actress Maisie Williams) "for putting in that work last week," a nod to Arya's triumph over the Night King.
In the episode's final minutes, Arya, who's trained for years as a "faceless" assassin, knifed the villain with a blade forged from Valyrian steel.
The King of the North shouting out everyone's favorite Stark! 🐺 @Drake #BBMAs https://t.co/MEhLAzKiTM

— Billboard Music Awards (@Billboard Music Awards) 1556758175.0
It was a cute moment, but haven't ya'll heard of the "Drake Curse"?
If not, we'll update you: The Drake Curse is a half-joke concocted by fans on online forums to explain why teams and athletes Drake openly supports tend to lose their next big games.
The Drake curse was blamed for dooming Alabama's chances in this year's college football championship. It also hurt Serena Williams in the 2015 US Open, eliminated the Kentucky Wildcats in 2013 and has generally been evoked to provide a reason for any athletic misfortune of the last few years.
Now Game of Thrones fans believe Arya Stark is next on the Drake-Curse's hit list—and can you blame them?
I just have this strong feeling that Drake's next hit is going to have some Game of Thrones reference lyric about A… https://t.co/HCpTxMie29

— sad naruto flute (@sad naruto flute) 1556758229.0
Oh no, Drake just cursed Arya. https://t.co/NPuvuex5eZ

— Sean, from the internet (@Sean, from the internet) 1556757826.0
Drake's curse better not apply to fictional characters! Arya Hive don't play https://t.co/ykr8V5opYx

— Alyssa (@Alyssa) 1556758291.0
She gonna die next episode, Mark my words. #Drakecurse #BillboardTNT #GameOfThrones https://t.co/72oBq5tPb8

— Ben Sperling 💎 (@Ben Sperling 💎) 1556758393.0
@BBMAs @Drake Got damn it Drake you killed everyone's favorite character just please stop 😕

— Corn Dawg (@Corn Dawg) 1556760105.0
@BBMAs @Drake He just got my favorite character killed... 😡

— Shane Gray (@Shane Gray) 1556760133.0
But don't worry, Game of Thrones fans.
The Drake Curse isn't a real thing (at least we hope not). The show runners have said they knew Arya would kill the Night King—and how the rest of the season will go—as long as three years ago.
So while we don't know if Arya will make it to the end or not, we're certain she'll have a big part to play in the next half of the season. Next up?
The survivors of the Battle of Winterfell take on Cersei and the Golden Company.
Fingers crossed, though.
Just in case.