Footwear designer Steve Madden is bringing back the platform sandal as part of a '90s throwback line for retailer Urban Outfitters.
While the platforms are designed to give women a lift in their step with the comfort of sneakers, podiatrists are opposed to their comeback.
Foot doctors like Dr. Hillary Brenner from New York's Financial District believe fashionistas should avoid them at all costs because they could cause problems for your back and ankles.
---
Brenner told the NY Post, "Definitely stay away from this one."
Doctors warn women to 'stay away' from 90s-inspired platform sandals as they could wreck your back and ankles… https://t.co/hZqkSGwW05

— The Sun (@The Sun) 1556121738.0
Brenner is a spokeswoman for the American Podiatric Medical Association and speaks on behalf of other podiatrists who call the act of people wearing heels in general as "shoe-icide."
The metatarsal bones in the foot are prone to damage under constant stress in an unnatural position, and the expert recommends that people wear heels, if they must, should be no higher than two-inches.
@TheSun @zaraali06112001 Apparently we can't wear these 😂

— Dr Rita Pal (@Dr Rita Pal) 1556122184.0
Are "doctors" my mom in 1997? Doctors warn fashionistas to 'stay away' from platform sandals https://t.co/UiVXHpuyDB via @nypost

— kelly croglio (@kelly croglio) 1556111790.0
Platform sandals have rigid soles "that throws off the biomechanics of walking," said Brenner.
"Your foot is trying to bend a certain way, but the shoe is fighting you because it's so rigid."
"Definitely stay away" – A doctor, warning that platform sandals could be bad for your back. Wish we'd known that i… https://t.co/qnUT0Oye62

— Janae Newman (@Janae Newman) 1556141081.0
She recommends flatter platform shoes that have a wide wedge or platform that is almost parallel with the ground but warns that the stiffness of the sole can still interfere with the natural movement of walking.
A good rule of thumb is to check for the shoe's flexibility.
i obviously had a pair of platform sandals in the late 90s/early 2000s. i was wearing them when i broke my foot. i… https://t.co/cdH8IL2TUL

— felly. (@felly.) 1556120693.0
Brenner said "nine times out of 10," platform sandal-wearers consult her for ankle sprains.
The most common ankle injury is the lateral sprain in which patients roll onto the outside of their foot. The strain occurs when the ankle ligaments are stretched beyond their normal range of motion.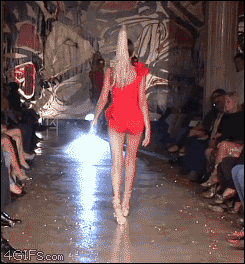 media3.giphy.com
Not everyone is a fan of the shoes' comeback.
The Death of the Red Carpet Platform. sandals making a comeback

— aizat aidid (@aizat aidid) 1307592046.0
things that should never make a comeback: platform sandals😶

— MC (@MC) 1378683386.0
who would've thought that 2019 would be the year that both the steve madden platform sandal AND measles would make… https://t.co/yWbKEqIdta

— Liv (@Liv) 1555955921.0
@nypost Other than because they look ridiculous?

— JT (@JT) 1555958268.0
There's no turning back now. Model Suki Waterhouse posted a picture on Instagram showing off her 4-inch stilts made by Simon Miller.
Are you going to ignore an expert's warning for the sake of a trend or stay in step with a healthy strut?