After the horrible events in Uvalde, Texas Tuesday, the world has been mourning the senseless loss of life. 19 children and two teachers were killed by a gunman at Robb Elementary School.
Among those killed, teacher Eva Mireles, 44, was identified by her family.
Her daughter Adalynn posted a tribute to her mother on social media.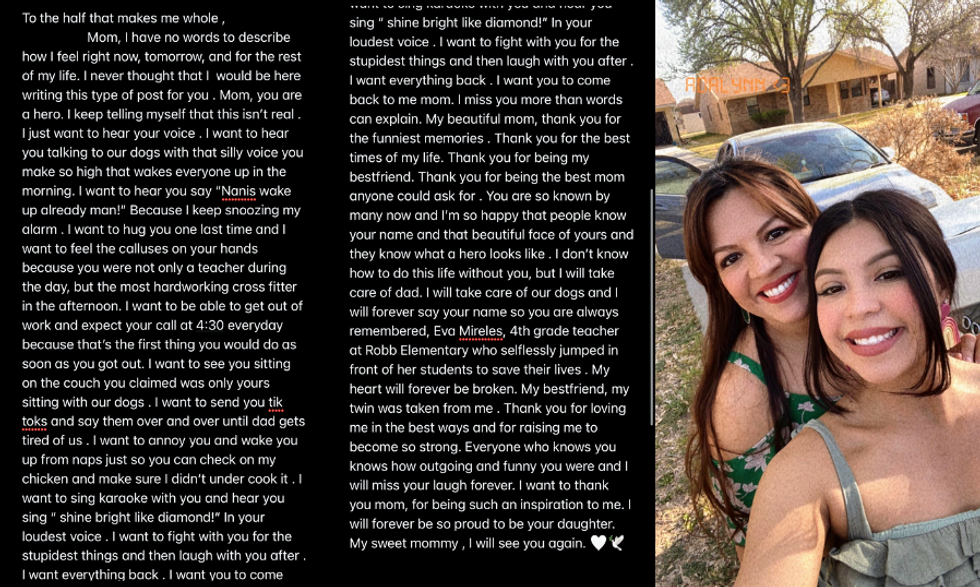 @addy_celeste/Twitter
She wrote:
"I never thought I would be here writing this type of post for you."
"Mom, you are a hero. I keep telling myself that this isn't real."
The tribute continued with everything Adalynn misses about her mother. The post is a remembrance of everything a daughter could have wanted in a mother.
Her mom would call her everyday after work, and they'd share Tiktoks while annoying Adalynn's father.
And in the end, Adalynn is a girl who just wants her mother back.
The heroic sacrifice was confirmed by Eva's aunt, Lydia Delgado.
She posted on Facebook:
"One thing that's certain is that my beautiful niece did not survive this coward's actions."
"I'm furious that these shootings continue. These children are innocent."
The shooting in Uvalde came hot on the heels of another mass shooting in Buffalo, New York just weeks earlier. 10 people were killed in that White nationalism motivated act of domestic terrorism.
The other teacher murdered was identified as Irma Garcia, 46.
The two women were co-teachers and had a combined 40 years of teaching between them.
Her nephews Joey and John shared photos and tributes of their aunt as well.
Adalynn ended her tribute saying:

"I want to thank you mom, for being such an inspiration to me. I will forever be so proud to be your daughter."
"My sweet mommy, I will see you again."