During the winter holiday season, most of us spend some time reflecting on the past year and what we would most like to accomplish in the coming year.
But most of us don't go so far as to create a spreadsheet or PowerPoint about it.
When it came to her dating life, however, Amber of @amberwavesofbrain thought a presentation "Spotify Wrapped" style was the perfect way to dig into the nitty, gritty details.
At the beginning of the video, Amber was prepared with the PowerPoint already pulled up and her laptop resting on her lap.
She stated:
"If there's one thing I know about me, it's that I love a PowerPoint, and, apparently, a first date, because I went on 18 this year."
Amber then proceeded with the breakdown of her 2022 dating life, beginning with where she met the men she dated.
While she'd met them "in the wild," and on Tinder, Hinge and Facebook, she had the most to say about Facebook:
"I 1,000 percent wouldn't recommend that. I would rather ask my father to buy me lingerie than get back on Facebook Dating."
Amber then covered the number of dates she'd gone on with each of these men. Most only lasted for one or two dates, with the record keeper being six dates in total.
Their activities included having dinner, getting drinks, and going on walks most commonly, but Amber had also gotten smoothies, ice cream, and acai bowls, as well as gone to Target, with some of them.
Amber candidly stated that she ended about half of these dating experiences, while approximately one-third were ended by her date and the remaining 16 percent were ended on mutual terms.
You can watch the video here:
TikTokers found themselves thoroughly invested in Amber's presentation.

@amberwavesofbrain/TikTok

@amberwavesofbrain/TikTok

@amberwavesofbrain/TikTok

@amberwavesofbrain/TikTok

@amberwavesofbrain/TikTok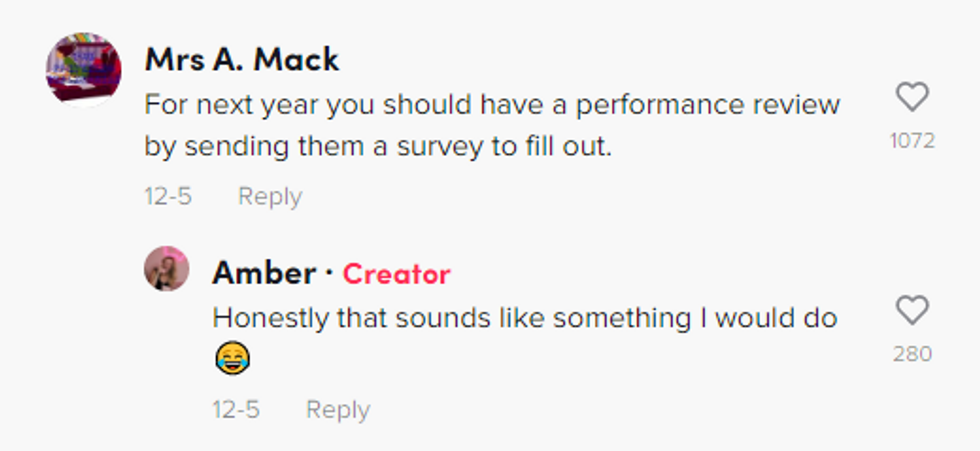 @amberwavesofbrain/TikTok
But what ruffled the most feathers was the financial breakdown of Amber's dating life.

In the final segment of her video, Amber explained that she had spent $368.36 on these dates.
She confessed:
"I wish I had not calculated this number. What could I have done with that money? Literally anything would have been better."
Some TikTokers insisted that the men must have spent more than her, because of commonly paying for the first date.
Amber proceeeded to create a second video, in which she broke down what each of these dates had cost and how much Amber had contributed to these dates, since five of the men had not contributed financially at all.
You can watch the video here:
While all of us can agree the dating life can be rough, this PowerPoint seems like solid proof.