While finding a love interest on dating apps has become more commonplace over spontaneously finding a possible match in public, people looking for love should always exercise caution.
One TikToker named Lyssa–a.k.a. @xolyssarosexo–urged single people to listen to their gut before fully investing in someone they have met online and only interacted with for five days.
Lyssa met a man on an undisclosed dating app who could not take no for an answer when she turned him down for a date.
The text exchange that followed turned unsettling when the guy revealed his true colors.
"Met him on a dating app then texted for five days," wrote Lyssa in her video's text overlay, adding, "Wasn't feeling well and canceled."
"Then this happened."
The thread began with his request to see her because "I really like you. This won't get ruined."

He continued telling her not to "bail" because he really believed "we can be something amazing also."
"And you don't have anything to worry about," he assured.
When he didn't get an immediate response, he prodded, "Maybe it's something I did you aren't telling me."

She assured him it had nothing to do with him, but the response did not please him.
"This is really what you want? I really like you. And you said you really like me. I'm asking you to please see me," he asked again.
He didn't back down. The guy then continued asking when her parents were going to be home, adding, "I won't take no for an answer. You need this."
He continued:
"Alright you know I can't sit here and beg you. I learned a while back if someone doesn't want you or want to see you. Then just let them go. Never beg for them to want you or see you."
"Obviously you made your choice and have no interest in seeing how amazing this could be. I'm definitely pretty hurt though."
She responded by telling him he was "low key starting to scare" her a little. She explained they haven't texted a week and all she told him was that she was not emotionally feeling up to going out with him that night.
When he asked again if she could give him a chance and just go out with him, Lyssa told him:
"I'm sorry but this is really just way too intense for me, if you had said I understand, what's another good day for you? I probably would."
This prompted him to repeat her words, "too intense?" and called her a liar for leading him on.
In a successive follow-up of videos, she continued sharing their screenshotted conversation.
"PSA…. Be careful of strangers and listen to your gut!!! He was completely normal before this and it gets worse," she wrote in the caption.
He also accused her of making him fall in love with her and asked, "Is this just a game to you? So the connection and you really really liking me was a lie? This was just for fun?"
After an exhausting back and forth in which she repeatedly asked him to stop texting, Lyssa informed him she might alert the police about their interaction–citing harassment–to which he replied:

"I didn't harass you and all they can do is say stop contacting you. … But if you want nothing to do with me then fine."
"Trust me I know not my first rodeo at this. And my family all cops too. But whatever. Goodbye and have a good life."
TikTokers weighed in with their thoughts on the conversation.

@xolyssarosexo/TikTok

@xolyssarosexo/TikTok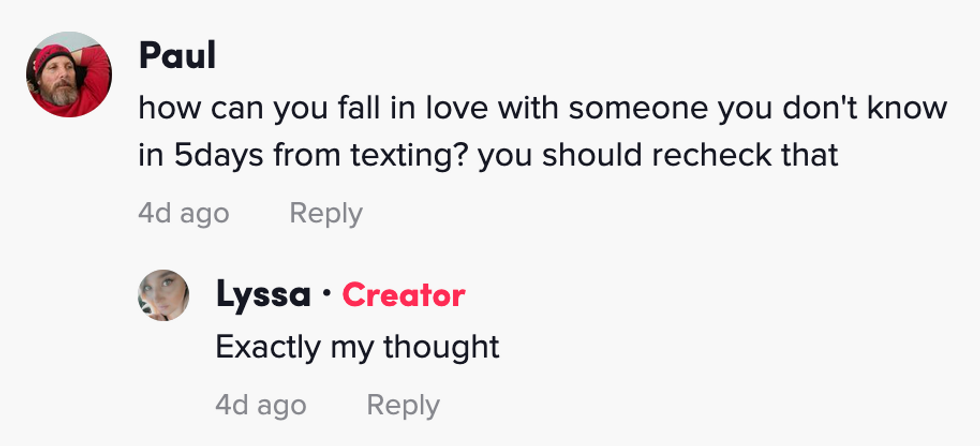 @xolyssarosexo/TikTok

@xolyssarosexo/TikTok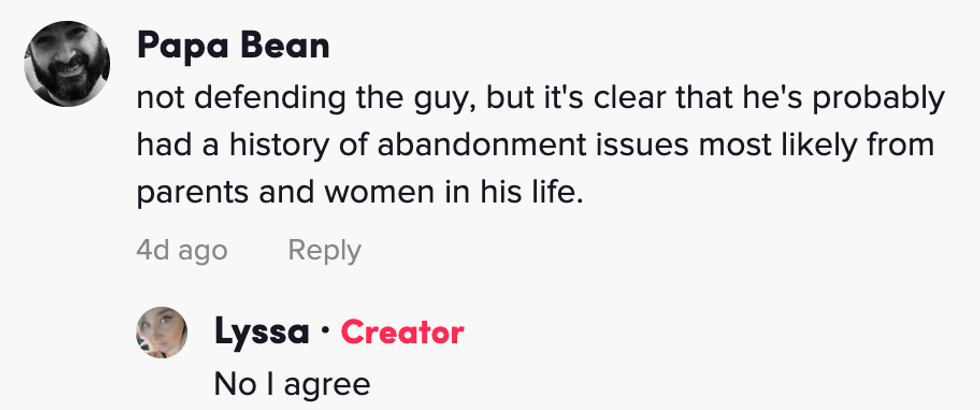 @xolyssarosexo/TikTok

@xolyssarosexo/TikTok
In response to those asking why she didn't block him from the start, Lyssa said she waited to collect proof in their texts in case things escalated, which they did.

Lyssa said she eventually did block him after the "not my first rodeo" comment and sent the screenshots to a family member who works for law enforcement.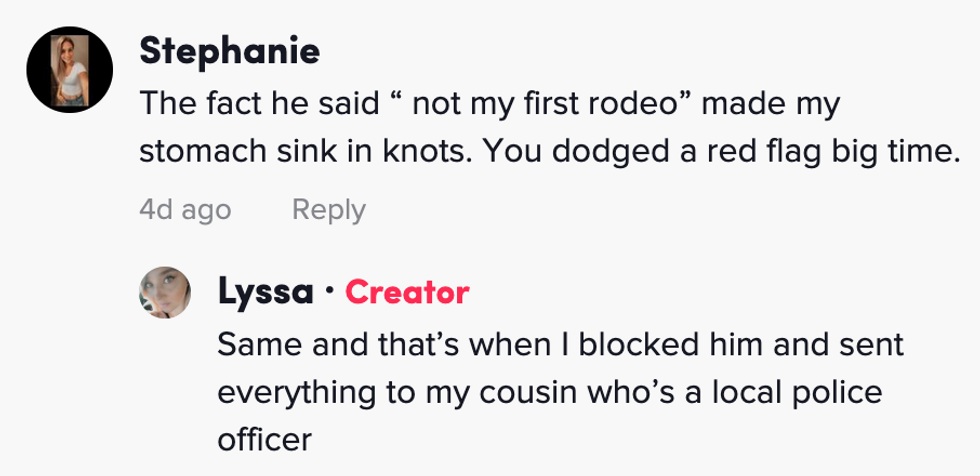 @xolyssarosexo/TikTok
The Daily Dot said they reached out to Lyssa on Instagram regarding the videos, but the outlet did not say whether or not they heard back from her.