Republican Senator Ted Cruz of Texas defended The Mandalorian's Cara Dune character, played by fired actress Gina Carano, and bizarrely took a swing at the beloved Princess Leia on Twitter.
The Junior Senator's tweet followed the far-right's #CancelDisneyPlus campaign after Lucasfilm—which is now a subsidiary of Walt Disney Studios—announced Carano will no longer be a part of popular Star Wars live-action series streaming on Disney+.
The MMA fighter-turned actress had a long history of posting inflammatory social media posts that were anti-Semitic and transphobic in nature.
In November, she mocked people who wore masks during the raging pandemic and falsely suggested voter fraud and encouraged followers to "flush out the fake votes."
Lucasfilm has been keeping tabs on her controversial social media activity for months.
The breaking point came when she recently compared modern-day Republicans to being Jewish during the holocaust on Instagram.

Lucasfilm have fired Gina Carano from The Mandalorian after "abhorrent and unacceptable" social media posts. She… https://t.co/TE6bjiau8S

— Star Wars Stuff (@Star Wars Stuff) 1613042909.0
The now-deleted Instagram post read:

"Jews were beaten in the streets, not by Nazi soldiers but by their neighbors… even by children. Because history is edited, most people today don't realize that to get to the point where Nazi soldiers could easily round up thousands of Jews, the government first made their own neighbors hate them simply for being Jews."
"How is that any different from hating someone for their political views."
The post outraged fans of The Mandalorian and the #FireGinaCarano hashtag began trending after they had enough of her aggressive remarks on social media.
It appeared Disney execs were listening.

A Lucasfilm spokesperson confirmed in a statement that Carano was "not currently employed by Lucasfilm" and there were "no plans for her to be in the future."
The spokesperson added:

"Her social media posts denigrating people based on their cultural and religious identities are abhorrent and unacceptable."
Cruz entered the conversation by praising his fellow Texan's contribution to the Star Wars franchise and also appeared to slam the iconic Star Wars original trilogy character, Princess Leia—who was portrayed by the late Carrie Fisher.

The Senator tweeted on Thursday:
"Texan Gina Carano broke barriers in the Star Wars universe: not a princess, not a victim, not some emotionally tortured Jedi."
"She played a woman who kicked a** & who girls looked up to. She was instrumental in making Star Wars fun again. Of course Disney canceled her."
Taking a cue from his "not a princess, not a victim" line, Star Wars fans strongly disagreed and reminded Cruz Princess Leia was a groundbreaking female character and the original bada** in the Star Wars galaxy.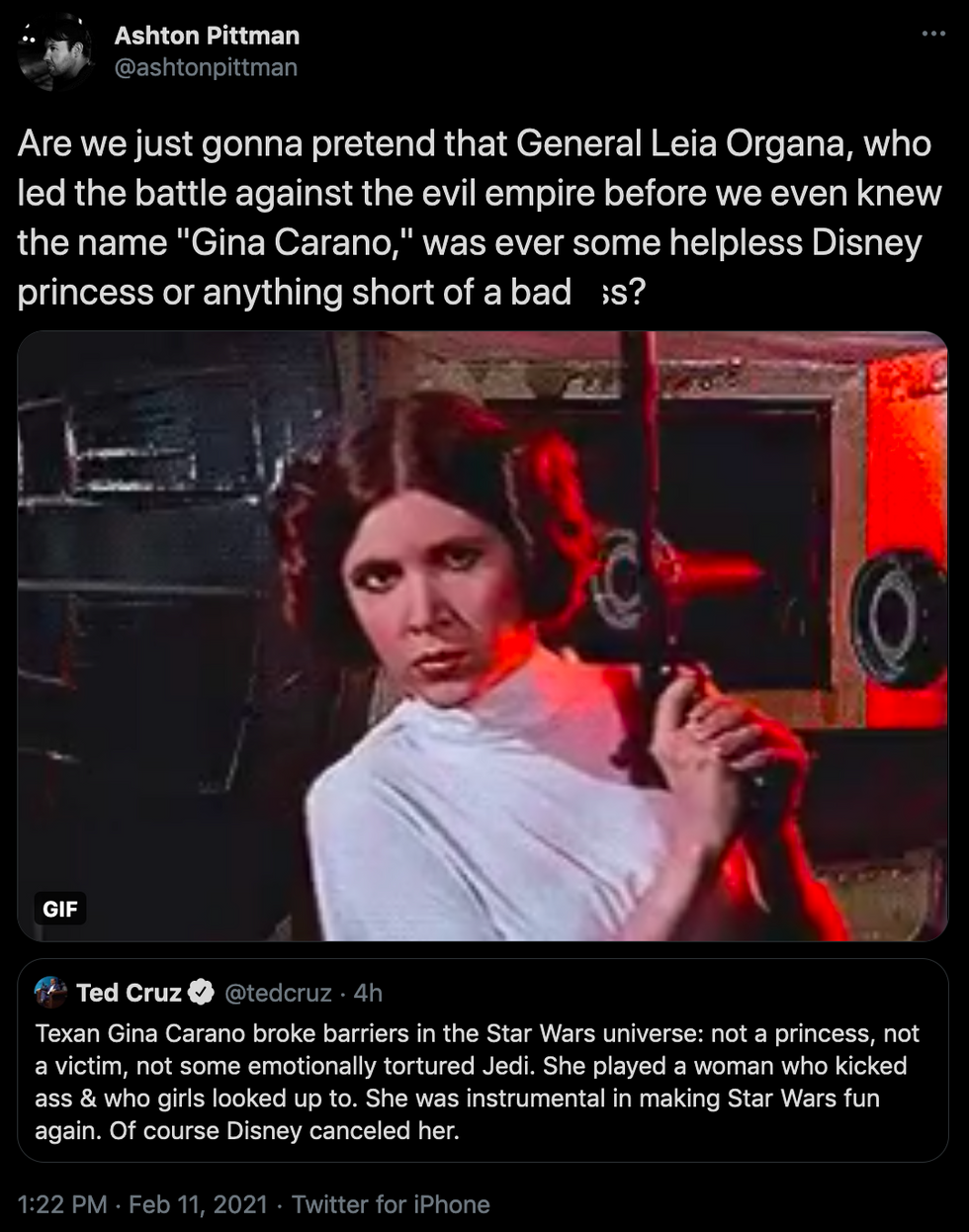 @ashtonpittman/Twitter

@pcrritesgood/Twitter

@CTowersCBS/Twitter
Hardcore Star Wars fans additionally mentioned other powerful female role models inspired by Princess Leia from the Star Wars universe who have all predated Carano's Rebel shocktrooper character.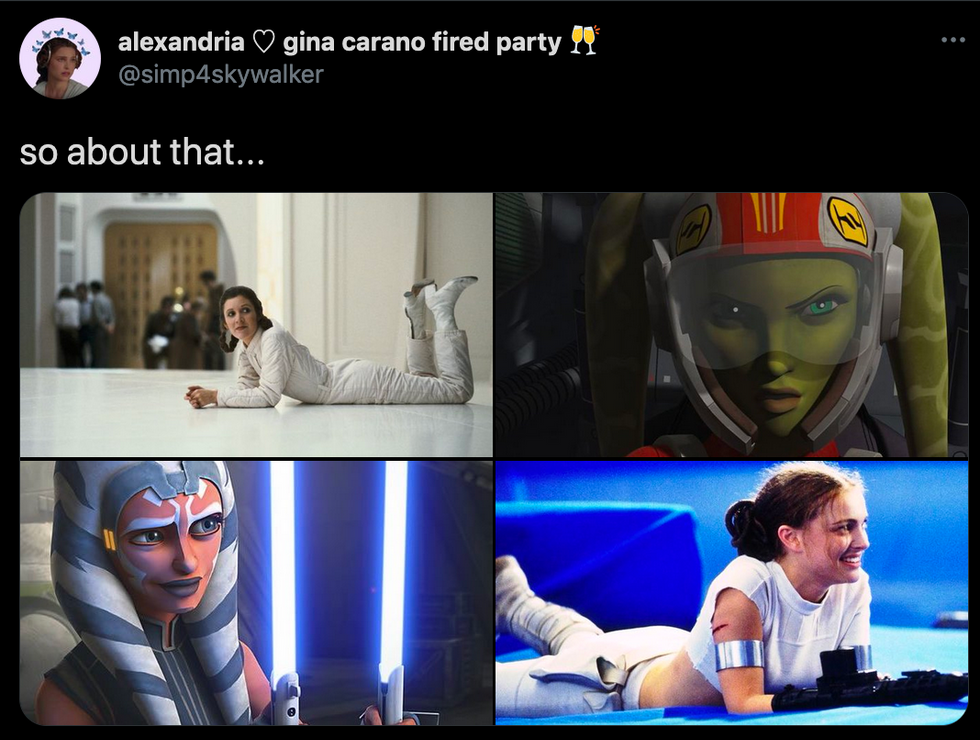 @simp4skywalker/Twitter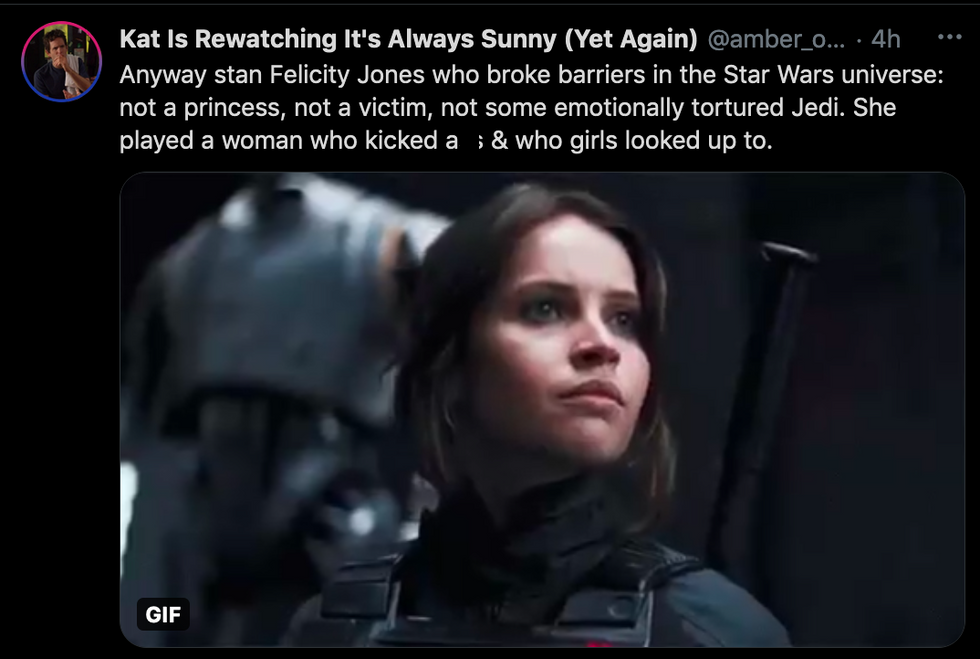 @amber_o.../Twitter

@colt2822/Twitter
@tedcruz Also Bo Katan and Koska reeves are right there. Right along with the baddest of them all, Fennec shand.

— sunnybee 🌻 (@sunnybee 🌻) 1613064569.0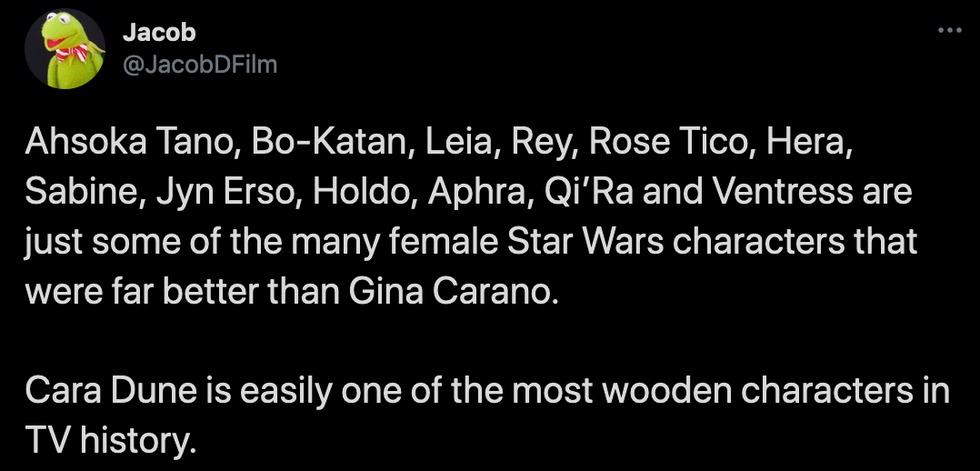 @JacobDFilm/Twitter
The Mandalorian fans first asked for the firing of Carano when she mocked the transgender community by refusing to use pronouns used by many LGBTQ+ allies to express trans solidarity.

Mandalorian co-star Pedro Pascal – who showed support for his sister who came out as a trans woman – goes by "Pedro Pascal he/him" on Twitter.
Carano said Pascal had informed her that trans and non-binary people use pronouns on social media to avoid being misgendered, and cisgender allies do the same to show support.
But Carano deliberately chose to go the opposite route and identified herself on Twitter as "Gina Carano boop/bop/beep."
She said her refusal to use pronouns had:

"zero to do with mocking trans people & 100 to do with exposing the bullying mentality of the mob that has taken over the voices of many genuine causes."