Many Doctor Who fans were thrilled to hear critically acclaimed Sex Education actor Ncuti Gatwa will be the first person of color to play the lead role of The Doctor.
But with all good news comes negativity...
Indy100 reported conservative host of GB News Darren Grimes took to Twitter to critique the BBC's casting for the 14th Time Lord.
Dismissing Gatwa's acting accolades, Grimes asserted his selection was merely stunt casting based solely on race and sexuality.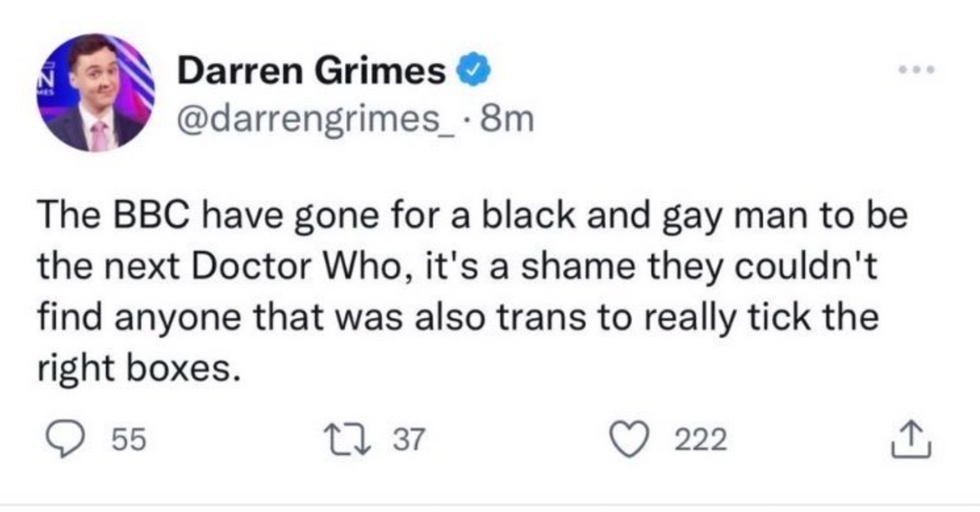 @darrengrimes_/Twitter
Doctor Who is a long running BBC science-fiction show beloved around the world. The show originally ran from 1963 to 1989, had a brief revival with a one off TV film in 1996, then a full revival in 2005 that still continues to this day.

The main protagonist remains The Doctor, but the actor to portray the character has changed repeatedly as part of the show's premise.
Since its 1963 debut, the lead role of The Doctor was played by a succession of thirteen different actors. The first twelve actors to land the lead role were all White men.
Some fans were thrilled when actress Jodie Whittaker became the first female iteration of the iconic character in 2017. But Whittaker also faced hateful comments—mainly from White male fans—when her casting was announced.
The same cast of characters are crying foul now that a Black man has been cast in the role, including Grimes.
He quickly deleted his tweet, then tried to gaslight his critics in subsequent posts as if they were the ones saying hateful things unprompted.
But people weren't having it and tore into Grimes over his racist, homophobic hot take.
Every actor has brought something unique and special to their version of The Doctor.
We can't wait to see Ncuti Gatwa take on the challenge.