Charles Entertainment Cheese, best known by his professional name—Chuck E. Cheese, is a familiar sight to many.
The arcade and pizza restaurants that bear his name and likeness are a favorite location for childhood birthday parties throughout the world.
---
As it turns out, Chuck E.'s origin story is a little darker than that of most beloved children's mascots.
According to The Story Of Chuck E. Cheese, the multitalented mouse grew up in an orphanage. He loved music, especially the song "Happy Birthday" , and always enjoyed singing it at others' birthdays.
Nobody knew when Chuck E.'s birthday was, so he never had a party of his own but he always loved helping others celebrate.
After winning a Pong tournament (creator Nolan Bushnell founded both Chuck E. Cheese's Pizza Time Theatre and Atari, which produced Pong) and getting $50 in prize money, he was able to buy a bus ticket to New York City.
Once he reached the city, however, he was lonely and didn't have a place to live. Chuck E. ended up living above the kitchen in a restaurant owned by Pasqually (an Italian chef and another familiar face from the restaurant and arcade).
After some tensions when Pasqually discovered Chuck E. in the restaurant⁠—he is a mouse, after all—Pasqually found out Chuck E. could sing and decided that he could help save the restaurant.
The tension didn't end here, however, as Pasqually wanted Chuck E. to perform in front of a crowd, which he had never done before. Chick E. froze up with stage fright until he saw a little boy walking by on the street with a birthday crown on his head.
He then remembered how much he loved birthdays and began to sing "Happy Birthday" to the boy, thus showing everyone that he could sing.
The pair then formed a band, which has seen various other anthropomorphic characters join them over the years, and the restaurant became the Chuck E. Cheese's we know and love today.
Folks on Twitter were hit hard by the revelation of Chuck E.'s troubled childhood.
Apparently Chuck E. Cheese is an orphan who hosts birthday parties for children because he never knew his own birth… https://t.co/9Z6MpvXww1

— Julian Sanchez (@Julian Sanchez) 1566240685.0
@normative I actually went to Chuck E. Cheese this week. This is nightmare fuel for me.

— Void Shouter (@Void Shouter) 1566274235.0
@sidhubaba Wow, hadn't heard this before! But the real-life origin of Chuck E Cheese is also amazing - was founded… https://t.co/XwWB9muzcB

— Sam Tracy (@Sam Tracy) 1566302576.0
Some noticed a trend of children' s story characters not having parents.

@normative @XLProfessor @DuckTales Exactly. You always have to have a good reason for the solution not to be "why… https://t.co/MXntBUMR5k

— (((Sarah))) (@(((Sarah)))) 1566254624.0
@normative @andEps Most superheroes are orphans.

— Hasani Gittens (@Hasani Gittens) 1566245386.0
Others were moved to like the character more.
@normative This makes me like Chuck E Cheese more, to be honest.

— Aaron Back (@Aaron Back) 1566241136.0
@normative I find it sweet that someone would take their pain and use it to help other people feel better.

— Manzell B (@Manzell B) 1566344139.0
There were several calls for Chuck E. Cheese's Origin Story to become a movie.
@sidhubaba @benshapiro This is the superhero movie we need.

— CommanderBuzzKill (@CommanderBuzzKill) 1566275471.0
@sidhubaba That's a freakin' movie treatment.

— AgainstTrumpDude (@AgainstTrumpDude) 1566243032.0
@sidhubaba @saladinahmed The more important question is who owns the movie rights?

— jimboweb (@jimboweb) 1566282963.0
@sidhubaba @benshapiro "CHUCK E. CHEESE BEGINS" Coming Soon; to be directed by Christopher Nolan

— Steve G (@Steve G) 1566243849.0
@sidhubaba The movie writes itself

— Trumpy Bear (@Trumpy Bear) 1566258102.0
Chuck E. Cheese's has been the place of many a cherished childhood birthday memory, so it's easy to see why this revelation is hitting folks hard. The sheer nostalgia of thinking about parties at Chuck E. Cheese's is emotional for some folks.
The company put a surprising amount of thought into Chuck E.'s backstory, coming up with an excellent reason for him to love birthdays and making people happy so much. Many mascots aren't so well-established.
One can only hope that he will continue to make kids happy on their birthdays for many more years to come.
Relive childhood memories with this shirt available here.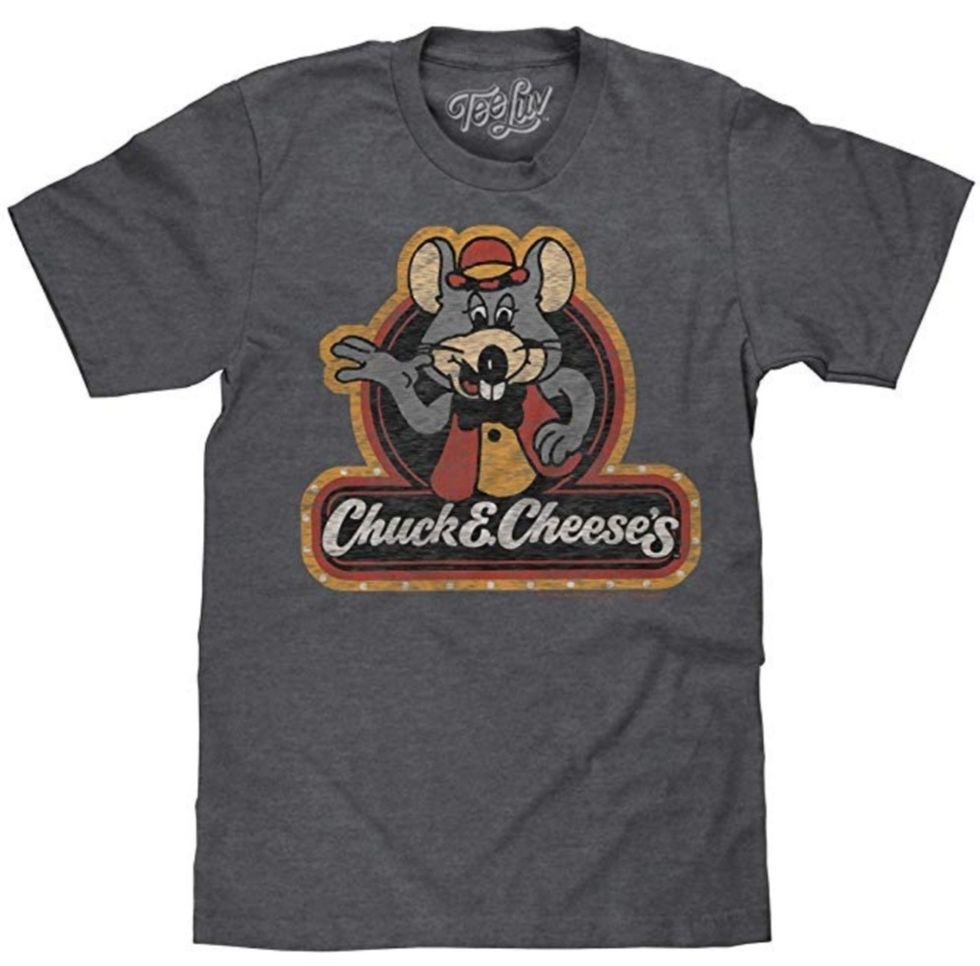 ---------
Listen to the first episode of George Takei's podcast, 'Oh Myyy Pod!', where we explore the racially charged videos that have taken the internet by storm.
Be sure to subscribe here and never miss an episode.