Fatherhood seems to agree with Chasten Buttigieg if his Twitter jokes are any indication.
The educator, author and husband of Secretary of Transportation Pete Buttigieg—who became fathers to twins earlier this month—had their Twitter fans laughing and good-naturedly groaning when he pitched a dad-jokey collaboration with drag superstar RuPaul.
In a tweet tagging RuPaul, Buttigieg pitched a children's themed retool of his iconic song "(Supermodel) You Better Work" that was the kind of groaner only a dad could come up with.

Buttigieg tweeted:
"Has @RuPaul considered a children's album? Because 'You Betta Burp!' has been stuck in my head all. darn. day. #DadBrain"
Buttigieg's joke was in reference to the song's well-known refrain in which RuPaul repeatedly tells us "you better WORK, cover girl, WORK, give a twirl" in the kind of voice that can only be described as commanding.
Over the years since the song's 1992 debut, "you better work" has also become one of RuPaul's key catchphrases, employed regularly on his TV show RuPaul's Drag Race.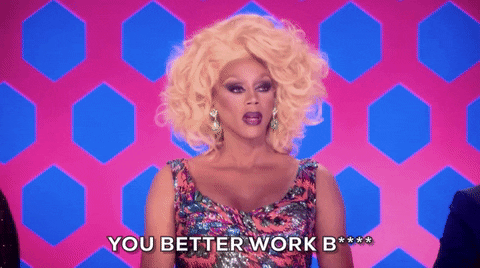 Giphy
If it can inspire countless drag queens to be their best selves there seems to be no reason why "You betta BURP" couldn't inspire America's babies to have the "charisma, uniqueness, nerve and talent" to find their gastrointestinal "realness," right?

Chasten and Pete announced the birth of their twins, Penelope Rose and Joseph August on September 7. And while, naturally, conservatives have thrown a fit about the two becoming fathers, they've been totally unfazed by the vitriol.
In addition to his RuPaul-centric dad joke, Chasten has shared several glimpses into he and Pete's new lives as fathers on social media.
Online fans of the couple have been absolutely loving it.
Chasten's RuPaul joke was no exception.

Working with babies isn't exactly on brand for RuPaul, but hey—as baby-centric catchphrases go, "You better BURP!" is a bit of an earworm.