Over 200 complaints about racist entrance policies have been plaguing one Charleston, South Carolina nightclub for weeks. The club has responded to the uproar, but some people are still skeptical.

---
Deco Nightclub in Charleston is making waves in the news lately. Unfortunately for the establishment, they're not the hottest club to talk about because people are having a great time dancing to amazing music and having an excellent customer experience. In fact, several of the negative reviews are from people who never even made it inside of the club––because they were turned away at the door in incidents tons of people are calling racism.
Club employees routinely cite dress code as a reason to turn people away, but several witnesses have refuted that. One even told a news outlet:
"It wasn't about who's best dressed, because white people with flip-flops and tattered jeans were getting in, and black people with Sunday dress wear weren't."
Their reviews are filled with stories of fake "membership" cards, dress codes that only apply to people of color, and outright lying by staff members.

via Facebook

via Facebook

via Facebook

via Facebook

via Facebook

via Facebook

via Facebook
They aren't faring much better on other social media platforms.
@chstunage All you have to do is check the reviews on their Facebook page... basically the problem is a bouncer cre… https://t.co/Aigt6S36Vb

— Fave DJ. (@Fave DJ.) 1531172316.0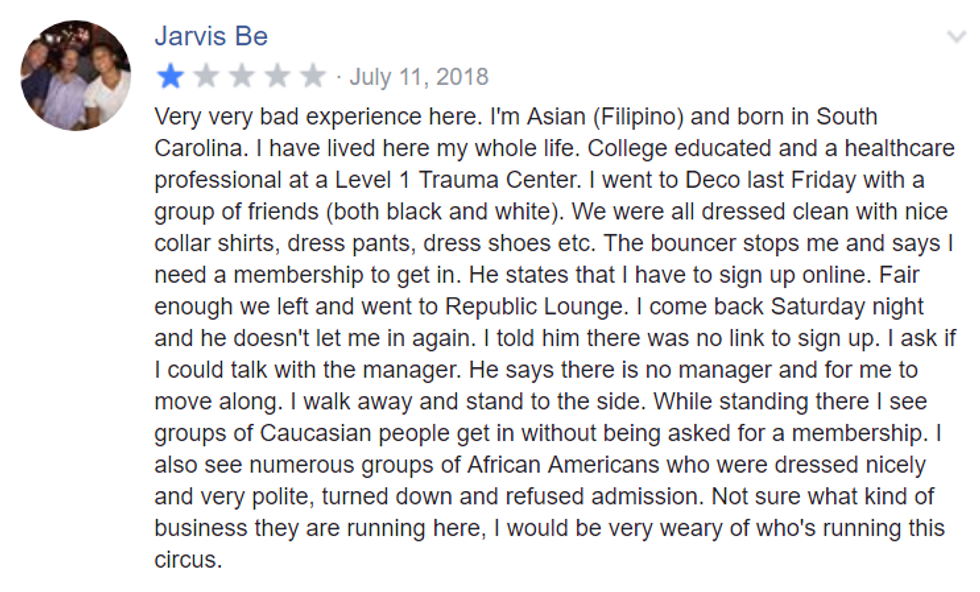 via Yelp
this CHARlESTON deco club thing is funny 🙄 🗣Everybody wanna be "for black people" until it hits the fan . Real siti… https://t.co/XEJDnSjsBX

— Brianna N. Jenkins (@Brianna N. Jenkins) 1531748402.0

via Facebook
Club deco in Charleston was on some bs on Saturday!! Downtown Charleston just doesn't want black People in there es… https://t.co/45mhUTAVF2

— "In gizzle we trust" (@"In gizzle we trust") 1530537618.0
Evidently, this has been a problem from the beginning.
So sad I sit and watch how they profile you to get in the clubs downtown Charleston. And I'm gonna call out that ne… https://t.co/HA6MmmqZw6

— Ricky Lee (@Ricky Lee) 1525634299.0
The club has responded by releasing a statement saying they are discontinuing any membership programs and have removed some staff, while retraining others. Most people don't buy the apology, though.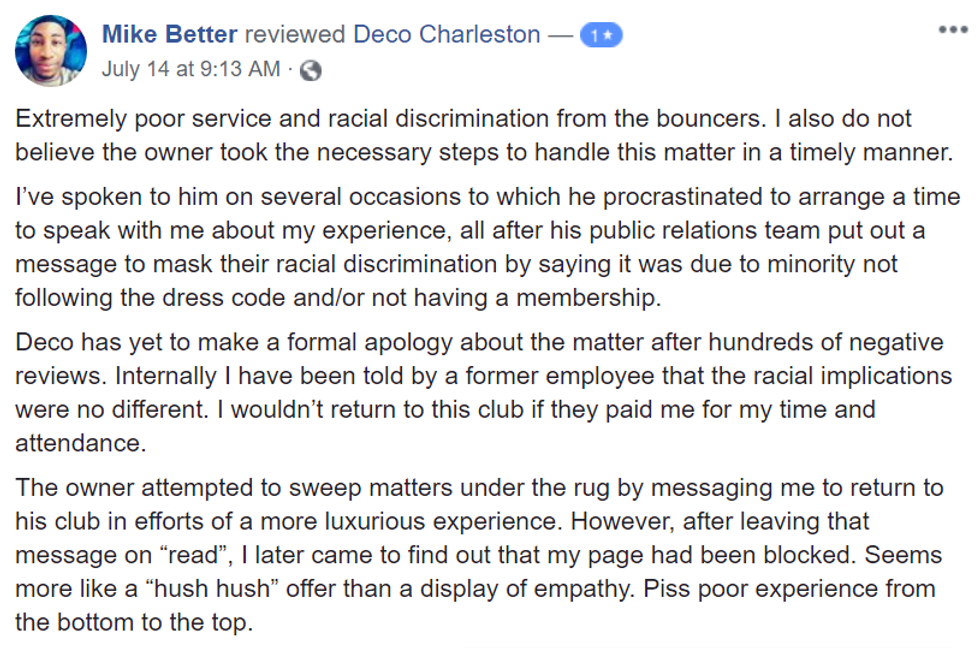 via Facebook

via Facebook

via Facebook
We want to know what you think. Is retraining staff enough of a response for a club with such a lengthy and well-documented history of racist treatment?
H/T: RawStory, Facebook, Twitter, Post And Courier