Fox News personality Tucker Carlson has dedicated considerable airtime over the last two years to attacking attorney Hunter Biden—the son of Democratic President Joe Biden—and breathing life into conspiracy theories regarding the younger Biden's alleged financial malfeasance and political corruption.
Hunter Biden is back in the news following the "Twitter files" leak of a series of messages between the social media platform's leadership team in the run-up to the 2020 presidential election.
The purportedly leaked messages shed light on the political disputes that erupted at Twitter as its officials deliberated over how to handle the dissemination of a New York Post story about the contents of a laptop owned by Hunter Biden.
The 2020 New York Post investigation published emails suggesting Hunter Biden introduced his father to an executive with Burisma Holdings–a Ukrainian gas firm–in 2015.
The story received criticism for shaky reporting and Twitter's attempts to block the news outlet from sharing the story received criticism from Republicans who accused the tech giant of censoring conservative voices.
Carlson has kept that story at the forefront of Fox News' often inflammatory coverage of the Biden administration. But if his opinions of the Bidens are so negative, why did he ask Hunter Biden to help him get his son into college?

Carlson's email exchanges with Hunter Biden have received renewed attention after journalist Anthony DeRosa reminded his followers that Carlson had reached out to Hunter Biden for just that.
The emails between Carlson and Hunter Biden reveal that in 2014 Carlson thanked him for writing a letter that helped Carlson's son Buckley secure a spot at coveted Georgetown University.
Hunter Biden followed up asking Carlson to send along Buckley Carlson CV, to which Carlson—who was boarding a plane at the time—promised to have his secretary forward to him "right away."
You can see the email exchange below.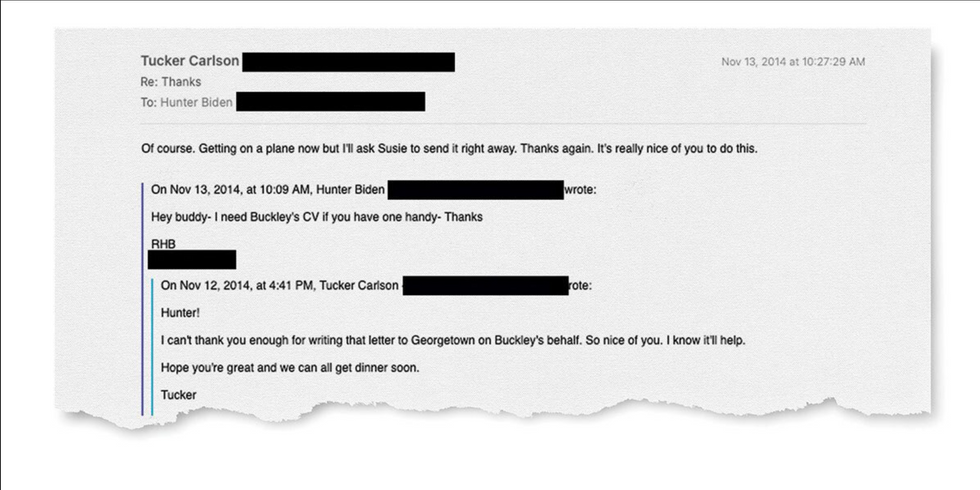 Washington Post
The resurfaced email exchange has reignited criticism about how Carlson's gratitude to Hunter Biden is so at odds with his often combative and mean-spirited onscreen persona.
Carlson's hypocrisy was not lost on social media users.
While the "Twitter files" leak has certainly made waves at Fox News, it has no doubt appeared to envigorate former Republican President Donald Trump, who earlier this week suggested the contents of the leak warranted either redoing the 2020 election entirely or a coup d'etat in which he would be installed as President.
As fate would have it, Trump's first impeachment was initiated in part because he'd encouraged Ukrainian leadership to investigate then-candidate Joe Biden for "political dirt" he could wield against his opponent.
At the time, Trump suggested to Ukrainian President Volodymyr Zelenskyy that strengthened bilateral relations between the two world leaders, particularly since Russia's annexation of Crimea, would be "a tremendous achievement."
Trump was ultimately acquitted by the Senate in early 2020 following a highly contentious trial and he touted the acquittal as a sign of his innocence in the matter, which he has claimed, without evidence, was a Democratic plot to topple his presidency.