The Brigham Young University (BYU) athletic department banned a fan from attending all athletic venues after he yelled racial slurs and threats of violence at a Black volleyball player from the opposing team.
According to Lesa Pamplin, godmother of Duke volleyball player Rachel Richardson, a fan hurled the n-word every time Richardson served the ball.
Pamplin also said a White man told the player to "watch her back" when she made her way back to the team bus.
The Huffington Post quoted Pamplin's tweets–which are not public.

They read:

"My Goddaughter is the only Black starter for Duke's volleyball team. While playing yesterday, she was called a [n-word] every time she served."

"She was threatened by a White male that told her to watch her back going to the team bus. A police officer had to be put by their bench."
"Not one freaking adult did anything to protect her. I'm looking at you BYU."
"You allowed this racist behavior to continue without intervening. Apologizing to her parents after the fact is not enough. She will soon be sharing her story."

US Senate Candidate and BYU alum Evan McMullin admonished the individual who harassed Richardson.
He expressed his disappointment in his alma mater's lack of immediate response.
Pamplin later expressed disappointment BYU took action only after her tweets about the racist incident went viral.

She wrote:

"Many adults failed my goddaughter. It is our duty—each of us—to use our voices in the spaces we occupy to protect and advocate for each other."
Richardson issued a statement regarding Friday night's match against BYU, saying:

"My fellow African American teammates and I were targeted and racially heckled throughout the entirety of the match."
"The slurs and comments grew into threats which caused us to feel unsafe."
"Both the officials and BYU coaching staff were made aware of the incident during the game, but failed to take the necessary steps to stop the unacceptable behavior and create a safe enivronment."
Richardson added officials failed to "adequately address the situation" following the game as well.

You can watch a news report here:
The following day, BYU athletic director Tom Holmoe addressed the incident before the game and told attending fans he met with Richardson and commented "If you knew her, you'd love her."

Holmoe's attempt to assuage the situation fell short.
Duke announced Saturday's match against Rider University would take place at an alternate location in Provo, Utah away from its previous location at BYU's Smith Fieldhouse–which has been hosting teams as part of the weekend's doTerra Classic tournament.

"First and foremost, our priority is the well-being of Duke student-athletes," wrote Duke Vice President & Director of Athletics Nina King.
King continued:

"They should always have the opportunity to compete in an inclusive, anti-racist environment which promotes equality and fair play."
"Following extremely unfortunate circumstances at Friday night's match at BYU, we are compelled to shift today's match against Rider to a different location to afford both teams the safest atmosphere for competition."
"We are appreciative of the support from BYU's athletic administration as we navigate this troubling situation."
"I have been in touch with the student-athletes who have been deeply impacted, will continue to support them in every way possible and look forward to connecting further upon their return from Provo."
BYU, a private institution affiliated with the Church of Jesus Christ of Latter-day Saints, issued a statement saying they were commmitted to "rooting out racism."

BYU wrote in part:

"To say we are extremely disheartened in the actions of a small number of fans in last night's volleyball match in the Smith Fieldhouse between BYU and Duke is not strong enough language."
"We will not tolerate behavior of this kind. Specifically the use of a racial slur at any of our athletic event is absolutely unacceptable and BYU Athletics holds a zero-tolerance apporach to this behavior."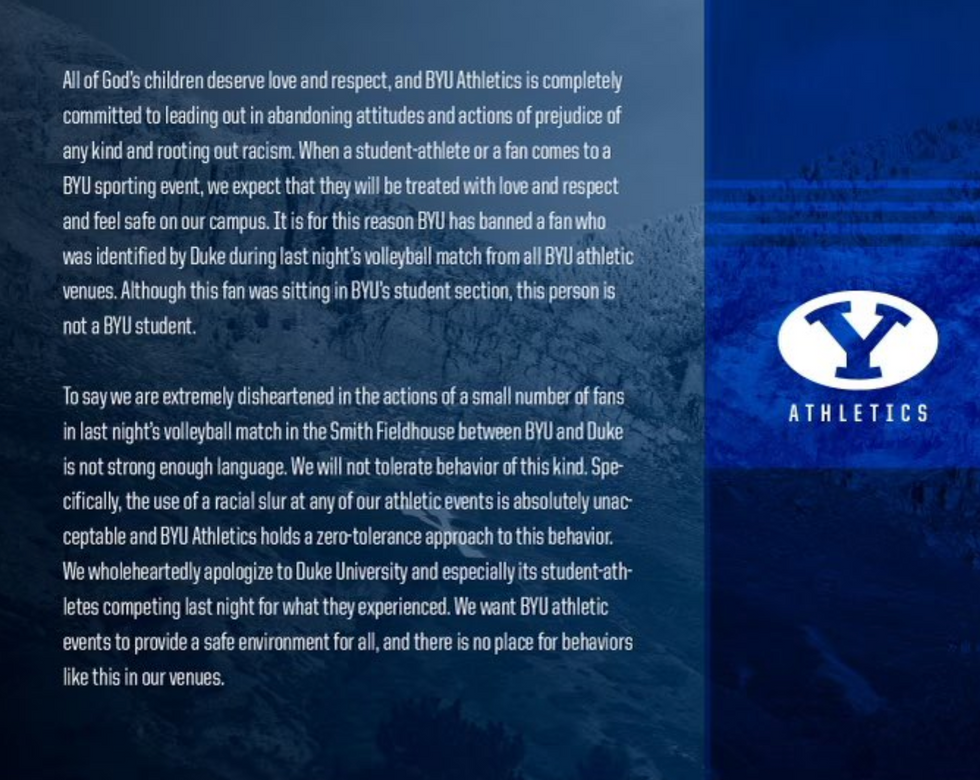 @BYUCougars/Twitter
BYU did not specify the length of time the individual–who was sitting in the BYU students section but was not a BYU student–was banned from future athletic events.