Sometimes marketing plans don't quite work out the way a company may have hoped.
Burger King UK discovered this when they delivered what they hoped to be a message of female empowerment for International Women's Day, only for a lot of people to take it as one more example of sexism.
Burger King UK started off deadpanning:
"Women belong in the kitchen."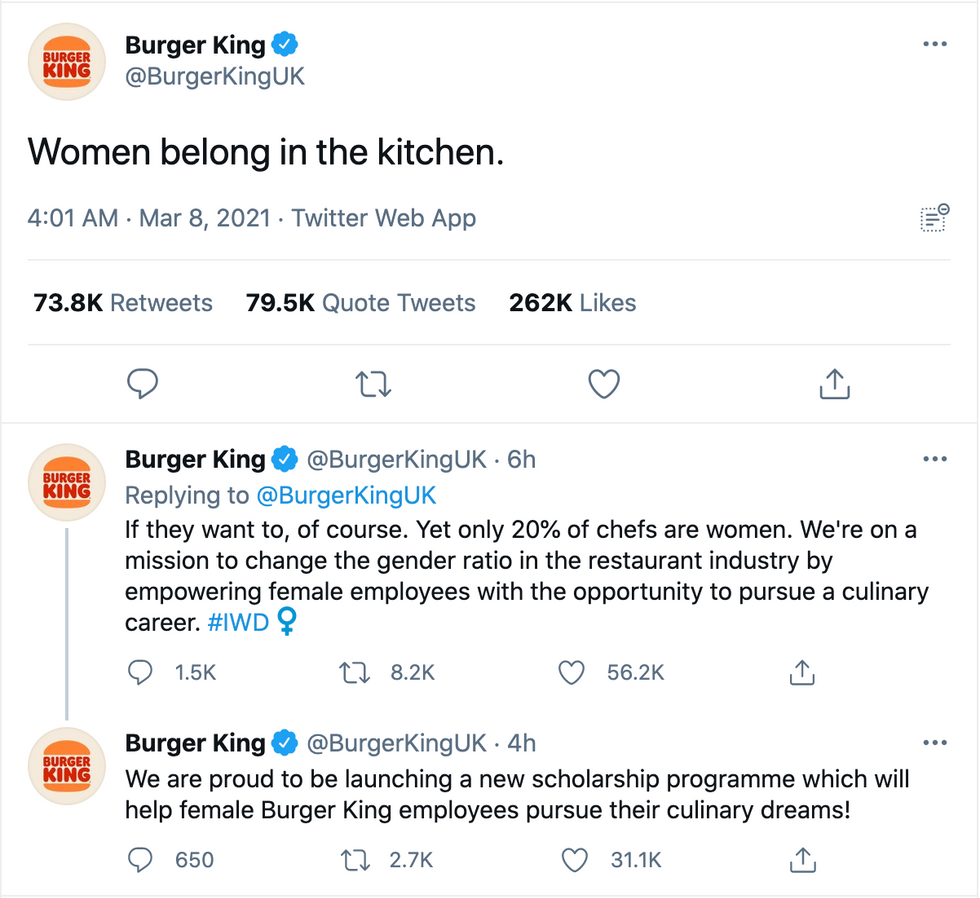 @BurgerKingUK/Twitter
But then they expanded on this with two more tweets.

"If they want to, of course. Yet only 20% of chefs are women. We're on a mission to change the gender ratio in the restaurant industry by empowering female employees with the opportunity to pursue a culinary career."
Then they used the hashtag "#IWD" for International Women's Day.

"We are proud to be launching a new scholarship programme which will help female Burger King employees pursue their culinary dreams!"
This thread did not go over well.
International Women's Day (IWD) is a day celebrated across the globe for women everywhere, and specifically their economic, cultural, social, and political empowerment and achievements. Burger King UK clearly missed the memo with their tweet.

Even KFC Gaming—a gaming console that warms chicken—got in on the conversation.
But Burger King UK stood behind the message they were trying to deliver.

They argued to KFC Gaming:
"Why would we delete a tweet that's drawing attention to a huge lack of female representation in our industry? We thought you'd be on board with this, as well?"
"We've launched a scholarship to help give more of our female employees the chance to pursue a culinary career."
And they continued defending their idea in other comments, as well.
@YungCatgirl We think it's weird that women make up only 20% of chefs in the UK restaurant industry. That's why we'… https://t.co/cE4WOSDwpx

— Burger King (@Burger King) 1615202158.0
It's true that Burger King UK probably had the best intentions at heart.
The culinary industry is still severely lacking in women, particularly as chefs, sous chefs, and restaurant owners. Surely by offering scholarships to their female employees they intend to help correct the imbalance.

But as far as marketing goes, Burger King also has to be able to read the room. Perpetuating a stereotype of domesticity and sexism, however well-intended, the internet would agree is not the way to go.