If you were anywhere near the internet this weekend, you likely saw the exciting news that Britney Spears and longtime boyfriend Sam Asghari are at last engaged.
And given all the drama she's been through in recent years due to the controversial conservatorship Spears was kept under against her will, many people seem to have a certain level of concern about her impending marriage. Scores of people have left comments on Spears' social media announcements urging her to get Asghari to sign a prenuptial agreement.
And Asghari has light-heartedly clapped back at those doubting him with a cheeky response, seen below, posted to his Instagram Story that will surely endear him to anyone suspicious of his motives.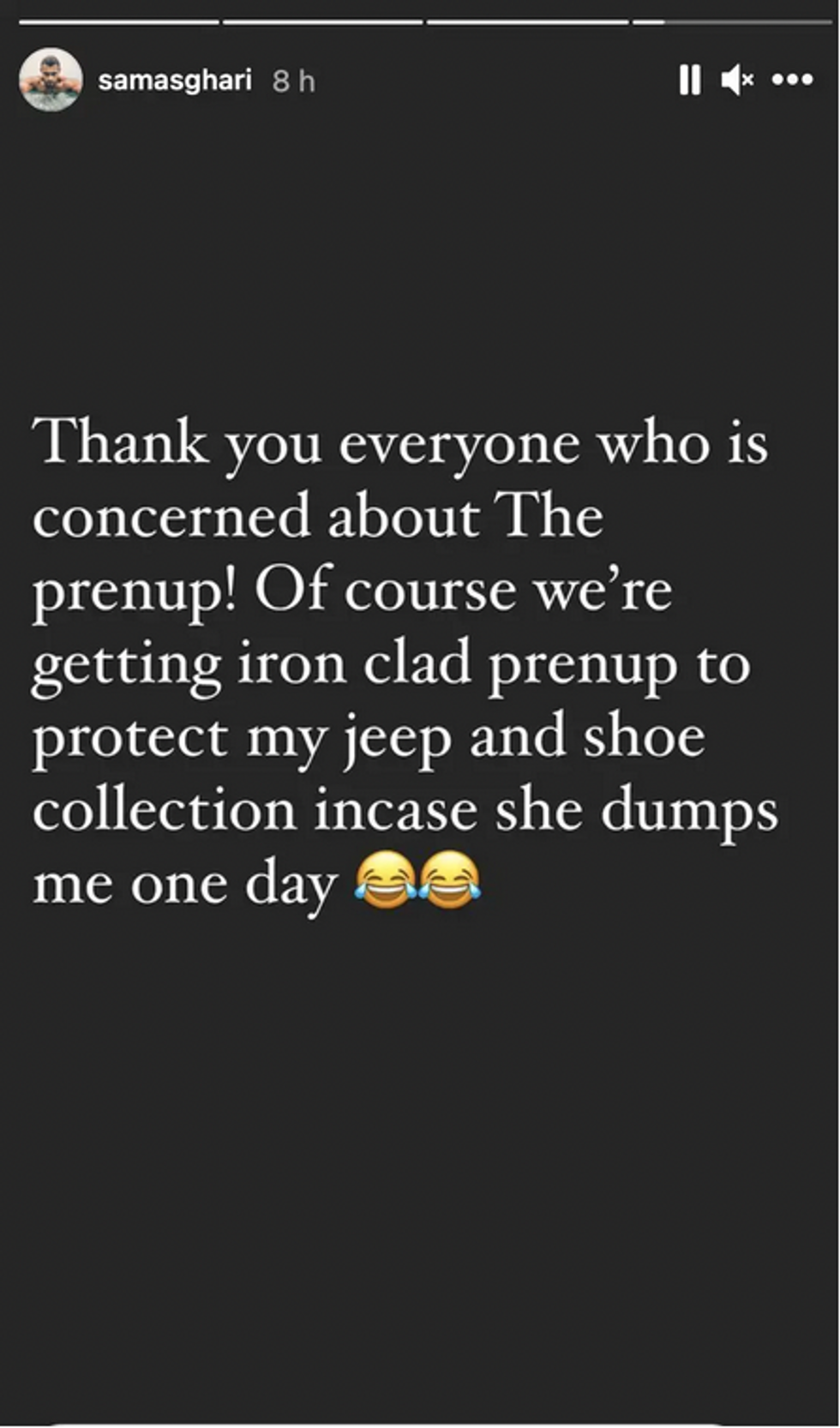 @samasghari/Instagram
In the story, posted shortly after the couple announced their engagement, Asghari joked:
"Thank you everyone who is concerned about the prenup! Of course we're getting iron clad prenup to protect my jeep and shoe collection in case she dumps me one day."
Hey, at least he's got a sense of humor about all the people who seem to think he's a gold digger!
Spears and Ashgari all but broke the internet Sunday when they posted a video to Spears' Instagram of her showing off the ring with the caption "I can't f'king believe it!"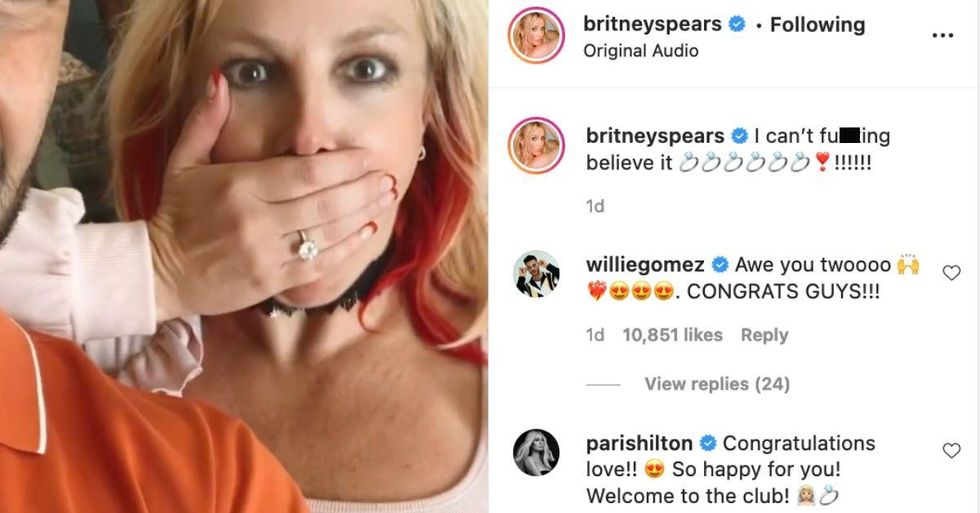 @britneyspears/Instagram
The news was particularly exciting in light of the reported terms of the very stringent conservatorship under which Spears has been held by her father, Jamie Spears, since 2008. That legal arrangement forbid her from marrying or having children, among other requirements.
Jamie Spears filed a petition to end the conservatorship last week.
Perhaps given that the conservatorship also handed Jamie Spears total control over Britney's finances, several people on the internet immediately jumped in to urge Spears to put Asghari on a short financial leash.
Even Academy Award-winning actress Octavia Spencer gave Spears some woman-to-woman advice in a comment on Spears' post that had the internet in hysterics.

@octaviaspencer/Instagram
Keeping her advice simple, and to the point, Spencer simply commented:
"Make him sign a prenup."
But despite some people's misgivings, they are loving Asghari's light-hearted response.
All jokes aside, the idea of a prenup seems to be one Spears is in favor of—she's reportedly already enlisted a lawyer to draw up an agreement between she and Asghari, according to TMZ.