While weddings are meant to be a joyous celebration, the preparation for the main event can be nothing but a headache.
Because a lot of pressure and anxiety goes into wedding planning, it's no wonder professionals are hired to manage, plan and design a client's big day to ensure it goes off without a hitch—so to speak.
One wedding coordinator appeared to risk being killed as a messenger for sending out a detailed list of "rules and regulations" on behalf of the client.
A screenshot of it wound up on the Choosing Beggars subReddit—where it went viral.

Some of the stipulations instructed invited guests to arrive 15-30 minutes early and to "not wear white, cream, or ivory."

Those were pretty reasonable to start.

But as the list went on, it turned very cringey.
Observe the following:
"Please do not wear anything other than a basic bob or ponytail."
"Please do not fave [sic] a full face of makeup."
"Do not record during the seramony [sic]."
"Do not check in on FB until instructed."
Perhaps the jarring one of all was:
"DO NOT TALK TO THE BRIDE AT ALL."
The final rule required guests to bring a wedding gift with a value of $75 or more if they wanted to have guaranteed admission to the ceremony and reception.
Here is a screenshot of the full list, below.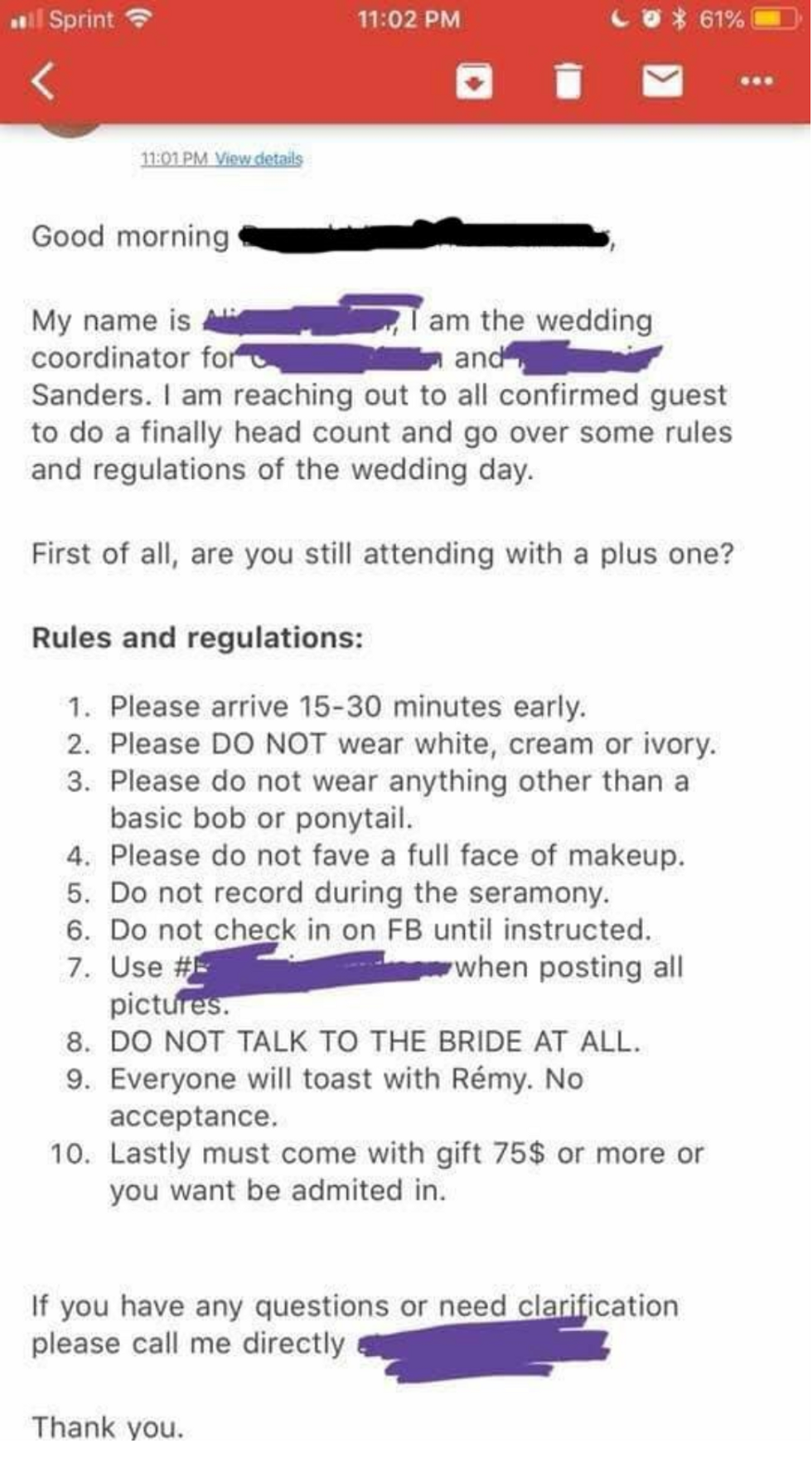 @mariusionicajr/Reddit
Redditors scoffed at the list and made a mockery of it.

One user added an 11th rule to the list:

"No 11. Don't write anything until you learn how to spell."

@mariusionicajr/Reddit

@mariusionicajr/Reddit

@mariusionicajr/Reddit

@mariusionicajr/Reddit
One Redditor was skeptical the list was written by an actual wedding planner.
User bluelily216 wrote:

"'Don't talk to the bride' really means 'I'm the bride but I'm going to pretend I'm someone else in case people don't like this'."
"She can throw the wedding planner under the bus and pretend she knew nothing about it."
"In actuality she either doesn't have a wedding planner or the wedding planner knew nothing about this. I mean if your job is to plan them I would imagine you'd be able to spell ceremony correctly."
Others also shared the same suspicions.

"That confuses me here. How does a wedding planner misspell ceremony? Isn't that word pretty integral to their job? Some of the others I can see being autocorrect, but 'seramony?'" – General_Lee_Wright
"My 1st thought was this was the bride pretending to be the coordinator. I don't believe any professional would send an email like that." – SuzieSayzNo

Another Redditor suggested what an incompetent wedding coordinator might do.
"If I was the wedding planner and forgot to plan anything, this is what I'd send to everyone to ensure nobody showed up. No guests means no one notices I haven't planned anything." – adinmem

There is little we know about the couple and the supposed wedding planner in this situation.
But based on the reactions to the couple's demands on the subReddit, our prediction is that the big day could turn out to be one big nuptial miss.