On May 25, while Christian Cooper was birdwatching in New York City's Central Park, a woman erupted and called the police on him.
He had asked her to put a leash on her dog.
---
Cooper's recording of the incident, which he posted on his Facebook page, quickly went viral and placed him at the center of a national outcry across the internet and mainstream media. However, Cooper's recent claim to fame is not his only one.
While working as an editor for Marvel Comics in the 1990s, he co-created the first openly gay character in the Star Trek universe, them.reports.
Cooper, a black man, spent the early part of May 25 in Central Park's "The Ramble" area, a nearly 40-acre oasis within an oasis when he came across Amy Cooper (no relation), a white woman walking her dog without the leash attached.
As the video captured, Christian Cooper remained on the footpath as he asked Amy Cooper to leash the dog. She then approached him and demanded he stopped recording, before she called the police to claim that "an African-American man" was "recording and threatening" her.

Since the video went viral, Amy Cooper was placed on administrative leave and then fired by her employer, Franklin Templeton, according to a Twitter announcement made by the firm.
The incident presented yet another installment to a series of recent racist incidents across the U.S. which has forced a national reckoning—largely occurring online—about the country's evidently ongoing race problem.
Christian Cooper's place in the minds of Americans, albeit for unfortunate reasons, did lead to some more positive discoveries about the man, however.

In 1996, Marvel Comics released a short-lived series called Star Trek: Star Fleet Academy. During the project, Cooper helped to create Cadet Yoshi Mishimi, the first homosexual character in the Star Trek universe.
In the comics, Yoshi was a character "portrayed as a smart, brave, caring young man who was a capable leader, a skilled officer, and an effective fighter," according to the LGBT comics blog Gay League.
Yoshi faced discrimination when another character discovered his homosexual relationship with his boyfriend. Eventually, after some initial prejudice, the characters were able to accept their differences and work together toward their common goals.
The discovery had the internet clearly excited to discuss a more positive, virtuous aspect of Christian Cooper's story.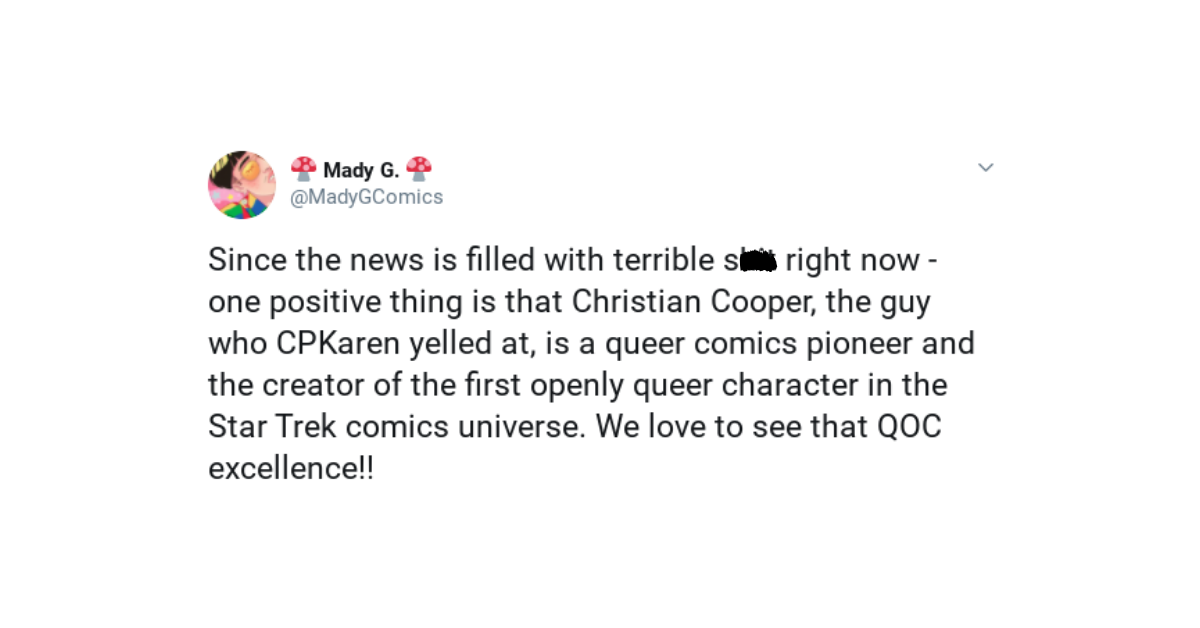 @MadyGComics/Twitter
Now decades removed from his historic creation, we wish Mr. Cooper only the most peaceful birdwatching in the future.