Our planet is home to many beautiful and fascinating things. Two of those beautiful things are the auroras that can be witnessed in both the northern and southern hemispheres. Called Aurora Borealis in the northern and Aurora Australis in the southern hemisphere, the auroras are bright, colorful swaths of light that can be seen in the night sky.
---
There are other, stranger, aurora-like atmospheric events that can happen too, such as Steve (Yes. It's really called Steve. They even came up with a backronym to match the name: Strong Thermal Emission Velocity Enhancement. Science is weird.).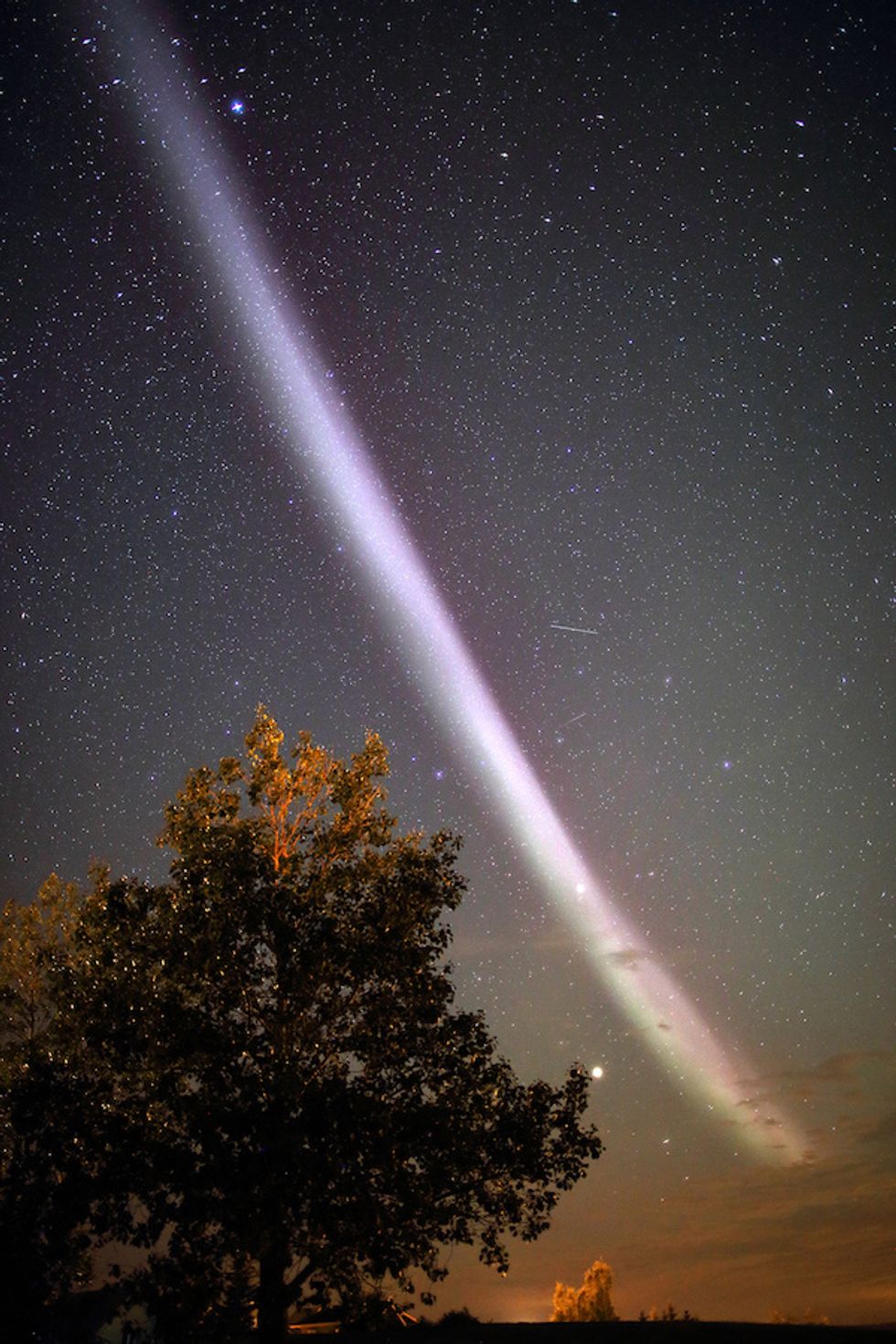 Elfiehall / Wikimedia Commons (CC-BY-SA)
A new video released by YouTuber Timestorm Films gives a time-lapse view of the Aurora Australis at the Amundsen-Scott South Pole Station research facility in Antarctica. The dancing aurora on a backdrop of the stars and the Milky Way is simply breathtaking.
SOUTH POLE | NIGHT IN ANTARCTICA www.youtube.com
Many people, especially in the US and Canada, are familiar with the Aurora Borealis, but may not have heard of the Aurora Australis.
cannot believe I've only just heard of the Aurora Australis 🤯 https://t.co/2THYd5vnDt

— Jat (@Jat)1549438111.0
It turns out that the Aurora Borealis and Aurora Australis aren't mirror images of each other like was once thought. Differences in the earth's magnetic fields, which change over time, as well as solar winds and various other factors affect the auroras.
FAST FACT: The Aurora Borealis of the north and the Aurora Australis of the south are not mirror images! This is th… https://t.co/yx6bD0GQwn

— Sara Matsuba (@Sara Matsuba)1549222581.0
The lack of darkness hours in Summer means less #Aurora moments .. the best I could get for the 1st of February. B… https://t.co/7MJs3EooI3

— Anne-Marie Gutschlag (@Anne-Marie Gutschlag)1549025769.0
May 2018: aurora australis near South Pole Atmospheric Research Observatory in Antarctica. (Patrick Cullis/AP) https://t.co/9HQKjnxLiO

— SIBOMANA Jean Bosco (@SIBOMANA Jean Bosco)1549123550.0
Have you ever seen the aurora borealis or the aurora australis? I'd love to catch them both someday, because as it… https://t.co/XScEWrfXKW

— Vicky Stein (@Vicky Stein)1548975194.0
The Northern and Southern Lights dance on a scale of hundreds of miles, but it turns out that their routine doesn't… https://t.co/SwcuwMa1lc

— Dr Robin George Andrews (@Dr Robin George Andrews)1549470293.0
It was long assumed that the aurora borealis and aurora australis (the northern and southern lights) were a mirror… https://t.co/eI5ss0tGMx

— AstroSociety Pacific (@AstroSociety Pacific)1548352730.0
Here's some more beautiful images of the aurora to wrap things up.
20th September 2015. Hoopers Inlet, Otago Peninsula, New Zealand. #Beauty #aurora #Auroraaustralis #NewZealand https://t.co/hGGG0mPs2m

— Ian Griffin (@Ian Griffin)1547408094.0
Southern Lights (Aurora Australis), New Zealand. 1. Lake Dunstan; 2. Cape Saunders, Otago; 3. Dunedin; 4. Invercarg… https://t.co/5knFBXBSfS

— Bill Dagg❌ (@Bill Dagg❌)1546694309.0
Eerie yet entrancing glow of the Aurora Australis - spkruit https://t.co/0QpCxSmUqM c tasmania #australia

— Britannia PR (@Britannia PR)1546294930.0
The #auroraaustralis or #southernlights over the historic TAE Hut at Scott Base #Antarctica. These are the southern… https://t.co/YKPPz3edpq

— Anthony Powell (@Anthony Powell)1545049241.0
Kahokura o Hine Nui Te Po, #Aurora Australis off the coast of Ōtepoti @Lovedunedin last night. #Dunedin #NewZealand… https://t.co/eRfpJPTrrL

— paul le comte (@paul le comte)1541472662.0
The view from space is even more amazing!
Astronauts on the International Space Station captured this amazing aurora australis, or "southern lights," while p… https://t.co/NUTAwgORNC

— 407 Dank (@407 Dank)1544978171.0
Photographed by one of the Expedition 29 crew members from the ISS. It features Aurora Australis, seen from a point… https://t.co/6BAhTOKDW6

— Anand Krishna (@Anand Krishna)1544621533.0
There are few things on this earth as hauntingly beautiful as the Auroras.