*Warning: Game of Thrones spoilers ahead!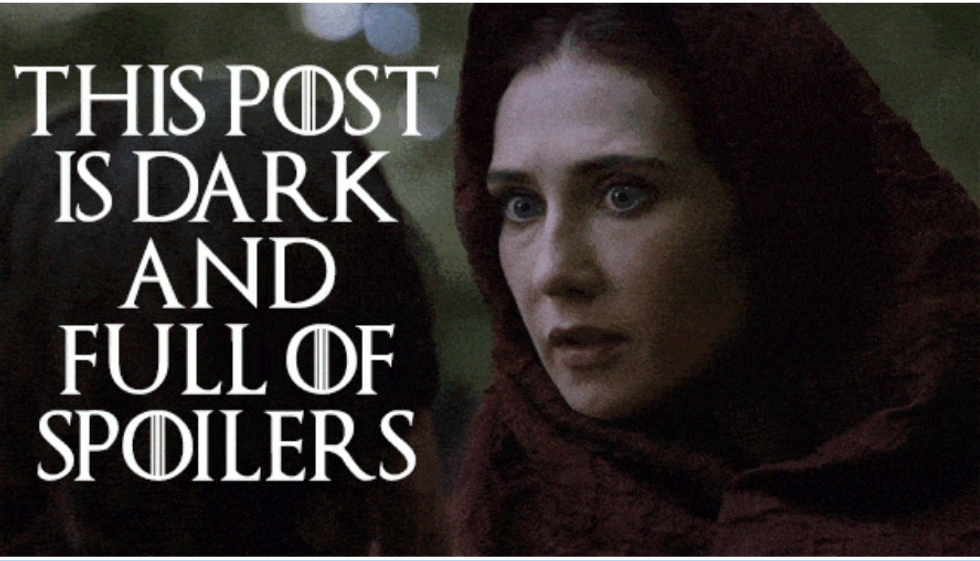 HBO
The penultimate episode of HBO's mega-series Game of Thrones was pretty bonkers from start to finish. After what felt like a never-ending sea of violence brought down upon King's Landing by none other than Dany Targaryen, the city lay in silence.
Among the rubble and burned bodies, one survivor managed to walk away from the death: Arya Stark, savior of the battle of Winterfell. As she surveyed the work of her new dragon queen, she spied a white horse standing calmly amongst the ashes.
Never one to look a gift horse in the mouth, Arya climbed aboard and rode off.
Meanwhile, fans everywhere were trying to decipher the meaning of the horse...could it have a greater significance within the world of GoT?
@Steph_Estrada @thronesfacts "Arya is trained as a Faceless Man at the House of Black and White in Braavos" She ca… https://t.co/L6AW8dusOy

— Alvaro hernandez (@Alvaro hernandez) 1557797263.0
Many people thought the "pale mare" might be a biblical reference.
The white horse that Arya rides is an allusion to the Book of Revelations in the Bible: "And I looked, and behold,… https://t.co/lL0TJfcnsE

— Anthony Degliomini (@Anthony Degliomini) 1557762603.0
@marjayhan Do you not think the white horse was a nod to Revelations 6:8? And in fact Arya is the harbinger of deat… https://t.co/wsUkULB6Wa

— Matthew Hughes (@Matthew Hughes) 1557738893.0
Most people agreed that the arrival of the horse was pretty bad news for any Targaryens who might have gone on a murder rampage recently.
With Arya being spirited away by an ethereal horse, I'm hoping this means she'll be living on to slay another seemi… https://t.co/T7EJdO1IBn

— leigh cags (@leigh cags) 1557714242.0
Others tried to figure out the horse's origins:
Could Bran have finally done something useful?
Someone said the white horse was Bran sending Arya an Uber & that's the best #GoT theory I've ever heard. https://t.co/pgXEj902Gg

— DestinyRae (@DestinyRae) 1557789785.0
Bran sends uber to Arya https://t.co/ph5azxS2C6

— Puasa, jangan (@Puasa, jangan) 1557828273.0
Some people thought ole' decapitated Ned Stark may have had a hand in this:
That horse is there because I swear it's her father's way of telling her to get out of the city. #GameOfThrones https://t.co/3C2FpSe2wI

— 🕸Charlotte🕸 (@🕸Charlotte🕸) 1557714011.0
@believeinky *episode haha but someone tell me I'm not imagining it https://t.co/WIGB99kIsg

— Charlea (@Charlea) 1557774041.0
On Twitter, there's no limit to how crazy your fan theory can be.
@POPSUGAR The horse is the Starbucks cup.

— Liz Climo (@Liz Climo) 1557762715.0
White horse waiting for shit to calm down. #GameOfThrones #got https://t.co/iNt71fwh7N

— detroitdarren (@detroitdarren) 1557766228.0
@oldmanebro The white horse is a symbol of all the God damned heroin fans need to push down our hatred for DD's writing.

— cory alan (@cory alan) 1557795349.0
@Steph_Estrada @thronesfacts https://t.co/aOZEwstAnp

— Lᴇɪʟᴀ (@Lᴇɪʟᴀ) 1557758243.0
Meanwhile, many people were trying to get a good look at Dany's eyes to see whether she matches up with another foreboding prophesy...
me trying to figure out if #Daenerys has green eyes because i swore they were blue #GameofThrones https://t.co/zoh2ICAeVK

— Talking Tv Trash (@Talking Tv Trash) 1557720339.0
No matter what happens in the series finale, Arya's horse will live on in our hearts as the real star of the show.
The series finale of game of thrones is about Arya coming home with the horse and Jon telling her no that horse is… https://t.co/fjjrZiYOB2

— Jentective Nikachu (@Jentective Nikachu) 1557723167.0
Lord of light: What do we say to the god of death? Horse: Neigh today #GameOfThrones https://t.co/tDIhziwe6N

— Kiersten (@Kiersten) 1557714634.0