Alexandria Ocasio-Cortez is all too familiar with negativity directed her way by the right.
A recent article by TheWashington Times might have just hit an all-time low for ridiculousness, though.
---
The article impugns the representative for spending $300 on a recent haircut. They argue she shouldn't be paying a typical price for a woman's haircut and lowlights just because she has rightly complained about the high price of living inside the Beltway in DC.
Apparently they think wanting affordable housing means that she shouldn't be willing to pay her stylist a living wage.
It seems they even went so far as to bother her stylist about whether she tipped well or not.
"A 20% tip would have added $52 to the bill."
" Her stylist did not respond to a request for comment about the tip."

Richard Manning, president of Americans for Limited Government also seems to have no concept of the market price for a woman's haircut and dye.
"There is nothing wrong with spending money to make yourself look better, especially as a personality who depends upon visual mediums for her power. But it is a bad look to spend hundreds of dollars to get your hair done to make a video decrying income inequality."
The article even goes so far as to compare the price of AOC's salon trip to the cost of former Attorney General Jeff Sessions' short cut.
"Her high-dollar hairdo stands in stark contrast to that of former Attorney General Jeff Sessions, a former Senator from Alabama who is a regular customer at Senate Hair Care Services in the basement of the Russell Senate Office Building."
It then goes on to acknowledge the discrepancy in pricing between men's and women's cuts, thereby largely discrediting its own argument.
"At that place, open to members of Congress and the public, a men's cut runs about $20, though men's haircuts there and everywhere else are cheaper than women's."
Jacobin, a democratic socialist publication, responded to TheWashington Times' article with mocking sarcasm.
AOC later responded to Jacobin's post, citing statistics and pointing out that democratic socialism is not to blame for poverty, but for helping folks out of it.

"Our policies, like Medicare for All, advance prosperity for working people. They're just mad we look good doing it."
She also went on to point out some actual misuse of funds.
Many on social media took a more mocking approach to challenging the article.

Some made the point that hairdressers provide a valuable service and deserve to be paid well for it, and the price AOC paid was pretty standard.
Taking care of one's appearance is not a luxury, especially when someone is constantly in the public eye. Paying someone a living wage to provide a necessary service is the right thing to do, not a blemish on Ocasio-Cortez' democratic socialist beliefs.
If you've got your priorities or have a special stylist you want to recognize, this sign is available here.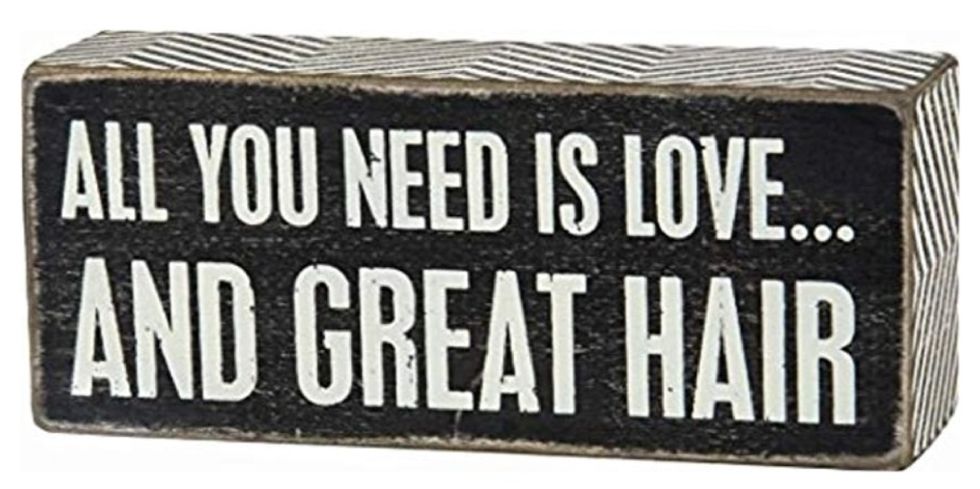 Amazon
******

Have you listened to the first season of George Takei's podcast, 'Oh Myyy Pod!'?
In season one we explored the racially charged videos that have taken the internet by storm.
We're hard at work on season two so be sure to subscribe here so you don't miss it when it goes live.
Here's one of our favorite episodes from season one. Enjoy!