Georgia Republican Representative Andrew Clyde tried to "own the libs" by handing out lapel pins in the shape of assault rifles to his fellow Republicans.
But social media quickly reminded him of a viral photo of Clyde cowering in fear during the January 6, 2021 insurrection. Clyde had legitimate reason to be fearful as the Capitol riot resulted in at least five deaths, over 100 injuries to law enforcement—some of whom were forced to retire or resign due to PTSD—and millions of dollars in property damage to the United States Capitol building.
The viral January 6 photo showed a terrified Clyde cowering behind a Capitol Police officer pointing a gun at the door of the House chamber while waiting for insurrectionists to break in. The violent, destructive mob lead by White nationalists, White supremacists and QAnon adherents attempted to stop the certification of the 2020 presidential election results.
Former Republican President Donald Trump and numerous GOP members of Congress were criticized for inciting the crowd gathered at a Trump endorsed and attended "Stop the Steal" rally after over a month of spreading the Big Lie duly elected President Joe Biden stole the election by getting significantly more votes than Trump.
You can see the viral photo below.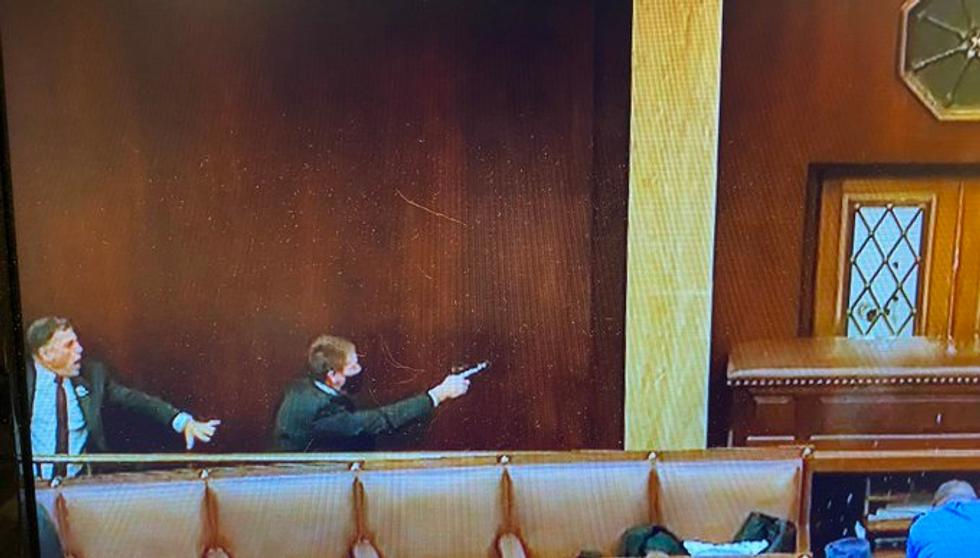 @johniadarola/Twitter
Clyde was criticized by House Democrats after distributing the lapel pins of rifles to Republican lawmakers in the House, including Florida Representative Anna Paulina Luna who wore the assault rifle pin during a House Oversight Hearing mere days after nearly a dozen people were injured in a mass shooting in her state.
Clyde—who owns Clyde Armory, a major Georgia gun retailer—later gleefully claimed in a video posted to Twitter the assault rifle pins are "triggering some of [his] Democrat colleagues."
Many were quick to remind Clyde of his behavior on January 6.
The photo of a terrified Clyde is especially damning because he once rather infamously said the January 6 insurrection resembled a "normal tourist visit," even though he previously acknowledged he had helped to barricade the House chamber "from the mob who tried to enter."

Clyde was one of 120 Republican Representatives who voted against certifying the 2020 presidential election results.
He was also one of 12 House Republicans to vote against a measure to award three Congressional Gold Medals to members of the police force who defended the United States Capitol during the attack.
When not parroting former President Trump's conspiracies about election fraud, Clyde has continued to push back against the Biden administration, recently introducing the Expose Biden's Inflation, Deficits, and Economic Neglect (BIDEN) Act, which accuses Democratic President Joe Biden of destroying the national economy with his efforts to curb inflation.