An online feud between American pop stars Lana Del Rey and Azealia Banks has spawned a rather sweary meme.
The pair clashed after Del Rey publicly criticised Kanye West for his vocal support of US President Donald Trump – a confrontation that riled Banks.
"Don't use Kanye for your own vapid attempts to seem politically aware … Kanye is not your enemy or THE enemy," the rapper wrote on Instagram. "I'm tired of white women in Hollywood and their fake a** innocent agendas."
Del Rey responded on Twitter, asking Banks to come to her address and "say it to my face" then later posted the following blunt tweet – be warned it contains very strong language.
---
I won't not fuck you the fuck up. Period.

— Lana Del Rey (@Lana Del Rey)1539124402.0
Let's just say people were shooketh.
@LanaDelRey The Chola LEAPED forth

— Miss Gio Baby (@Miss Gio Baby)1539124539.0
@LanaDelRey @AngryBlackLady Wait... Okay, proceed. https://t.co/MHQw40tdId

— The Hoarse Whisperer (@The Hoarse Whisperer)1539126405.0
@LanaDelRey Is this lanasha del Rey? Or what sis LMFAOOOOO https://t.co/XCUR1M7mzP

— Onikaween 🎃 (@Onikaween 🎃)1539124554.0
@LanaDelRey I'm shooook https://t.co/1z3MQYmAu1

— shane austin 🧜🏼‍♂️✨ (@shane austin 🧜🏼‍♂️✨)1539131749.0
Even the Dictionary had to comment.
@LanaDelRey We won't not reply to your double negative. Period. https://t.co/6OVD8M2DHk

— Dictionary.com (@Dictionary.com)1539127521.0
The fiery feud has raged on and become increasingly personal, but it is Del Rey's potent mixture of F-bombs and a double negative that has been shared most and now even become a meme.
Here is how nine others interpreted the comment:
1. A bargaining chip at the bar
This is what I say to bartenders before I order my first drink to insure good service. https://t.co/MKKzou9uBx

— Todd Barry (@Todd Barry)1539133022.0
2. A food shield
when you ordered a salad but you reach for my fries https://t.co/q8PFsLHN3n

— maura quint (@maura quint)1539132778.0
3. A romantic tool
me trying to sext https://t.co/kq9LzYIQu1

— tyler oakley (@tyler oakley)1539125915.0
4. Consumer protection
When someone with more than 10 items stands in the express checkout lane https://t.co/qrb3D0LR5F

— Funny Or Die (@Funny Or Die)1539132710.0
5. An expression of rage
Popeye's: There's a 15 minute wait for spicy. Me: https://t.co/cG3wXCMDop

— Thanos, Snaptivist Extraordinaire (@Thanos, Snaptivist Extraordinaire)1539127418.0
6. A mantra for 5 Seconds Of Summer fans
Michael: *says they will play san francisco when they're in the bay* 5SOS in the bay area: *doesn't play san franc… https://t.co/yOp5seWiYH

— MOM GOD. (@MOM GOD.)1539125455.0
7. Translating South Korean pop music
The lyrics to "BBIBBI" translated from IU-speak. https://t.co/zX1kkmmbDZ

— Asian Junkie (@Asian Junkie)1539163357.0
8. Explaining eating habits
me seeing an open bag of Stacy's Pita Chips even though I just ate a full meal https://t.co/h1d74yN0Du

— aunt boo (@aunt boo)1539126250.0
9. An ode to a year
2018 https://t.co/SVw6ruN8J8

— Shaun King (@Shaun King)1539132662.0
Celebrity statements are truly the gift that keeps on giving. Thank you for your contribution, Lana.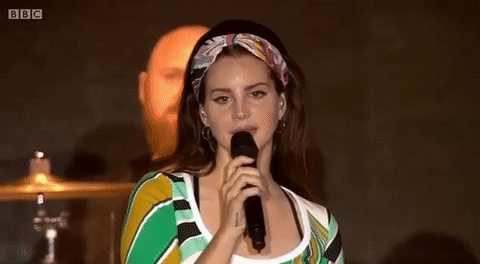 Giphy
A version of this article originally appeared on Press Association.